A 4-point inspection is a fundamental examination of the roof, electrical, plumbing, HVSC, and other systems of the home. The evaluation of these programs' performance in terms of quality, age, and insurance was the study's main goal. It helps homeowners recognize potential risks or issues that need to be addressed while giving insurance companies the data they need to assess whether an older property is insurable.
A trained inspector conducts a 4-point inspection, searching for wear, damage, violations, or security hazards in each of the four systems. The inspection is typically a visual examination of the parts that are visually visible; leaks, faulty installation, damage, or inappropriate maintenance should be looked for.
Insurance companies generally require a 4-point inspection of homes 30 years or older before issuing or renewing a policy. This analysis helps them assess the level of risk associated with older property insurance, as older systems may be more likely to fail or create safety concerns It is important to note that the 4-point inspection is not as comprehensive as a full home inspection, which examines a variety of other aspects of the structure and features of the property.
Instead, it focuses on just four identified policies. By receiving a 4-point assessment, homeowners can take the necessary steps to meet insurance requirements, gain insight into the condition of their home, and maintain the safety, efficiency, and insurance potential of their property in the 19th century.
Let's discuss the 4-point inspection in more detail taking the example of Florida.
In Florida, Who Needs a 4-Point Inspection?
When Florida residents apply for or renew an insurance policy on an older property, the insurance companies often demand a 4-point inspection. Homes 30 years old or older are often subject to this inspection. The roof, electrical, plumbing, and HVAC (heating, ventilation, and air conditioning) systems are the four key systems in a property that will be evaluated during the inspection.
The inspection aids homeowners in identifying potential problems that may need to be resolved as well as assisting insurance companies in assessing the risk of insuring an older house.
4 Point Inspection vs. Home Inspection
As mentioned a thorough house inspection is different from a 4-point examination in terms of scope and focus. A 4-point inspection is limited to checking the roof, plumbing, electrical, and HVAC systems. The general condition of a property, including its structure, foundation, appliances, and other components, is assessed more thoroughly during a house inspection.
The goals of a 4-point inspection are to assess the age and condition of these systems and identify any potential dangers or safety threats. It doesn't provide a comprehensive examination of the entire property.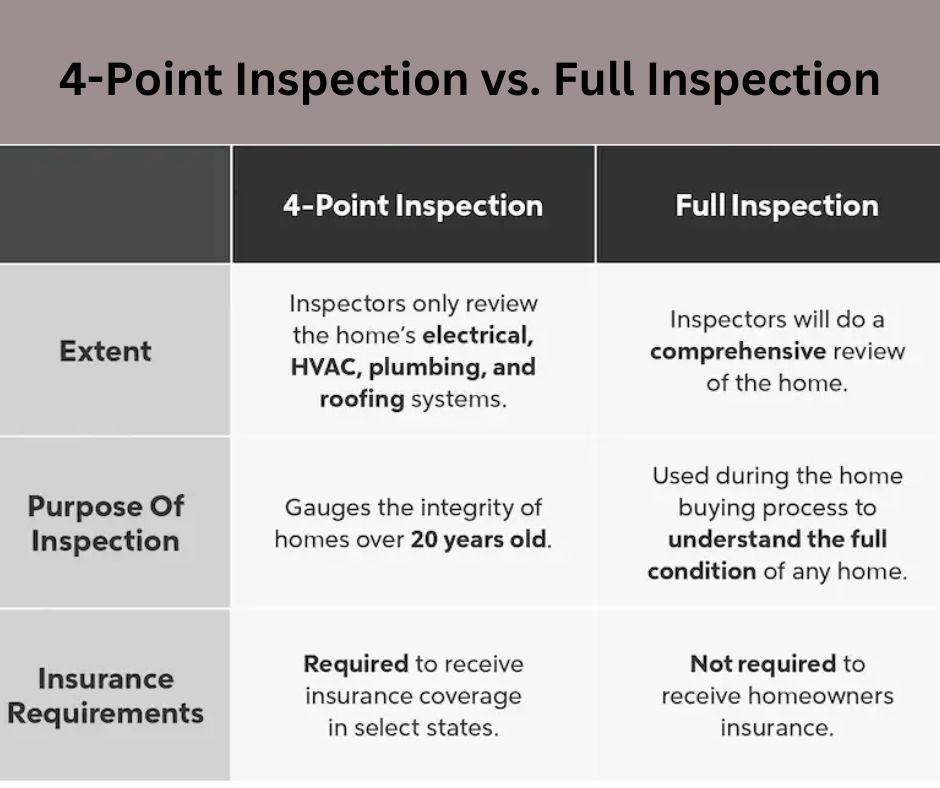 4 Point Inspection vs. Wind Mitigation Inspection
The goals of 4-point inspections and wind mitigation inspections are distinct, despite the fact that they both have a connection to Florida's insurance laws. As was said before, a 4-point inspection focuses on the roof, electrical, plumbing, and HVAC systems.
A wind mitigation inspection precisely evaluates the efficacy of a property's wind-resistant features, such as hurricane shutters, reinforced doors, and roof-to-wall attachments, and it also determines how well a home can survive wind damage. Potential insurance premium discounts based on the level of hurricane and windstorm protection are discovered through wind mitigation assessments.
What will Fail an Insurance Inspection?
An insurance inspection that fails might be caused by a number of things. Insurance companies may have different specific requirements, but the following frequent problems could result in a failed inspection:
a) Roofing Problems: Insurance companies may be concerned if there are obvious signs of serious roof damage, such as missing shingles, leaks, or a roof that is almost done with its useful life. Water intrusion and associated property damage can be more likely on roofs in poor condition or constructed of outdated materials.
b) Electrical Issues: Outdated electrical systems, such as aluminum wiring or knob-and-tube wiring, can provide a fire risk. Other frequent problems that may result in a failed inspection include overloaded circuits, exposed wires, defective electrical panels, or inappropriate electrical installations.
c) Plumbing Issues: Insurance firms may search for indications of plumbing leaks, old or malfunctioning plumbing systems, insufficient water heaters, or other plumbing-related problems that may result in flooding or water damage.
d) HVAC System Deficiencies: An outdated or malfunctioning HVAC system may not be able to deliver sufficient cooling or heating, which could result in discomfort or increased energy use. Insurance firms may examine the system's age and condition to determine the likelihood of failure or inefficiency.
It's vital to remember that different insurance companies may have different requirements and standards for passing an insurance check.
Who can Perform a 4-Point Inspection in Florida?
A registered and experienced expert must carry out a 4-point inspection in Florida. Typically, licensed home inspectors, certified general contractors, professional engineers, or licensed and insured specialty inspectors who specialize in the particular areas covered by the inspection (roofing, electrical, plumbing, and HVAC systems) are the professionals who are qualified to perform 4-point inspections.
It is crucial to confirm that the inspector you employ has the knowledge and credentials required to carry out a complete analysis of the four systems.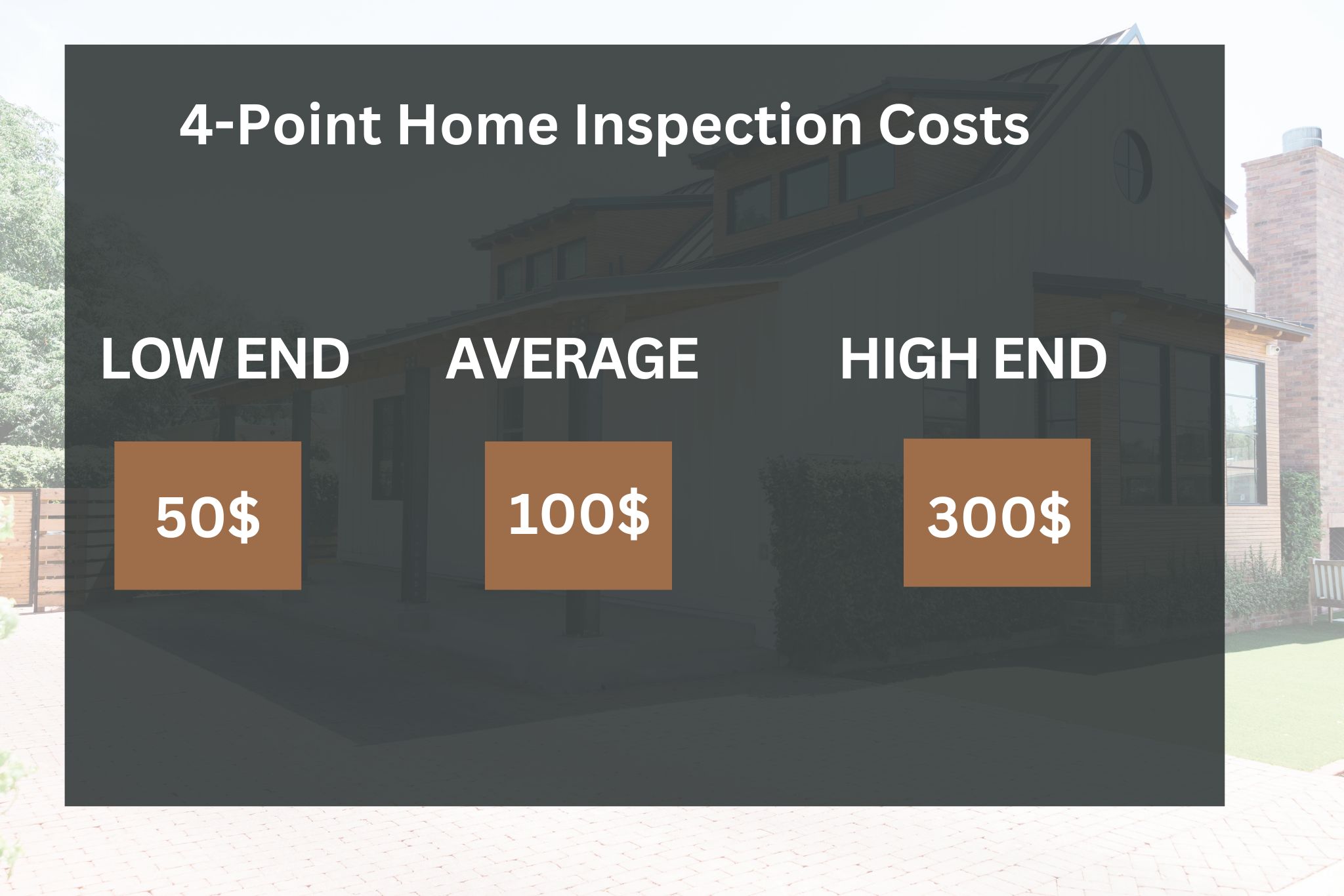 How Much Does a 4-Point Inspection Cost?
The cost of a 4-point inspection in Florida can vary based on a variety of factors, including the size and age of the home, location, and the cost of an inspector as the average cost of an inspection for 4 points can range from $100 to $300.
However, it's important to get quotes from different inspectors or inspection companies to get an accurate estimate of your particular property.
How to Prepare for Your 4-Point Inspection?
To prepare for a 4-point inspection, you can take the following steps:
a) Collect relevant documentation: Collect any documentation related to roofing, electrical, plumbing, or HVAC system repairs, maintenance, or upgrades. This includes records of inspections, permits, and receipts for each transaction.
b) Clear access to systems: Make sure the inspector has easy access to the roof, electrical wiring, plumbing, and HVAC equipment. Clear any obstacles or clutter that might hinder their exploration.
c) Checking smoke alarms and carbon monoxide detectors: Make sure smoke alarms and carbon monoxide detectors are working and have fresh batteries. This means you are committed to safety.
d) Address any visible issues: If you notice any obvious problems, such as leaks, damaged wiring, or debris, consider addressing them prior to inspection. This can help improve the chances of passing an examination.
e) Provide keys and access: If areas of the home require keys or access controls, ensure the inspector has the necessary means of access during an inspection.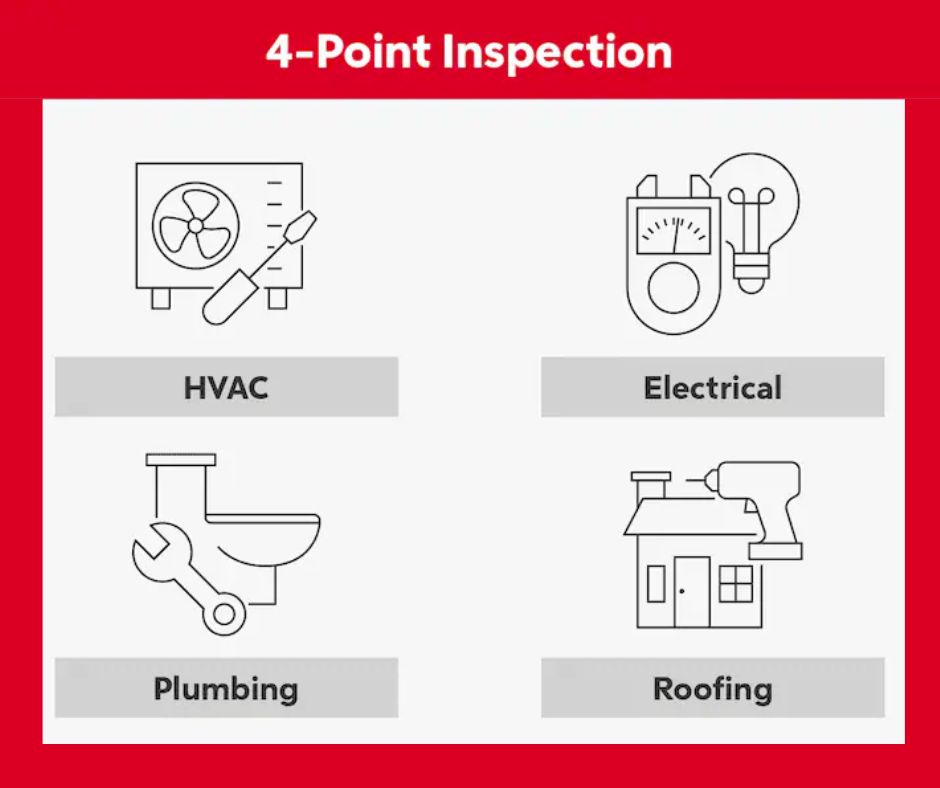 4 Point Home Inspection Checklist
During a 4-point inspection, the inspector will evaluate the following areas:
a) Roof: The inspector will evaluate the roof's age, state, and general integrity, as well as its flashing, roofing materials, and any indications of damage or leaks.
When inspecting a roof, the following variables are considered:
Age: Just like every other part of a house, a roof has a lifespan. It's advised to replace the roof after around 20 years. If not, the outcome will be missing, curled, or broken shingles.
Signs of deterioration: include pools of water forming on the surface of an old or poorly built roof, which can result in water damage. Inspectors will search for obvious indications of roofing damage that could jeopardize the house's safety.
Leaks: Inspectors will make sure to look for any possible leaks. Roof deterioration might result in leaks within your home, costing you even more money in repairs.
Form of the roof: Your home's ability to resist typical weather conditions is influenced by the form of your roof.
b) Electrical: The electrical panel, wiring, grounding, and any apparent dangers or code violations will be the main topics of the electrical examination. The inspector may also examine the operation of switches and outlets.
c) Plumbing: The visible plumbing lines, fixtures, and water heater will be examined during the plumbing inspection in order to find any leaks, insufficient water pressure, or other plumbing-related issues.
d) HVAC (Heating, Ventilation, and Air Conditioning): The HVAC system, which includes the furnace, air conditioner, ducting, and ventilation, will be examined by the inspector. They will assess the condition, age, and general functionality of these systems.
The inspector will typically provide a detailed report outlining their findings and any recommended repairs or upgrades.
How Important It Is to Get Your Home 4-Point Inspection?
Getting a 4-point inspection for your home is highly important, especially if you own an older property or are seeking insurance coverage. The inspection helps identify potential issues or risks in four crucial areas: the roof, electrical, plumbing, and HVAC systems and no only. Here are some other benefits to it:
Fast and affordable: These inspections are noted for being quick and conducted within a few hours by a qualified, licensed specialist.
Assure the condition of your property: If you're considering selling, this examination can help you determine what needs to be fixed before moving forward.
Minimize headaches in the future: By routinely monitoring the state of your home's major systems, you can prevent unforeseen problems.
The 4-point inspection is a basic inspection required by insurance companies for older homes in Florida. This includes roofing, electrical, plumbing, and HVSC installation. While not as comprehensive as a comprehensive home inspection, it helps insurance companies determine the insurability of a property and identify potential risks or risks If they understand the purpose, requirements, and how to prepare for an inspection under 4 points can ensure that homeowners comply with insurance company guidelines Any issues that can be addressed.
FAQ
What does a 4-point inspection cover?
A 4-point inspection typically covers the assessment of the roof, electrical, plumbing, and HVAC systems in a home.
How long does a 4-point inspection take?
The duration of a 4-point inspection can vary, but it generally takes around 1 to 2 hours to complete.
What is included in a 4-point inspection in Florida?
In Florida, a 4-point inspection includes the evaluation of the roof, electrical system, plumbing system, and HVAC system.
How much is a 4-point inspection in Miami?
The cost of a 4-point inspection in Miami may vary, but it typically ranges from $100 to $300.