What are manufactured home communities?
Manufactured home communities are also called mobile home parks and indicate the area of people who live in manufactured homes.
As manufactured homes are a popular type of housing for those who want to own their own homes spending less effort and resources, it is estimated that about 5.6 percent of Americans (about 17.7 million people!) enjoy living in these communities. In fact, the US has already about 43,000 manufactured home communities.
In many communities, there are social or activity clubs, fitness amenities, and friendly and caring neighbors. "Sense of belonging" is among the most frequent response about why residents enjoy living in a land-lease community.
There are different types of communities. Let's have a look at them separately to find out which community is exactly for you!
Types of manufactured home communities
1. 55+ Communities
These types of communities are also called retirement communities and are one of the largest types of communities you can meet in the US. As the name suggests, 55+-year-old people enjoy living here. The most popular places for retirement communities are the states like Florida and Arizona.
Although retirement communities sound appealing, you should consider whether you are able to fit in the lifestyle or not before moving.
For instance, property taxes aren't an issue for most communities but there could be community or association fees in addition to the monthly rent.
It should be noted, however, that many adults find the lifestyle in the community to be perfect for them! Owning an affordable home lets them maintain their independence. Moreover, their neighbors are most likely to have the same interests and hobbies in life. This provides opportunities for friendships, and why not, even romances!
We offer the best manufactured homes prices on our website.
Below you can find the pros and cons of 55+ communities before making your final decision:
Retirement Home Communities

Pros

Cons

Affordable housing option

Different loan requirements

Senior-focused community where you won't feel out of place

Limited living space with around 600 to 1,000 square feet

Low-maintenance

Customizable space and permission to perform various renovation projects like interior renovations and room additions
2. Land-Lease Communities
The main difference of this type of community is that the land is usually owned by an individual or business entity that leases people lots to residents. Simply put, people living in those areas possess their own houses but they lease the land on which their homes are located.
This type of community has many advantages. For instance, the lots are created for manufactured homes, so they are already prepared, usually including a level concrete pad and hook-ups for electricity and water.
Besides having many benefits, land-lease communities have their drawbacks. For example, residents have to follow the rules set by the landlord. They can't build a house on the land as it's not owned by them.
If you have a question in your mind now about the cost of leasing a lot, you should remember that it depends on many factors like quality, location, and management. However, in most cases, it costs 400-600.
3. Resident-Owned Communities
In resident-owned communities, homeowners gather to form a business entity called a cooperative. The cooperative owns the land and manages the community, and each homeowner owns a share in the land.
This arrangement gives residents control of monthly rent, maintenance, amenities, and improvements. It also provides security against unfair evictions. Decisions are made by a board of directors within the community.
The downsides to this arrangement are that homeowners have increased responsibility for how their community functions, and that ROCs can be difficult to find.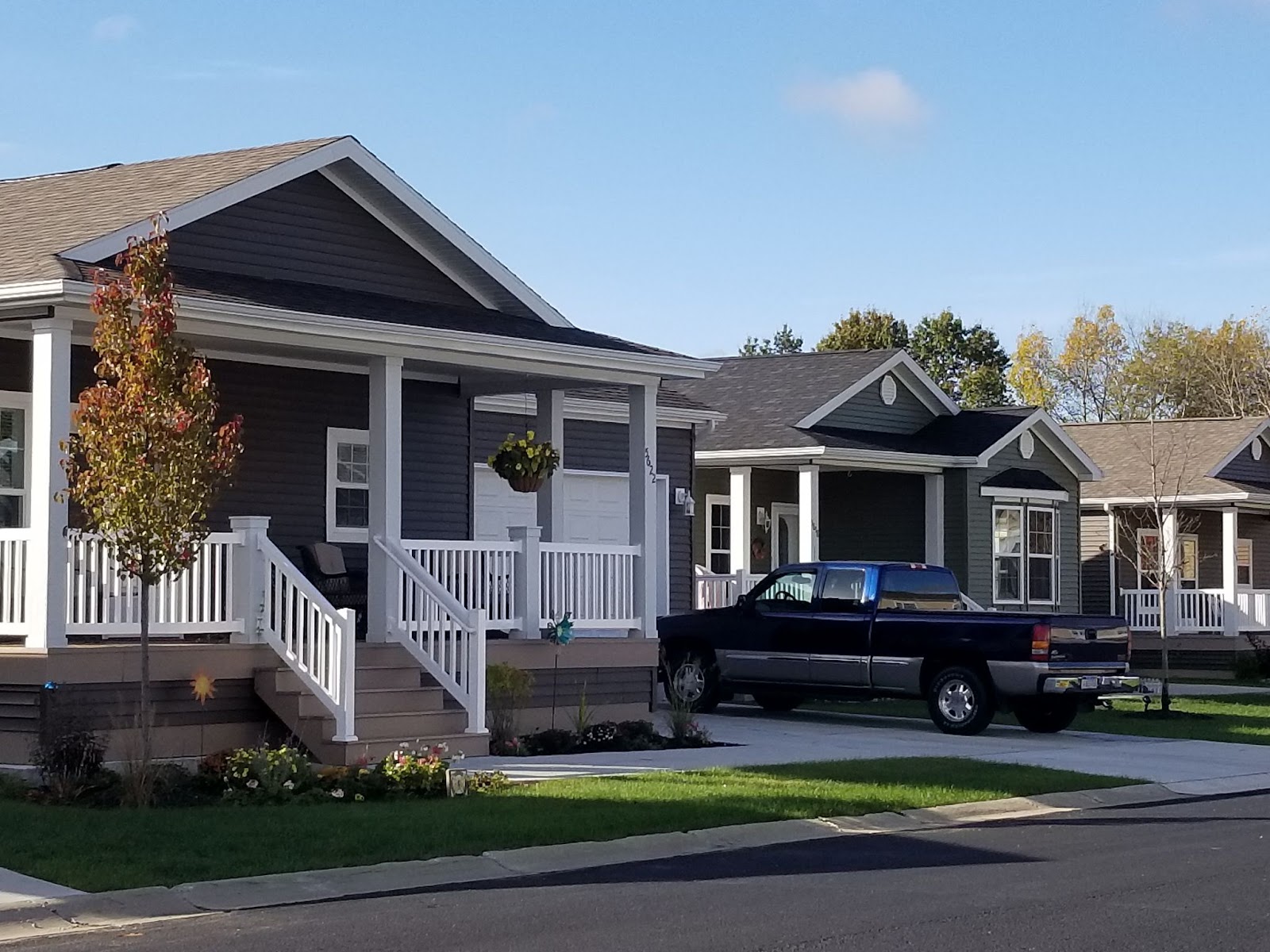 4. Mobile Home Park Chains
Like stores and restaurants, these chains are centrally controlled and have similarities. The parks themselves can be run on many levels by a central administration, or they can follow a predesigned plan and operate as franchises. Whether or not your community is part of a chain generally won't matter day-to-day, but there are still a few pros and cons for residents.
Centralized control may mean that there is better oversight of park management, offering some protection against a bad landlord.
5. Investors as Owners
It's not easy to find affordable housing in the US, but the manufactured home industry is growing these days. What do you get if you own manufactured home communities? Consistently good rates of return.
The investors maintain everything from big-name real estate investment trusts and private equity funds to regional investors.
6. Budget Communities
Price is one of the biggest benefits of living in a manufactured home. The average household income among residents of manufactured homes is about $28,000, an amount that can make a site-built home prohibitive.
Many parks and communities provide affordability to their residents. The least expensive of these provide just the bare bones—a place to set up your home, hook-ups for utilities, and not much else.
Because these communities do not need to emphasize customer service, it is a good idea to shop around and talk to your potential neighbors to find out if the management is fair and on top of things. It is also important to pay attention to your security.
7. Family-Focused Communities
The largest age group of mobile home residents includes those from 18 to 29 years; this is about 23 percent of the manufactured home population.
Many parks are great for family life. All ages are welcome, and there are perks for family-focused residents.
In family-oriented parks, the benefits of manufactured homes over apartments can be seen. Families may have their own yard space where kids can play, and the lack of shared walls can be fully appreciated when babies cry at night.
Some communities offer amenities that appeal specifically to families. They may have swimming pools or playgrounds as well as organized community activities.
8. Luxury Communities
A luxury gated community offers many benefits to the high-networth homeowner. Living in such a setting offers a unique lifestyle not available in many other places. Across the country there are several communities to choose from, it's just a matter of finding the one that's perfect for you.
A gated community may appeal to residents looking for privacy, security, and safety. Private communities tend to be significantly more secure than neighborhoods found in urban and suburban areas.
This type of community also results in less traffic because only members, and occasionally their guests, have access to the community. Knowing your children, belongings, and privacy are safe can help you sleep peacefully at night.
9. Specialty Communities
While many mobile home parks offer the same basic amenities and differ mainly in size and management, there are some communities—especially retirement communities, which tend to attract individuals with a wide range of budgets—that offer more for people with certain interests.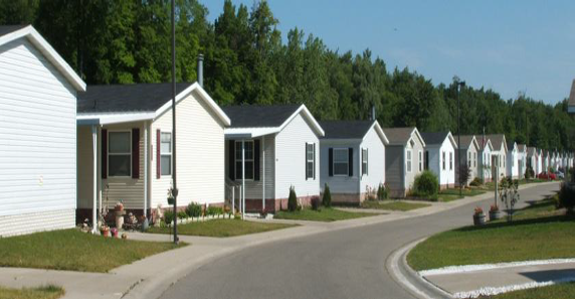 5 Best manufactured home communities
Although some retirees might feel excited about choosing between dozens of manufactured home communities, inexperienced homebuyers find the options overwhelming.
To help you with the buying process, you can have a look at the most affordable manufactured home communities mentioned below:
Best manufactured home communities in California
You would love living in manufactured home communities in California if you enjoy mountains, lakes, and oceans. With its near-perfect weather, you can admire the sandy beaches and breathtaking views of mountains covered with snow. This state offers a wide variety of choices when it comes to looking for the ideal manufactured home community in California. Below we have included some of the most popular manufactured home communities for you to consider.
Monte del Lago
Address- 13100 Monte del Lago, Castroville, CA 95012
Situated in Castroville, CA, Monte del Lago offers you premium amenities within proximity to such picturesque locals as Carmel and Monterey. Monte del Lago is also just 10 miles from the Coastal U.S.! With such amenities as community-organized activities, awesome billiard facilities, a spacious clubhouse, a whirlpool-spa-hot tub, and a community swimming pool, you may never want to stray far from home though. Monte del Lago also features a fully outfitted fitness center and a well-stocked game room. This pet-friendly mobile home community provides on-site laundry facilities, management, and RV storage for your convenience as well.
Coralwood
Centrally located within the Modesto metro area, Coralwood is just 1 mile from local area shopping and dining opportunities and offers you a wealth of amenities. A spacious clubhouse, nice game room, and plethora of community-organized activities make it easy to stay involved at Coralwood. Well-maintained tennis courts, great billiard facilities, and a huge community swimming pool will also help keep you active. When it's time to relax you can always take a soak in the whirlpool-spa-hot tub while enjoying a book from the ample on-site library at Coralwood.
If you are also looking for a manufactured home in California, you can search for hundreds of available models online by clicking on this link- Manufactured and Modular Homes in California
Best in manufactured home communities in Arizona
Arizona is home to vacation destinations. It's not surprising as Arizona offers plenty of activity for all ages and personalities. So why not escape there forever? Once you find the right community you will start enjoying the feeling of a real community, wonderful friends, neighbors, and an endless array of things to do and places to go.
Seyenna Vistas
Living at Seyenna Vistas can help you get the most out of life in Mesa, AZ. With its picnic area relaxation is easy in this all-age, pet-friendly mobile home community. Staying active is also easy in the fully outfitted fitness center at Seyenna Vista. A community swimming pool provides you and your family with a chance to cool off on those long hot Arizona afternoons, and the spacious clubhouse gives you the perfect place to host large social events.
Apollo Village
The pet-friendly Peoria, AZ neighborhood of Apollo Village allows you to enjoy the feeling of a small town all within the Peoria metro area. A 55+ retirement mobile home community, Apollo Village features community-organized activities and a spacious clubhouse to keep you social, a fitness center and community swimming pool to help you stay healthy, and on-site management and RV sites for your convenience.
If you are also searching for a manufactured home in Arizona, you can have a look at hundreds of available models online by clicking on this link- Manufactured and Modular Homes in Arizona
Best manufactured home communities in Washington
Kloshe Illahee
Kloshe Illahee Manufactured Home Community is a 55+ age-qualified park that is centrally located in the Seattle/Tacoma Metro Area. Conveniently located in Federal Way, WA, Kloshe Illahee is never more than 4 miles from local area shopping, dining, medical services, and entertainment. Kloshe Illahee also offers you such on-site amenities as an indoor hot tub and sauna to help you relax, a tennis court and a seasonally heated swimming pool to help you stay active.
Looking for a manufactured home in Washington? Search for hundreds of available models online by clicking on this link- Manufactured and Modular Homes in Washington
FAQ
How many mobile home communities are in the US?
The US has already about 43,000 manufactured home communities, and this number doesn't stop growing!
What percentage of Americans live in manufactured homes?
Around 5.6% of the American population lives in manufactured home communities. That's about 17.7 million people. Americans like living in these types of communities as they get the opportunity of having affordable living.
What is an MHC community?
MHC is the abbreviation for the manufactured home community. The latter is the area of people who live in manufactured homes. They have their specific lifestyle that differs from community to community. So, make sure you like the lifestyle of the community you're going to move to before making your final decision.