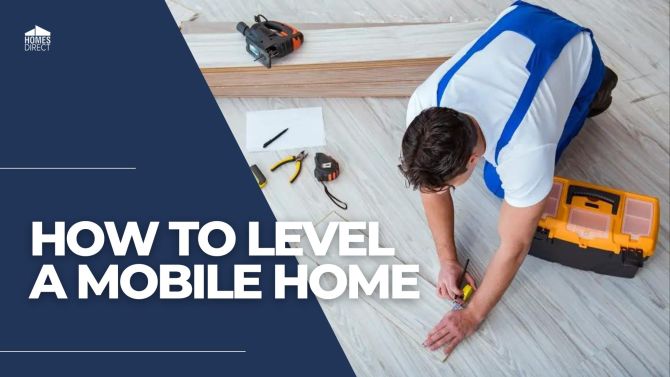 Mobile home leveling has become one of the most important maintenance procedures that need to be carried out from time to time. The main reason for this is that homes become unlevel over time and they need to be fixed to avoid its negative consequences.
Several signs like rocking tables or chairs and cracks on the walls tell you it's time to start leveling your mobile home.
In some cases, you can level it yourself. However, you will need mobile home leveling services if the re-leveling process seems more complicated.
Why do you need mobile home leveling?
All homes need to be releveled from time to time. If you are a mobile home owner you should keep in mind that mobile homes are more prone to the setting. So you should carry out mobile home leveling more often than any other home-related activities like painting the walls or refurbishing it.
What would happen if you don't level your home? Here are a few consequences you should consider:
If you keep your mobile home unlevel for a long time your home will begin to lean causing damage to the walls, doors, windows, and even the furniture.

When you walk on the floor you will notice the squeaking. If you don't level your home for a long time its pillars will break causing severe damage.

The plumbing and electrical installations can be damaged too, causing more serious problems later.
Main signs your mobile home needs re-leveling
Your home might be unlevel because of various reasons. Maybe there was a big storm nearby, because of which the wedges are crushed now. Below you can find the main reasons why you need to start releveling your home:
The windows and doors open easily or are too hard to close.

When you walk on the floor it starts squeaking.

Buckling or roofing of your home is there to indicate your home is uneven.

If there was a storm recently, you should check your home. Storms can make your home uneven.

If there has been an add-on to your home recently, you need to check and most probably re-level your mobile home.

In more extreme cases, the items you put on the floor might move or shift.

The cabinet doors won't stay closed.
How to level a mobile home on your own
In some cases, you can level your mobile home without the help of professionals. For instance, if you have loose mobile home wedges you can fix them on your own with basic construction experience and the required tools.
If there is a severe case, you will need home leveling services to level your mobile home.
Here are the tools you'll need for leveling:
Tools for mobile home leveling

A six-foot level

Check the areas where you need to make adjustments with the help of the level.

Mobile jack

Lift your home where it needs to be leveled.

Shims

Once you lift the home you will need to put these small pieces of wood between the pillars and the beam.

Hammer

Use a hammer to secure the shims in the right place.

Flashlight

You will need some light when crawling under the mobile home.

Woodblock

Secure your mobile jack with the woodblock.

Chalk

Mark with chalk the pillars that need to be re-leveled.

PPE

Stay safe with gloves, protective eyewear, and a hard hat.
10 main steps for leveling a mobile home
1. Take the safety measures
Before your start re-leveling your mobile home, you should make sure you have all the necessary equipment next to you and you are protected from damage. Put on your protective gear- gloves, a hard hat, and eyewear.
You can also ask another person to help you with this process. However, you will need to make sure that the person is also protected with protective gear.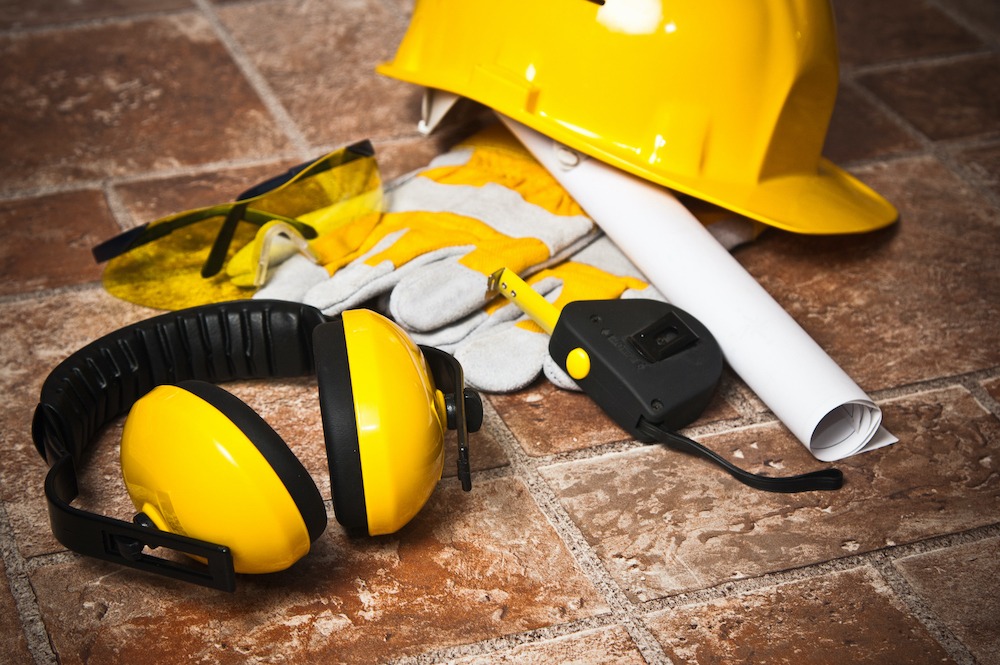 2. Remove the mobile home skirting
You will need to remove the skirting of your mobile home to reach the pillars. Remove it carefully and put it in a safe place. After this step, you will be able to reach the pillars and beams for leveling.
3. Prepare the place
However unpleasant it may sound, the crawl space of your home is more likely to have bugs, other insects, dirt, or even dead animals. We advise you to clean the area and place the necessary tools there before starting the leveling process.
During this step, you can also set up the flashlights for a better view.
4. Secure the plumbing and electrical installations
Make sure the plumbing and electrical installations are secured before working on the leveling. First of all, you need to check the contact points of the plumbing and the beam. These are the riskiest parts. Secure the plumbing to the base of your home then continue checking the electrical installations.
If you notice there are wires wrapped around the beams, unwrap them and attach them to the base too.
5. Check the pillars and leveling problems
Once you find out which pillars need adjustments to mark them with the chalk. First, place your level at the center of your home. If the level shows that the pillar is in level there's no need to place a shim there. Move to the next beam to find the pillars to level.

6. Use the mobile jack to raise the beam
You need to raise the beam with the help of the mobile home leveling jacks so that you can place the shims between the beam and the pillar. Don't forget to use the level to keep track of your work. Work slowly and carefully. Once the level shows the beam in the right level, stop raising it and secure the jack
7. Put the shims between the beam and the pillar
After securing the jack, you need to put the shim between the beam and the pillar. If you can't get the perfect position you can use a hammer. Carry out the same action for all the other beams that need to be leveled.
8. Check the level of your mobile home
After placing the shims you should inspect your work carefully. For this aim, you need the level again. Start checking the level from the center of your mobile home. Are all the beams in level? Then your home leveling procedure was successful! However, if any of the beams are out of the level, you need to repeat step 7 to level the beam. Then, check the level of the whole house again.
9. Check the plumbing and installation again
You might think that you've already secured your plumbing and installation during the previous steps but it's always a good idea to check it again in order to avoid some serious issues later. If any of the wires look damaged ask the professionals to have a look at them again.
10. Reattach the skirting
After carrying out all the above-mentioned steps you can now reattach the skirting. Did it? Great job! You're done with the home leveling process.
Useful tips for mobile home leveling
If you attached your home to a concrete surface or any other hard piece of land, your mobile home leveling will take more time.

Before you start the leveling process, cover your furniture with blankets or sheets to avoid dirt and dust.

Do your best to keep the ground around your home dry. Of course, you can't avoid the rain but you can eliminate any kind of activity that gets the ground wet.

Don't work on the leveling of your mobile home alone. Ask someone to assist you.

If your home has strong pillars it will be leveled for a longer period. Wooden pillars are cheap but also require more frequent maintenance.

Before you start the home leveling process, check your tools. Their malfunction will cause damage to you or the person who assists you and the entire home.
Questions:
How dangerous is leveling a mobile home?
Leveling a mobile home could be quite dangerous. Although in some cases you can level your home without any professional help, you need to keep in mind that even a small mistake may lead to severe damage to you, your family, and your home. It's crucial to follow the steps mentioned above to avoid any kind of damage. Carry out each step carefully, without any hassle.
How to find a mobile home re-leveling contractor?
You can ask the dealership that sold you the home to help you find a qualified company. Most manufacturers have an in-house installation crew or an outside company to deal with such issues.
Another option is to search for them on the internet. Social media platforms like Facebook will help you find relevant companies.
Besides that, you can also ask for advice from other homeowners who already had their homes leveled.
No matter how you find the contractor, make sure they have a valid license and insurance, otherwise, you will get into more trouble. Prepare some questions beforehand to discover who is doing the leveling, and what kind of experience and qualifications they have.
Don't forget to get a quote for the service cost and the time they are going to spend on the leveling of your home. Ask them to provide you with this information in written form.
How much does mobile home leveling cost?
Mobile home leveling is a complicated process if you don't have enough expertise. The cost to level a mobile home depends on many things like the location, size, or conditions of your home.
On average, you will need to pay $450-600 for a single-wide mobile home. A double-wide home may cost up to $900. If your mobile home is larger, then get ready to pay $1000 or more.
Although many people see mobile homes as temporary places to live, maintenance work is important for the safety of your family members.
If you are still hesitating about mobile home leveling services, contact our professionals at Homes Direct and we will help you solve this complicated issue!