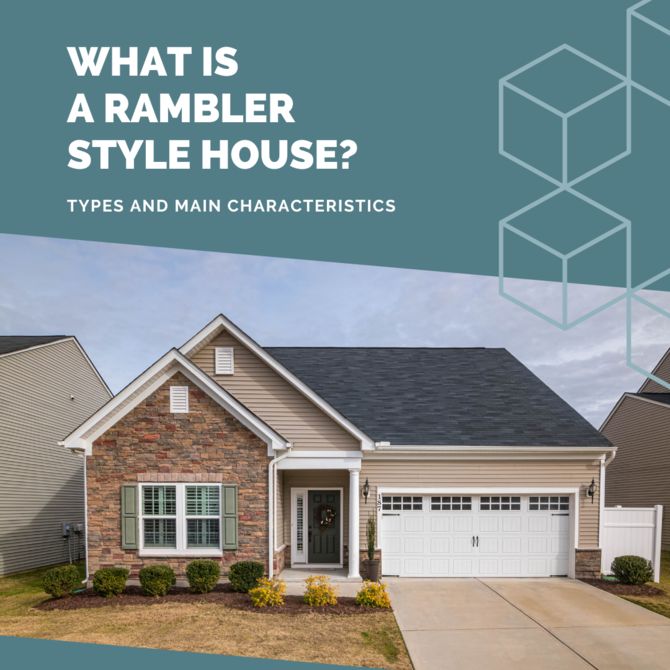 Have you been house hunting recently? Then, you've surely noticed how different houses can be with their characteristics and styles. Maybe you also have a dream house in your mind with a number of bedrooms, bathrooms, interior, and exterior designs.
You should definitely consider a rambler-style house if you want to buy a new property for you and your family.
In this article, we will show you what rambler houses look like and how they've become a symbol of American life. Maybe your dream house has a rambler style, too?!
What is a rambler house?
A rambler house, also known as a ranch-style house, is a unique home style that appeared in the United States in the 20s. The style became more popular between the 40s and 70s.
How can you differentiate rambler-style homes from others? A rambler-style home usually includes long and low profiles and minimal exterior and interior decorations. Rambler house plans are also open, which is ideal for family and friends gatherings.
As a house style, rambler homes are a blend of American modernist ideas and American West ranch-style homes. This means you will surely enjoy living in this type of home if you love informal and casual living.
Why should you have a rambler-style home?
All the owners of rambler homes agree that the latter has certain characteristics that make them more comfortable for a living when compared to other styles. Here are just a few for you to consider:
It's easy to maintain the home as it consists of a single floor.

Ramber-style homes are usually placed in areas that are rich in history.

Ramber-style homes keep you closer to nature.

You can add a new room anytime you want thanks to its simple internal distribution.

It's a great solution for older people or those who have difficulties walking as it is a single-story house. You won't need to climb the stairs.

Thanks to the large windows, your house is brighter and full of sunshine!
The background of the rambler-style house
In the 1930s, a new architectural movement started in the state of California. The movement included previous knowledge of architecture and brand-new construction technologies.
Due to the movement, a clash of cultures occurred in California. The Spanish Colonial Renaissance is a bright example of it. The latter included single-level houses with a central courtyard without a roof.
During this process, a type of Spanish colonial style appeared- the rambler style. The term "rambler" emerged from the characteristic style of the houses- sprawling across a larger area of land and maximizing the facade width, just as the rambling man wanders across long distances.
In those areas of the United States, the temperature is usually high, so the houses were constructed with wide roofs to mitigate the heat. Most of them were single-story constructions. The rambler house floor plans also changed from O-style shapes to U- or L-shapes.
This style was first introduced by architect Cliff May who named it "California Ranch Style". That's why both terms rambler style and ranch style homes are used interchangeably to describe the style mentioned above.
The main characteristics of a rambler house
Although the rambler house style is there to provide a relaxed atmosphere and casual living, there are several elements that make this style stand out from country ranch homes: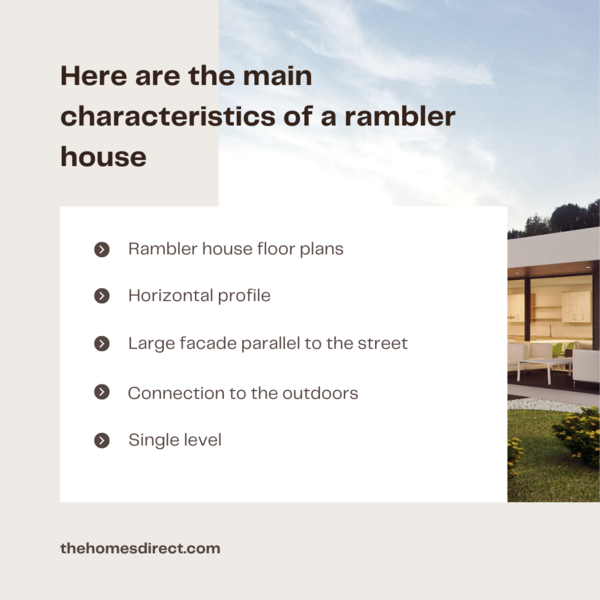 1. Rambler house floor plans
This is a characteristic adopted from the Spanish colonial style. The latter included specious floors with a central corridor. Thanks to this distribution, it allows you to have the rooms on the sides and a constant airflow between the rooms.
Besides the spacious floors, the rooms of the rambler house are usually large, with a good source of natural light.
2. Horizontal profile
As rambler-style homes had more horizontal and less vertical space, most homes were constructed without a second floor. However, nowadays you can see many rambler houses that include a second floor. This style is especially perfect for those who prefer to avoid climbing the stairs as all the necessary rooms are constructed on a single floor.
3. A large facade parallel to the street
Before the construction of rambler-style homes, most facades were tall and thin. Rambler homes came to change the dimensions and the facades that faced the streets started having twice the depth of the house. For instance, the front facade could measure 20 meters if the house was 10 meters deep!
4. Connection to the outdoors
Rambler homes often include sliding glass doors and large windows to connect the homeowners to nature and provide smooth indoor-outdoor transitions. Once you start living in a rambler-style home, you'll feel closer to nature.
The backyard has also undergone some changes with this style. Until then architects used to separate the backyards with walls from the house but the walls disappeared after the arrival of the rambler home style.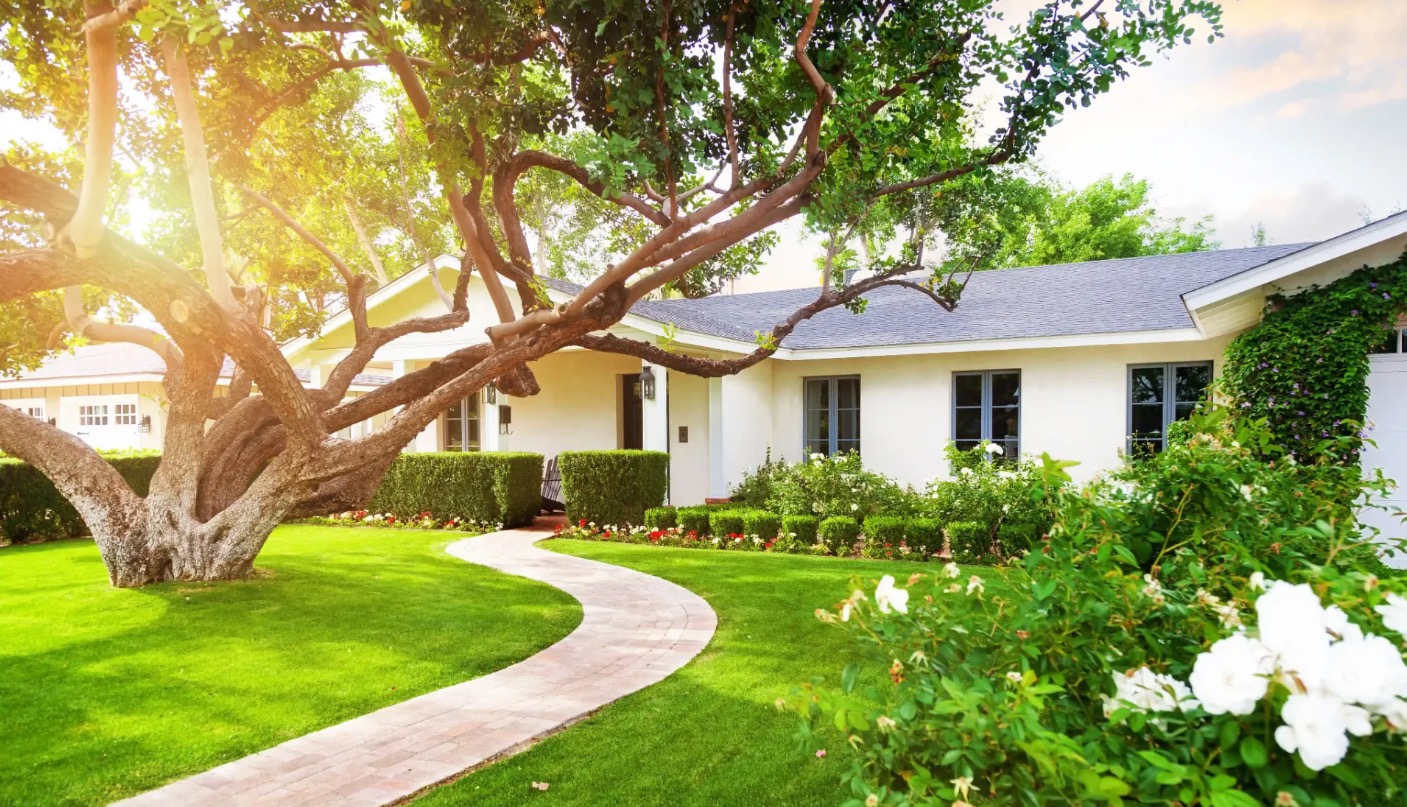 Popular types of rambler-style homes
Although rambler homes have different types and include a mix of old and new styles, they still remain recognizable thanks to the above-mentioned features. Here are a few rambler home types that are common in the United States:
1. California ranch
The California ranch style is the original rambler home style. It borrowed elements from various movements- the Arts and Crafts movement, the Spanish Colonial movement, and so on. The main characteristics of this style are that the home floor plan is either L- or U- shaped, and also includes a courtyard in the center of the home.
2. Suburban ranch
This is the less complicated and smaller version of the rambler style. People started building it after WWII. They are still being built for the ones who are looking for smaller and more manageable houses.
3. Split-level ranch
What we love about this type is that split-level ranch houses look like traditional rambler houses from the outside but the inside includes 2 to 3 levels. This is a great option for families who want to have more than 1 level but at the same time prefer the outside look of rambler houses.
4. Raised ranch
The name of this type explains it all. Once you enter the house you can either go upstairs or down to the rest of the house. This type is also called "split-entry" due to the inside structure. Often these houses have garages or storage beneath the rooms like bedrooms, living rooms, or the kitchen.
5. Storybook ranch
Sometimes this type is also called Cinderella's ranch house because of the details that you can see in the exterior design of the house. Although the interior is the typical rambler house, the exterior includes elements such as glass panels with complex shapes, trim and different design characteristics.
6. Modern ranch
This is the updated version of the classic California ranch-style house. Similar to the California ranch style, the modern style uses materials like wood and stone to blend in with nature. The main difference between these styles is that the modern ranch style lacks Spanish architectural influence. That means the modern ranch houses include more clean lines and updated interior design.
The current design and decor trends for rambler homes
Although rambler-style homes have been built since the 1920s, their decoration and interior design trends are always changing according to the year's trends. Below you can find a few trends that will help you build a more beautiful and unique home:
Plants: As we've mentioned before, the rambler home style is all about connecting the inside of the house to the outside. That's why this style is perfect for nature lovers. To make this transition even smoother, it would be a nice idea to add some big and colorful plants to your interior. You will have a traditional rambler-style home, but will also feel closer to nature.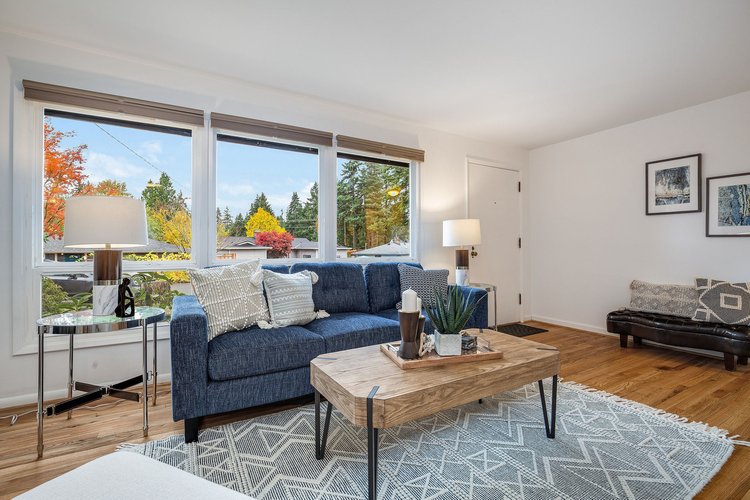 White and light gray colors: These colors work great in any rambler-style home. They make the rooms look larger. Besides that, you will have a lighter home thanks to the white color and the large windows. White and light gray won't distract you from the beautiful window views.
Midcentury modern: Yes, midcentury modern is a trend now. This means you are free to build your rambler home with 1950s design and its modern twists. What elements should you include to make the design midcentury modern?
First of all, you should pay attention to the furniture and include the pieces with wood, leather, and sleek lines. Wood was popular in the 1950s and provided warmth filling the house with unique colors. Besides this, you can also add some vibrant fabrics and large-scale art pieces to the walls.
Other trends that you should consider adding to your home are glass and metal accents and a see-through fireplace.
Questions:
What Is a Rambler House Style?
Rambler house style is also called a ranch house style and is used to describe a single-story home that has its entry n the ground level and includes a square or rectangular shape. It is a domestic home style that originated in the 20s, in California, US. This style is perfect for those who want to stay connected to nature as the large windows and the absence of walls between the house and the backyard make one admire nature more throughout the day.
Why Are Rambler Homes Expensive?
Rambler homes are expensive because they require more land for the construction of the single-story layout. The two-story house is cheaper as it doesn't require as much land as the single-story would. Besides that, the two-story house has a smaller roof. Accordingly, you will need more materials to build the rambler home.
What Is A Typical Rambler House Floor Plan?
A typical rambler house floor plan includes a combined dining and living area with a separate kitchen. It also has a hallway that leads to the bedrooms. The classic rambler floor plan is rectangular, L- or U-shaped.
How to Modernize a Rambler-style house?
You can modernize your rambler-style home by carrying out the following actions:
Improve the ceiling

Add larger windows

Replace the doors with solid-wood doors

Add a see-through fireplace

Remove old carpets
Rambler homes are living museums that represent the true culture of the USA. If you have one do your best to preserve it. If you don't have a rambler home but are in search of one for your family, contact us, and we will help you find the house of your dreams with your preferred style!