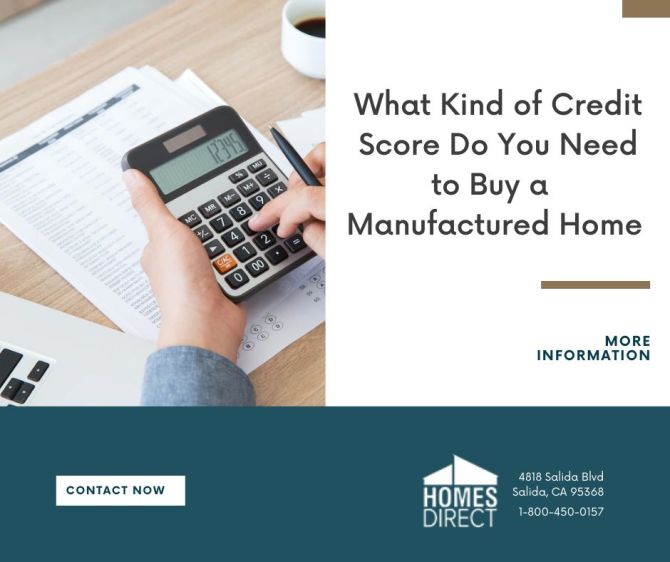 Table of Contents
- Credit Score To Buy Manufactured Home
- What Minimum Credit Score is Needed for a Mobile Home Loan
- What Does a Credit Score Represent?
- Mobile Home Requirements for Mortgage
- Types of Mortgages for Manufactured and Mobile Homes
Buying your dream house is very nice but if you don't have the budget for it you should think of applying for a house loan. How is it done? Do you have enough credit score to buy a manufactured home on loan? What are the requirements? Let's dive in and discuss the following questions and learn the types of credit scores and not only!
Manufactured homes are a wise option for homeowners looking for a newly built modern home that comes with an affordable price and monthly mortgage payment. The credit score needed for manufactured homes is not different to the score you would need to buy a traditional home. The differences mostly include some requirements a mobile home should have.
If you are a first-time buyer, it can be a bit more challenging to get a good deal and a mortgage plan. If you have a successful loan background it can help big time! If not, there are financial programs for new homeowners which we will discuss below!
What credit score is needed to buy a manufactured home?. Most lenders require a minimum credit score of 580 to 620 to buy a mobile home.
In most cases, 580 is the minimum credit score for manufactured home loans but you might still get financing with a special program and lower score but you might need to make a larger down payment for it.
Down payments typically range from 10% to 20% of the total cost of the home.
A credit score is a digit that represents a person's creditworthiness. Let's essay it's your ticket to better financing when it comes to home buying. Credit scores are based on a variety of personal financial data. Some of the factors that can increase your credit score can be (paying your bills on time, small and big loan history and payments, and others). It is all based on your financial history!
Higher credit scores correlate with better creditworthiness. Financial institutions judge people with higher credit scores to have lower credit risk and grant them a broader selection of credit products at lower interest rates.
Wondering "how to buy a mobile home with bad credit"? Well, it will be very difficult to get the financial institutions to believe your creditworthiness with a bad credit score but there can be a way with a bigger down payment depending on the request!
If you have a bad credit score you might want to consult a specialist that can help you with options on buying a modular home with bad credit.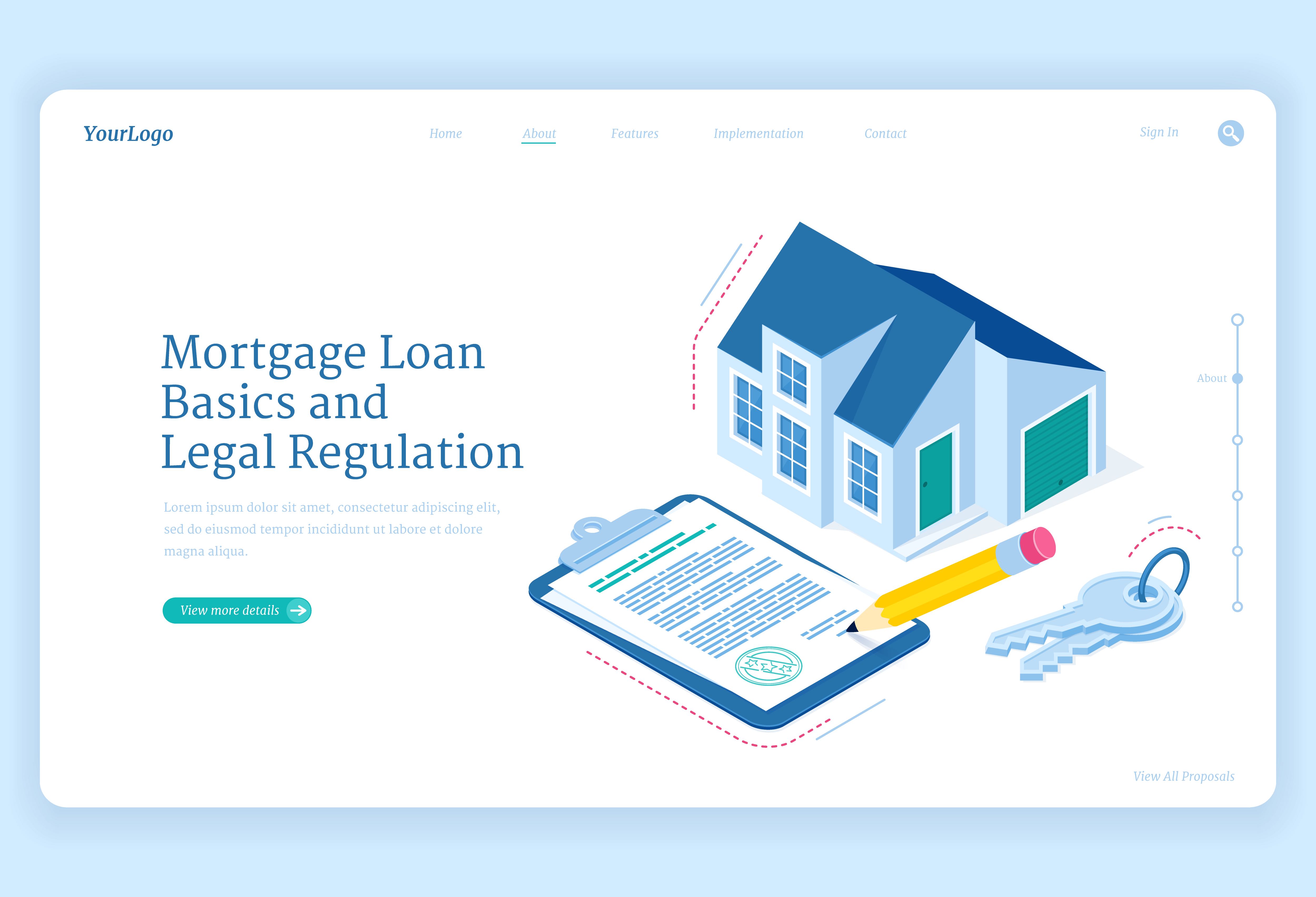 Mortgage vector created by
upklyak
Besides, the credit score for a manufactured home loan, you would need to make sure your future home corresponds to the following requirements in order to obtain a loan for it.
The manufactured home will also have to qualify for the mortgage. Along with following HUD's post-June 15, 1976, safety regulations, the home must:
It should be 'real property' and not 'personal property'
Have at least 400 square feet of living space
Be permanently attached to a foundation and on land that you also own
How to Finance a Manufactured Home? When thinking about the credit score needed to buy a manufactured home or the minimum down payment for a mobile home keep in mind that there are some other issues concerning the loan.
Here are some of them to have in mind when looking for financing options for your mobile home!
Where will you put the home? – The loan will likely be for the home only, so you'll need to either buy the land for it through another loan. Renting land could mean you will not be eligible for some loans.
Bigger homes may not be eligible for some loans – Buying a double-wide home that costs $100,000 or more isn't allowed in an FHA loan. Maximum loan amounts vary by the type of home bought.
Compare lenders – Not only should you compare the type of loan, but see how fees and interest rates vary among lenders.
Check 10 easy steps to finance your mobile home by Homes Direct.
There are many financing options you can choose when buying a manufactured home. Build a good credit score and apply to the most beneficial loans for your future house!
Here are the top common loans and mortgages people apply to:
Backed by the Federal Housing Administration, FHA loans are extremely popular among first-time homebuyers and others interested in low down payment mortgage options
There are two types of FHA loans available:
FHA Title II loans: A down payment as low as 3.5% is needed. Loan terms can be as long as 30 years. Title II loans are real estate loans, meaning you'll have to purchase the land and home together. The home must be permanently installed on an approved foundation system.
FHA Title I loans: These loans are for personal property, so you don't have to own the land that the home sits on. If the land is leased, the initial lease must be at least three years. Down payments can be as low as 5%. That amount can vary by lender, depending on your credit score.
Benefits of FHA Loans
Low down payment requirements
Low mortgage rates
Easier to qualify for compared to other loans
Available in 30 year and 15-year loan terms
Freddie Mac and Fannie Mae are more conventional loans with a fixed-rate mortgage and repayment in 15, 20, or 30 years.
Fannie Mae loans are obtained through the MD Advantage Program, which offers loans at lower rates than traditional manufactured homes loans. Qualifications include installing the home with a driveway. The home must meet certain construction, design, and efficiency standards.
The U.S. The Department of Veterans Affairs insures loans for veterans and active-duty military members.
The VA loan program includes financing for manufactured and mobile homes.
VA Home Loans are provided by private lenders, such as banks and mortgage companies. VA loans offer some of the most competitive rates and lowest fees in the market.
Benefits of VA Loans
VA home loans don't require any down payment
Low-interest rates
Closing costs.
A USDA home loan is a competitively priced mortgage option that helps to make purchasing a home more affordable for low-income individuals living in designated rural areas. The U.S. The Department of Agriculture backs USDA loans in the same way the Department of Veterans Affairs backs VA loans for eligible individuals such as veterans and their families.
Benefits of USDA Loan
Can finance 100% of the appraised value
No down payment required
Minimum credit score required: 650
Must meet the geographic requirement: rural location
Fees: 2% fee added to the total loan, and .5% to the monthly payment
| | | | |
| --- | --- | --- | --- |
| Type of loan | Typical rate | Min Credit Score | Typical terms |
| FHA | 5.4% | 580 | Up to 30 years |
| Fannie Mae | Varies | 620 | Up to 30 years |
| Freddie Mac | Varies | 620 | Up to 30 years |
| VA Loans | 4.5% | 640 | Up to 30 years |
| USDA Loans | 2.8% | 640 | Up to 30 years |
Loans are a very good choice when you don't have the budget to buy your dream house right away. This is a good opportunity to have it all at the same time. Before taking a loan make sure to make a checklist of the area loans available and research to find the best option for your family.
Doing this can be very challenging as financing terms and documentation are very complicated. Homes Direct agents are trained to help you through every step of the financing phase and ready to answer all questions you might have.