According to the National Housing Institute, more than 22 million people in the United States live in manufactured homes. Manufactured housing accounts for 10% of new single-family home starts. As the average price per square foot for a manufactured home is $49 compared to $107 for a site-built home - affordability is an obvious benefit. But weighing the pros and cons of manufactured homes extends beyond affordability.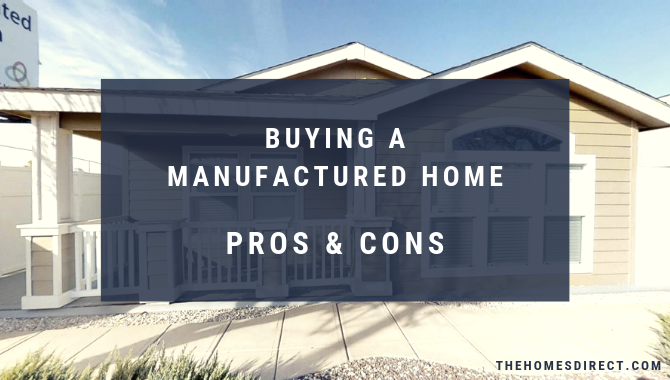 Although a variety of modern housing is built wholly or partially off-site, manufactured housing refers to a specific type of home that is typically built in a factory and transported to its site on its own wheels. It's a legal definition, referring to homes that are built on a permanent chassis that permits "the initial and continued transportability of the home."
Such homes may consist of a single unit or of modules that are transported separately and joined together on a site where they will also be connected to local power, water, and sanitary systems. They may be attached to a permanent foundation, or their underlying chassis may be "skirted" by blocks or siding to make them virtually indistinguishable from traditionally-built homes. Although they are still sometimes referred to as mobile homes, the truth is that modern manufactured homes, especially the larger models, are seldom moved once they have been delivered. Unlike recreational vehicles, they cannot move under their own power.
A General Overview of Manufactured Homes
Manufactured homes are constructed by trained building professionals in a controlled environment. It generally takes 2 to 3 month for a home to be completed. The manufacturing process proceeds smoothly from one phase to the next, from start to finish. Materials can be readily stockpiled; scheduling delays are minimized, and quality is assured through training and specialization. A streamlined schedule makes the building process highly efficient; typically, there are limited models available, although custom options have become more commonplace in recent years.
When talking about mobile home pros and cons, the benefits always seem to outweigh the quality of the manufacturing process and the flexibility increases. Mobile homes are gaining in popularity and are considered a strong favorable alternative to traditional homes. If you are still questioning whether buying a manufactured home is a good idea or not, we will uncover the mystery for you!

Read also: Top 20 Mobile Homes on Homes Direct
Advantages of Manufactured Homes
Affordability
Living in a mobile home comes with a list of pros. Among the most vital ones is the affordability of a mobile home. The average cost of a manufactured home is substantially lower than a traditional site-built home. A report issued by the Millennial Housing Commission soon after the turn of the century cited manufactured housing as one of the "largest sources of non-subsidized housing in the nation." Today, manufactured housing is viewed as a vital part of the solution to the growing housing shortage fueled by high demand and high prices. The average cost per square foot for a manufactured home is $49 per square foot versus $107 per square foot for a traditional home built on site.

Read also: Average Cost of a Manufactured Home
Structural Strength
Many people question whether manufactured homes are worth it, in terms of structural strength. Manufactured homes are built under the HUD code adopted in 1976. It is the only federally-mandated and administered code that exists, and it was specifically developed to address the factory production process, as well as to require that homes meet standards for "structural design, construction, fire safety, energy efficiency, and transportation from the factory to the customer's home site," according to the Manufactured Housing Institute. All manufactured housing sold in the United States bears a permanently affixed "red seal" to show that all requirements of what is sometimes termed the most stringent certification process in the building industry have been met.
Versatility
Manufactured housing allows long-term options. Because a basic manufactured home can be extremely affordable, families who own an appropriate site can start small, with the option of adding additional manufactured modules as their needs change. A manufactured home may also serve as a starter home for families who plan to build a larger, permanent structure at some time in the future; the original could become a rental property or serve another purpose on a family compound.
As another option, although it might be logistically more complicated, a manufactured home could be moved to another site if the existing location is not a long-term option, or if the initial site was on rented property.
Construction Timetable
Buying a manufacturing home can mean moving into your own home faster. The timetable can be as short as 60-75 days for a home to be move-in ready. If time is of the essence, check out the Homes Direct ownership program.
Fast Installation
There are few things more exciting than watching your own home take shape. But there is nothing that can equal the excitement of being a spectator as your new home is delivered, then lifted by a huge crane onto its foundation. It's quite an experience. The final installation and utility hookup work moves quickly and, before long, you will be preparing meals in your new kitchen, sleeping in your new bedroom and organizing your new life. Whether you choose to purchase a home in a manufactured housing community or buy a manufactured home to place on property you already own, you will be pleasantly surprised at how quickly you can actually begin to enjoy your new lifestyle in a home of your own.
Energy Efficient and Eco-Friendly
Manufactured housing is environmentally conscious and energy-efficient. The HUD Code ensures that manufactured homes achieve a high degree of energy efficiency with upgraded insulation both in the walls and under each home, a "belly wrap" and insulated skirting, energy-efficient windows, and on-demand water heaters. Today, entire homes can be Energy Star certified. In addition, state-of-the-art kitchens and bathrooms feature both energy-saving appliances and water-saving plumbing fixtures and faucets, and buyers can opt for energy-efficient lighting as well. It is no surprise that today's manufactured housing is 27 percent more efficient than it used to be.
If asked about the pros and cons of buying a mobile home, many people will mention this as one of the main benefits for which they choose mobile homes. Nowadays the idea of having energy-saving and eco-friendly options for housing is always great!
Acoustics
Because manufactured homes are built as separate modules, they can actually be quieter, with less sound transference from one room to another, than a traditional site-built home. They are strong, durable, quiet and sheltering, particularly when two or more modules are combined to form a larger structure. Sound transference is minimized because each module is constructed and insulated individually.
Low-Risk Construction
Sadly, construction sites are typically plagued by the problems of damage, theft, and delivery delays. With manufactured housing, these problems are minimal and resulting time and dollar savings are maximized. It's a winning scenario for both the manufacturer and the buyer. Construction waste is also minimized; as is misuse and disappearance of materials. The resulting efficiencies are part of the reason that the cost of manufactured housing remains lower than the cost of site-built homes.
Mobile? Not Really
In the past, it might have been easy to identify a "trailer park." Those days are long past. Today, all across the country, there are highly sought-after communities distinguished by distinctive modular housing. Customized skirting is used to camouflage any lingering resemblance to mobile homes of the past. From affordable subdivisions to luxury-styled retirement communities, these unique new developments show how resourceful today's developers and builders have become in responding to housing needs and current trends. Many manufactured homes are "grounded" with concrete foundations, decks, site-built porches, garages, patios, and lush landscaping, situated in subdivisions with abundant amenities for upscale lifestyles.

Read also: Guide to the Manufactured Home Skirting
Contractor Benefits
Sometimes, it's all too easy to consider only consumer advantages when discussing the pros and cons of mobile homes. However, the benefits to the contractor are just as important. Trained contractors - including framers, electricians, plumbers, painters and other professionals who work regular shifts in climate-controlled factories - tend to be well-compensated and more satisfied than those who move from site to site, working under - sometimes adverse physical conditions. A satisfied employee tends to take great pride in the work, and that pride is evident in the final product.
Options for Customization
Whether you're dreaming of the perfect first home, or planning your retirement "castle", the options for personalizing a Homes Direct model are almost limitless. With a roster of more than 100 plans that buyers can visit at 12 different locations, you'll appreciate the opportunity to make your dreams a reality by selecting special features to truly make your house a special home. Modify the exterior style or the roof line so that the finished design will make your heart sing, and then proceed to design a kitchen that appeals to your inner chef, bathrooms that pamper your spirit and built-ins to assure that every aspect of your life at home is pleasant. Choose a floor plan that makes sense for the way you want to live, and then pick the colors, materials and extra features that you want.

Read also: Design Your Own Manufactured Home. Customization Options
Lower Prices for Luxury
High-end finishes and unique floor plans are every bit as available for manufactured housing as for traditional homes. If you have your heart set on a vaulted ceiling, granite countertops and a kitchen island, a fireplace, hardwood floors or other luxury features, chances are that they can be built into your mobile home. The cost of such luxury features will be higher of course, but the overall cost will still be lower than for a site-built home. In addition, once the manufactured home or multiple modules are delivered and joined together at your site, you still have the option of adding garages, patios, sunrooms, decks, landscaping and other features to make your home as distinctive as you wish.
Even though manufactured homes tend to be smaller, on average, than most traditionally constructed houses, they can be finished out to be every bit as distinctive and luxurious. Get creative living in a mobile home, as the limitations for it are only determined by you. This can be a great advantage of mobile homes as you get to add your own touch to everything.
Financing
Buying a mobile home today can be just as easy as buying a site-built home, but buyers may have to approach the loan process differently. Home Direct agents are trained to help buyers navigate the waters of manufactured home financing, and can assist buyers to identify the steps needed to find appropriate financing.
As with any potential home purchase, the buyer's creditworthiness, employment and tax records, debt to income ratio, and down payment must meet lender guidelines. In the case of a mobile home purchase, both the lot and the manufacturer must also be acceptable in the view of the lender.
There are many types of loans available to buyers of manufactured housing, including VA, FHA, and conventional mortgages. Additionally, in rural areas, buyers might have access to mortgages offered through the U.S. Department of Agriculture, and there are loans that specifically target members of Indian tribes for purchase of manufactured homes.

Read also: Top 6 Best Manufactured Home Loans
The Cons of Modular Housing
There are some mobile disadvantages. They include:
Availability and Cost of Suitable Land
In suburban and sparsely populated areas, there can be a shortage of available land with proper access and existing utility service. In some areas, the land is deed-restricted to require site-built construction. In rural areas, the cost of access and site preparation might make modular housing difficult or even cost-prohibitive. However, with the growing popularity of alternative housing, improvements in modern factory-built housing, and the sophistication of modern design, some previous restrictions have been eased or eliminated.
Lingering Stigma of Mobile Homes
Although modern manufacturing methods and design have altered the view of mobile homes, there is still a bias against them in some areas. As more modern communities are developed that feature manufactured housing, the picture is changing. In some cases, local communities that had previously not allowed manufactured homes have revised their zoning requirements and are looking to manufactured home communities to meet affordable housing needs.
This is where the difference of manufactured homes vs site built comes along. There are things that are very good about manufactured homes but if you are looking at it as a long-term solution you surely want to consider all the details.
Lender Requirements
Some specific financing considerations surround manufactured homes. In some cases, they are considered personal property rather than real estate, and that can impact buyer plans and financing options. This can be one of the risks of buying a manufactured home.
Mortgage lenders typically offer mortgages to buyers of "real property," which is generally defined as land and structures that are permanently constructed on that land. Stick-built homes meet the requirement. Homes that are set on their own chassis do not, even if they are set on concrete slabs or on piers designed as permanent "tie-downs." Lenders usually determine that if they are on wheels, the possibility exists that manufactured homes might be moved at some time in the future.
A bank or mortgage lender will look favorably on a loan request if the home is placed atop a basement or on a concrete foundation, and if the axles are removed. These options increase the costs somewhat, but they also open additional financing options. Weighing the pros and cons of manufactured homes will also include balancing the costs of various foundation choices.
The alternative to a mortgage is a personal property loan which can involve even more stringent qualification requirements, additional cash investment, and less favorable terms.
Long-term Value
Even though manufactured homes have a list of advantages, it is very essential to also understand the disadvantages of manufactured homes before making a decision.
The assessed value of manufactured housing may, in some locales, be significantly lower than for stick-built housing, but that can also be a mixed blessing. It might mean that property tax bills are correspondingly low, as well. Long-term appreciation of manufactured housing may have been lower in the past, but market conditions affect value today more than the type of housing. As the manufactured housing industry continues to grow, it is also expected that appreciation rates of manufactured housing will be more on par with other housing appreciation, based on the specific location.
Save & Print List of Pros and Cons of Mobile Homes to Weigh the Arguments for Buying Affordable Housing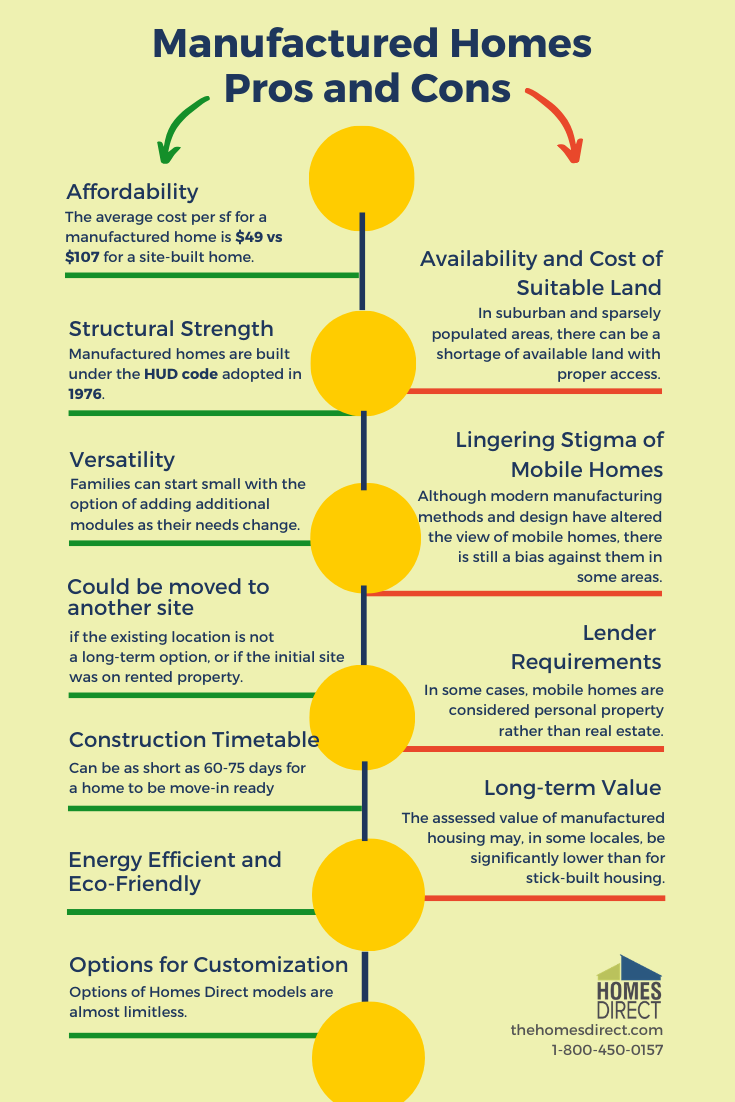 A manufactured home may be the answer to your dreams of homeownership. But, before you make the decision, thoroughly investigate the pros and cons of buying a manufactured home. As with any major purchase, the decision must depend on a family's individual needs and circumstances. When you weigh the pros and cons of buying a mobile home, the value becomes apparent and the uncertainty of "are mobile homes a good investment?" fades away for sure. Before planning to get your "sweet home", be sure to evaluate your own specific housing goals and plan the right process for it.