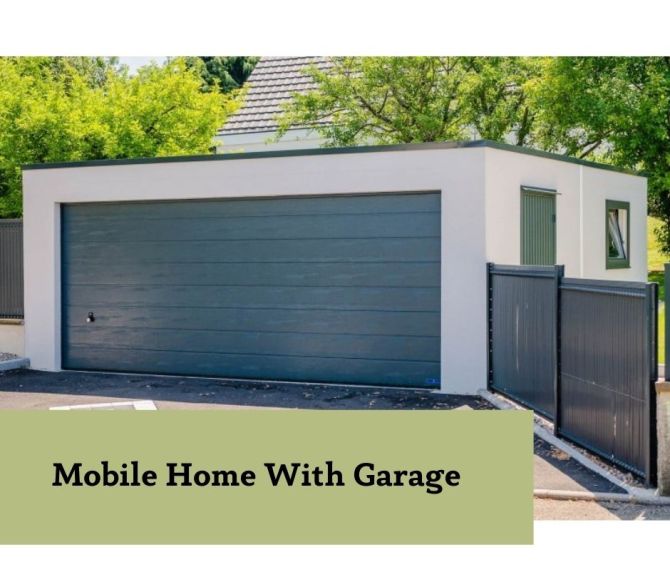 Table of Contents
- Garage options for your manufactured home
- What you should know about adding a garage to your mobile home
- How to attach garage to mobile home
- FAQ
A mobile home with a garage is a dream for many homeowners! New home buyers always look for homes that have a space for the car too. Even if you don't own a car at the moment and find a garage at an additional cost, you will regret not buying a modular home with the attached garage as it can always serve for something until you have a car to park there!
Usually, it becomes more expensive to build a garage as an addition to the house rather than buying it all together! There are many modular homes with attached garages out there on the market! Let's dive in to discuss garage options for manufactured houses and all about the ways you can have one! Let's discover manufactured homes with attached garages.
Modular homes with garages can be a broad term as there are many types and options when it comes to having a garage. Check them out!
1. Attached garages
Attached garages as the term implies are attached to the house. Attached garages are adjacent additions that share at least one wall with the house. Simply put, the attached garages are attached to the mobile house later, not in the factory!
A mobile home with a garage does have many advantages but some people prefer detached garages for the reasons we will talk about below!
2. Detached garages
Detached garages are built entirely separate from the home itself. They can be styled to look more like sheds or barns than regular garages, and many homeowners build them to fulfill more than one purpose. For instance, detached garages can easily double as a workshop or as equipment storage. You can add them anytime you want. It doesn't have to be the exact time of your home buying!
3. Integrated garages
An integral garage is an attached garage that is built within the walls of the main property and is an element of the building's structure. These garages can allow admission to the house through an integral door.
As we guided through the main differences and the types of garages now it's time to compare them. The most common garages are the attached and the detached garages for mobile homes.
Do you want an attached or a detached garage? There's a long list of pros and cons that come with either option. Neither option is better or worse than the other. Both have a lot of advantages to offer.
So instead of trying to figure out which is better, instead, it's a matter of deciding what your priorities are and what's most important to you.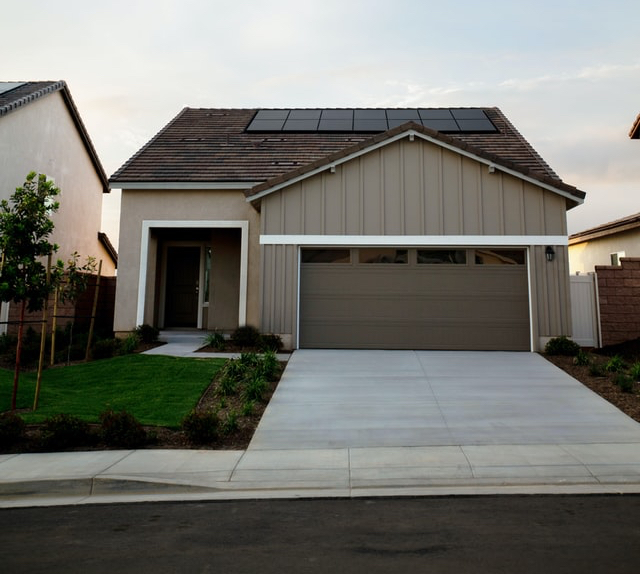 Photo by
Vivint Solar
on Unsplash
An attached garage can add a significant amount of home value when it comes to resale and it comes with many advantages. A double-wide home with a garage can be a great deal!
Many manufacturers nowadays can offer modular homes with attached garages with many customization options.
Pros
High resale value: An attached garage can increase a home's resale value by $20,000 to $35,000.
Comfort: It is indeed more comfortable to avoid any weather conditions while going to your car.
Privacy: You can be sure that your car is safe and sound in your garage!
Extra area: You can always use your garage for storage, or use the garage as a workspace. There are many mobile homes with attached garages!
Security: Attached garages have some added security benefits. This includes having easier access to your home if you forget or lose your keys. Another thing if someone tries to break into your house you can hear them trying to enter the garage!
Cons
An attached garage can be difficult to fit on some lots.
Fire risks are greater when the garage is attached
Limited customization
Pros
Safer: Detached garages are completely separate units from your house which means if any incidents happen in the garage, the odor of the gas will not penetrate the house.
It fits an older-style home better: Because attached garages are such a relatively new design, they might tend to look awkward and out-of-place when they're added on to older houses.
Limits house access: Many homeowners also enjoy the added sense of security that a detached garage brings because of the way it eliminates an easy access point to the house.
Extra privacy: In detached garages, if the homeowner doesn't have a vehicle perhaps they will use the area for small projects around the house, painting something or even woodworking.
More room to expand: If you ever want to expand your garage it will be easier to build an addition upon the detached garage and make more room and use of the land!
Cons
Less accessible: As discussed, detached garages are usually away from the house which means you will have to walk to it and it will be harder to go all the way back home in case you forgot something.
Space: Detached garages are usually built in the yard and if you have a small one then the garage might take up all the space!
Expensive: It is more expensive to build a separate garage rather than having it attached to the house!


Photo by Jonas Jaeken on Unsplash
Once you buy the house, there's always the option to add that garage on later. You could even opt for a smaller, less expensive carport. Consider talking to a contractor to get an idea of what this might cost and the potential construction timeline. Adding a garage to manufactured homes has become very common but you need to make a list of things and be ready to spend some money!
1. Make sure your house can be attached to a garage. Is your home sturdy enough to accommodate the load of a garage?
2. Obtain a permit. You will almost certainly need a permit from local municipalities before you can venture on any major renovation project like adding a garage.
3. Prepare a good foundation for the garage to ensure a lasting life. Also, make the floor of your garage and that of your home the same level.
4. Pay attention to the roofline. When roofing your garage, you want to make sure that the roofline of your garage is in line with that of the house.
Garage addition to mobile home
If you don't have a parking area around your mobile home then this addition will really be necessary for you and your family. Having to park the car away from home is not always convenient. It is inconvenient to carry bags, groceries, or anything else from your car to your house.
Another thing is that the car stays outside which means during winter time it will be hard to keep your car from frosting and you will have to scrape snow and frost off your car. Even if you live in a warmer area, leaving your car unattended away from home is not always safe. A parking area will be a very wise mobile home addition.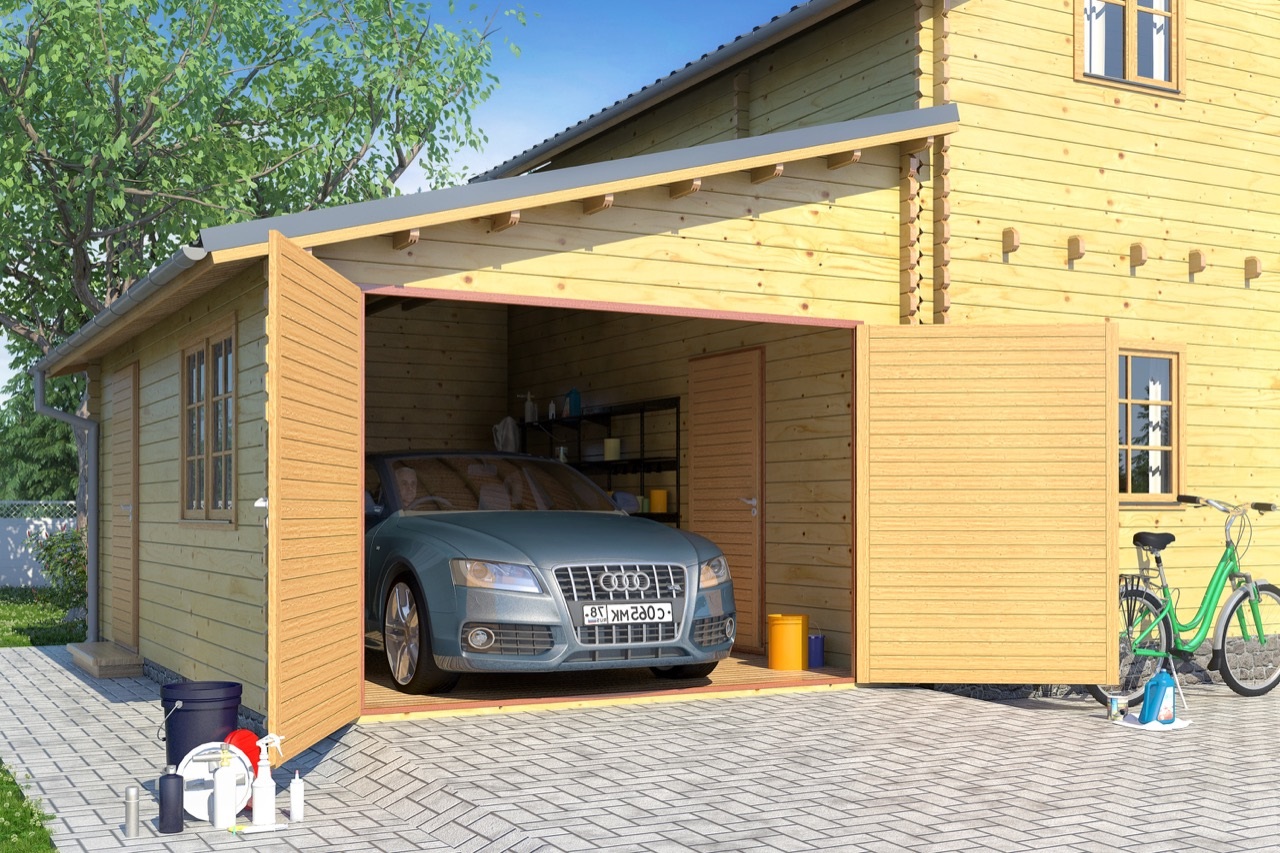 Image credit pro-dachnikov.com
Can you add a garage to a mobile home?
Yes, you can always add a garage as an addition to your mobile home.
How much does it cost to put a garage on a manufactured home?
The cost depends on many factors but in general, it can be from $20,000- $35,000 and more!
How much does it cost to add a 2 car garage to a mobile home?
The cost depends on many factors but in general, it can be from $25,000- $35,000 and more!
Is it cheaper to build an attached or detached garage?
In general, it is much cheaper to build an attached garage rather than a detached which can cost double!
Ask all the questions you have to the professional team of Homes Direct.
Get reliable information and clear processes with us!