People across the country are looking for the best manufactured homes as their first or second homes. Here at Homes Direct, we have a range of small mobile homes that provide a wealth of advantages. These homes are typically lower in costs (some are under 50K) than a traditionally built home yet are constructed with the same materials. These tiny mobile homes can be beautifully customized and adjusted to the customer's needs. One of the main advantages of mini mobile homes 2021 is that it can cost relatively cheaper which means there can not even be any mortgage issues. Tiny mobile homes are also much cheaper to maintain. Bills for electricity, fuel, water, and waste disposal are all much lower. In addition, it's much easier to live off the grid in a tiny house, since you can heat the entire space with a small wood stove and power it with a small solar array.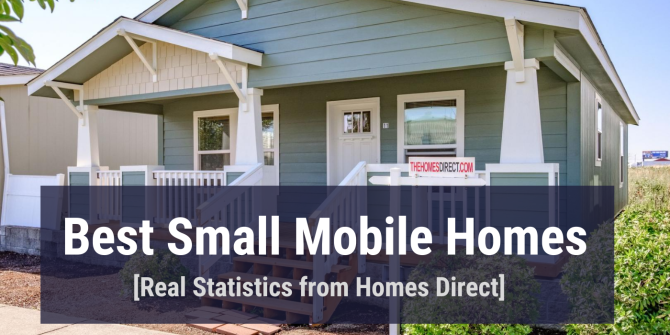 Roughly 4.8 thousand mobile home units were sold and placed up for residential use in 2020, according to the United States Census Bureau. With so many building options today, it's hard to choose which one is the right one for you and your family. Even though many people prefer to have bigger houses for the future, small mobile houses have been very popular.
Every manufactured home is unique in its structure and exterior design. People tend to get mobile homes for many reasons. Mobile homes can make homeownership easier to achieve. And since mobile homes usually cost less per square foot than a stick-built home, you can get more space for your money.
If you are looking for modern manufactured house yet are unsure of the layout, here at the 20 best modern and luxury small homes for sale desired by residents.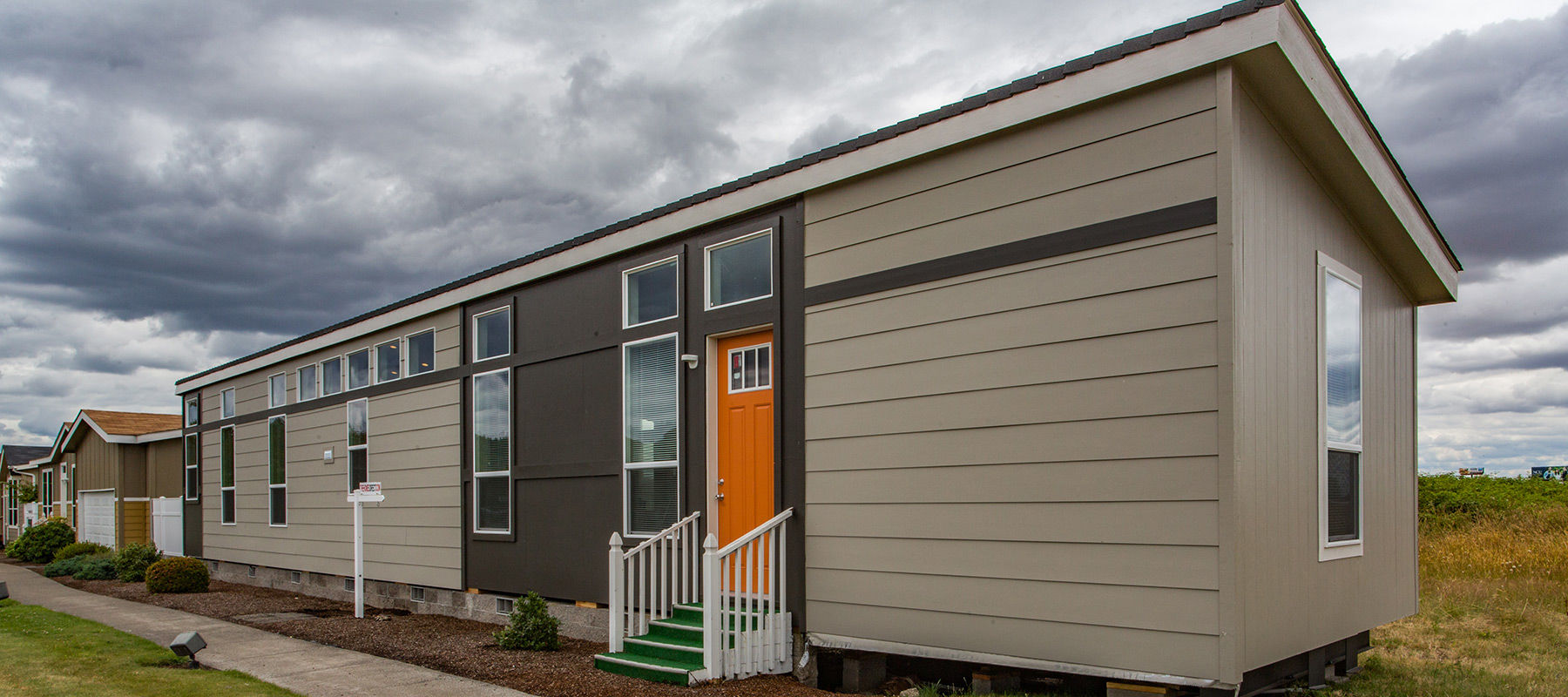 The Loft home series features small manufactured homes that are perfect for young couples, small families, single parents or retired couples. This 1,140-square foot home features 2 bedrooms and 2 baths with a rectangular floor plan that perfect for narrow plots of land. Chefs and people who love to cook will enjoy how the kitchen is the main feature of the home between the living room and dining room, as the semi-open floor plan provides the perfect level of privacy and openness. The loft home option is loved by many people as one of the coziest little mobile homes. In terms of modern living spaces, The Loft delivers style, ambiance, and intimacy rarely enjoyed in two-bedroom, two-bath manufactured homes.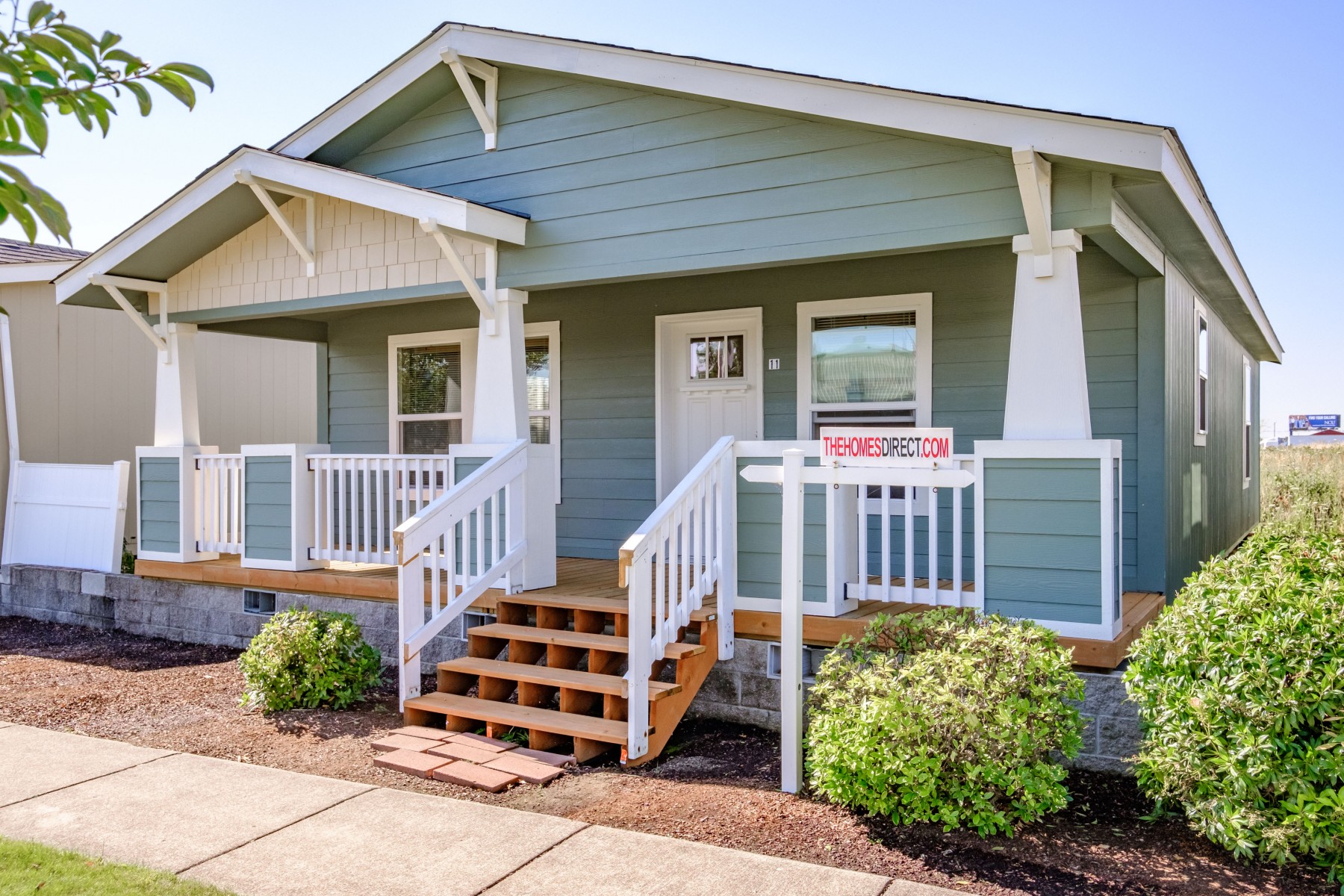 For people who enjoy more symmetrical square homes versus a rectangular one like the Loft home, the River's Edge home series are the best tiny mobile homes for people looking for a great price. Only 972-square feet, think of this Palm Harbor home as a cottage style or starter home with every room in the right place. It features a living room with a combined kitchen/dining room in an open floor plan. A master bathroom and second bedroom rounds out the space along with a master bathroom and half bath. As the living room and kitchen are open, you can come home, kick up your feet, and relax with the loved one while looking at the scenic forest, mountain or ocean views from the front porch. People who desire functionality and quaintness mini mobile home for sale turn to the Rivers Edge home plan.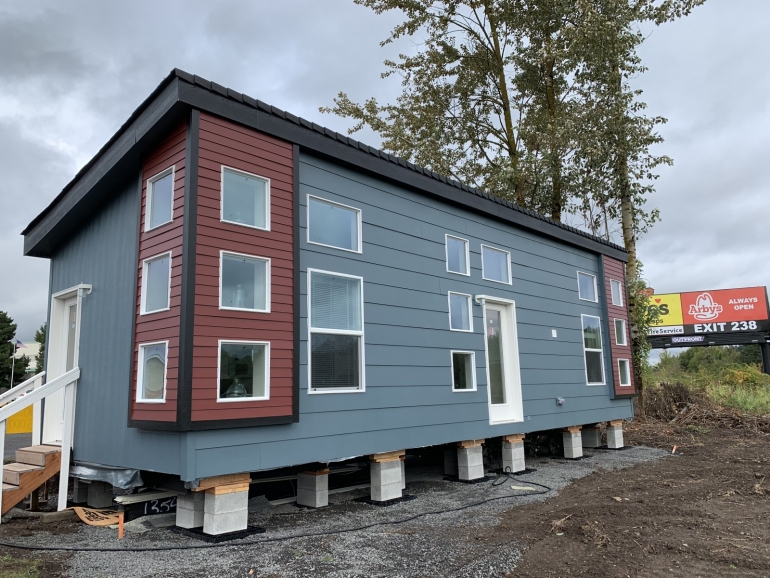 Tiny homes have been the rage for the past two decades. For people who just want to have a home to themselves or for couples who want an intimate space, the 500-square foot Casa De Ceilo home by Palm Harbor Homes is the perfect fit. It features an enormous living room with walk-in kitchen that couples will enjoy when watching movies or a date night at home. The 1 bedroom and 1 bath modular home also features a storage loft and an optional open closet design to give plenty of storage space. If you are looking for a very cozy 1 bedroom mobile home Casa De Ceilo Home is the one. Enjoy your tiny moments in this tiny mobile home which can be easily maintained and cost you lower than you would have ever expected.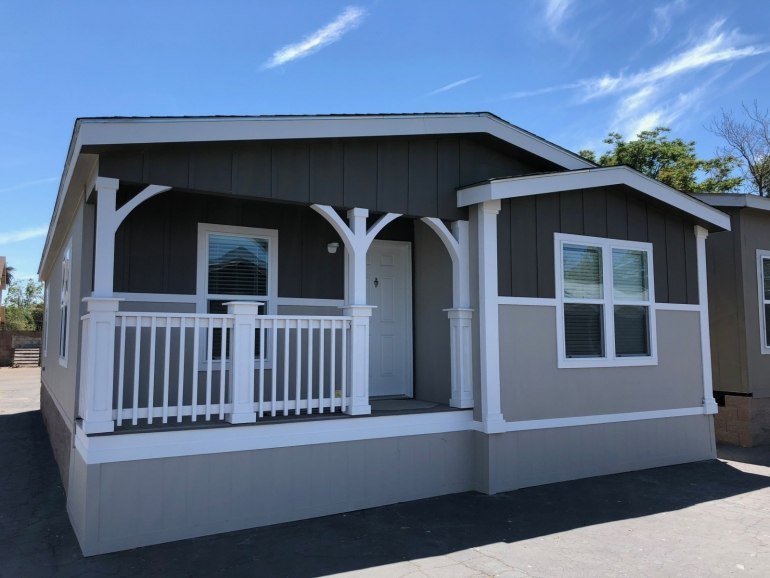 Many of the best small modular homes feature the living room at the front of the house with the remaining rooms further back in the floorplan. The Lighthouse home by Champion strays from this concept by featuring the living room and kitchen side by side at the front. While still considered a small home, the 1,130 square feet area offers a spacious and luxurious feeling. The kitchen is a cook's paradise with long countertops, tiled floors and a kitchen island separating the main cooking space from a small dining nook. With 2 bedrooms and 2 baths, young and old couples will never want any other home.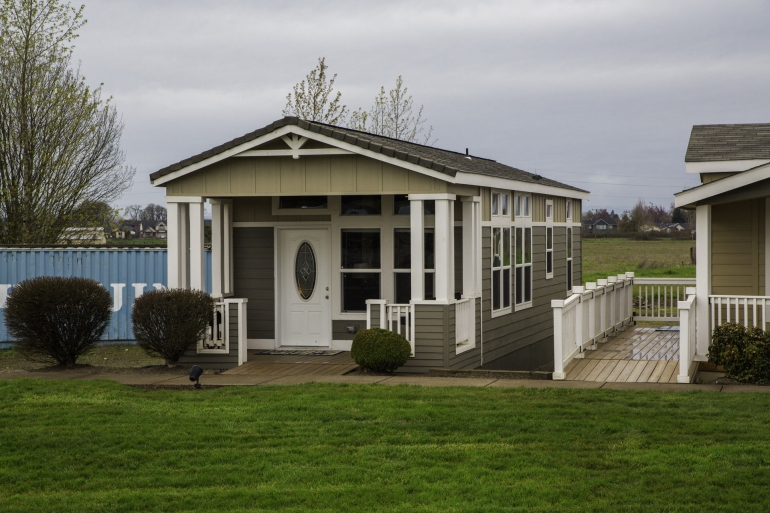 Some home buyers desire to combine indoor and outdoor spaces to have the place of their dreams. The Paradise home is a dream come true. As one of the best manufactured homes on the market featuring a large optional front porch area, couples and individuals can sit out and enjoy a drink while being closer to nature. This 586-square foot space costs under 50K and features a combined living room and dining room. The kitchen is more rectangular in shape with a catty-corner sink and counters lining both walls. It has a large single bedroom and spacious bathroom to round out the space. As the Paradise is a one-bedroom manufactured home you have to be comfortable with more cozy arrangements. Otherwise, a home with more space may be more appealing to you.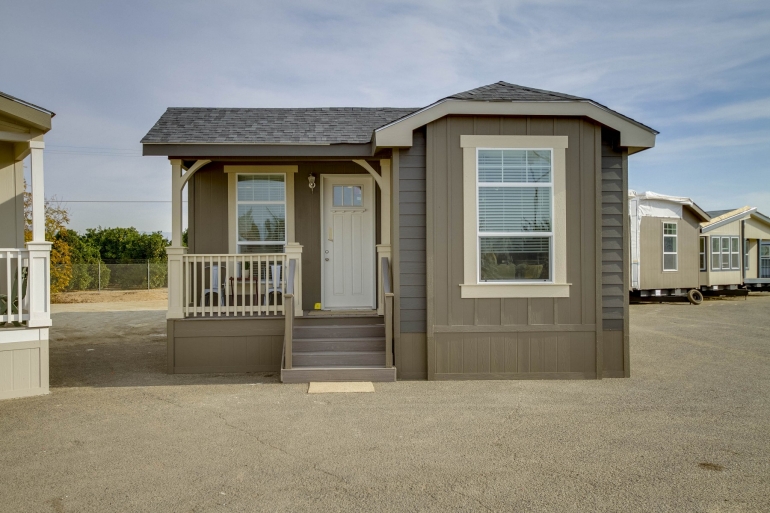 It's amazing how much a manufacturer can pack into a smaller space. The 3 bedrooms and 2 baths in the CM3563D home sounds like a large traditional house. Yet it only has a 1,213-square footprint. The small Champion mobile home features modern living spaces with all the luxury finishing touches as it has a living room, kitchen and dining room. While there is an open concept, each space defines itself in an extravagant manner with wood flooring throughout, high ceilings, and recessed lighting.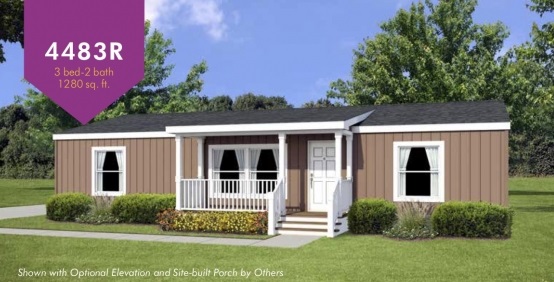 At 1,280 square feet, the LE4483R home is one of the larger, small mobile homes that's available for small families. This double section Champion home focuses on privacy for the living spaces as it has a master bedroom on one side of the house and 2 smaller bedrooms on the other side. The living room separates the sleeping spaces and leads into a combined kitchen and dining room space. There is a master bathroom connected to the master bedroom, while the second bathroom separates the dining space with one of the back bedrooms. One drawback to this particular layout is that it may not appeal to some people who don't hear the sounds of the bathroom through the nearby wall when eating dinner.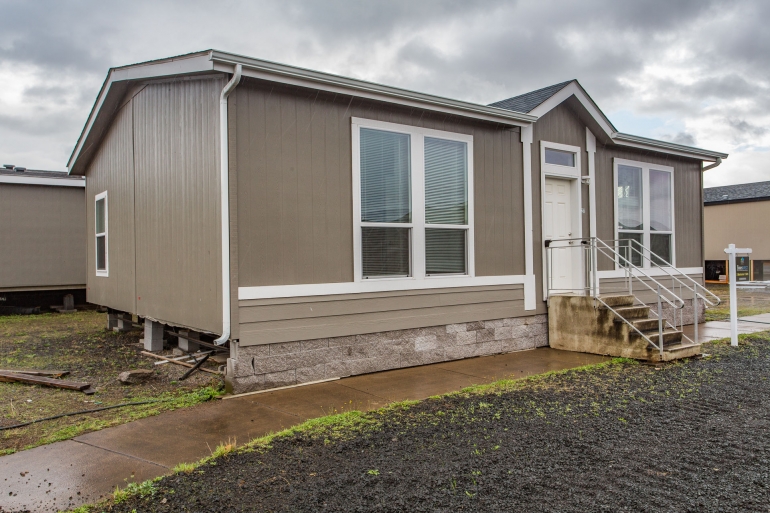 Couples and small families with one child who are looking for a modern home that uses every inch of space in an efficient way will find the D River Home appealing. This home style from Palm Harbor Homes focuses on providing a relaxing lifestyle rolled up into a small manufactured home. The 2-bedroom and 1 bath home has 972-square footage with a gigantic living space that could be divided into separate entertainment zones. The combined kitchen and dining room features a walk-in pantry that separates the sink and stove spaces while providing plenty of countertop to cook family meals.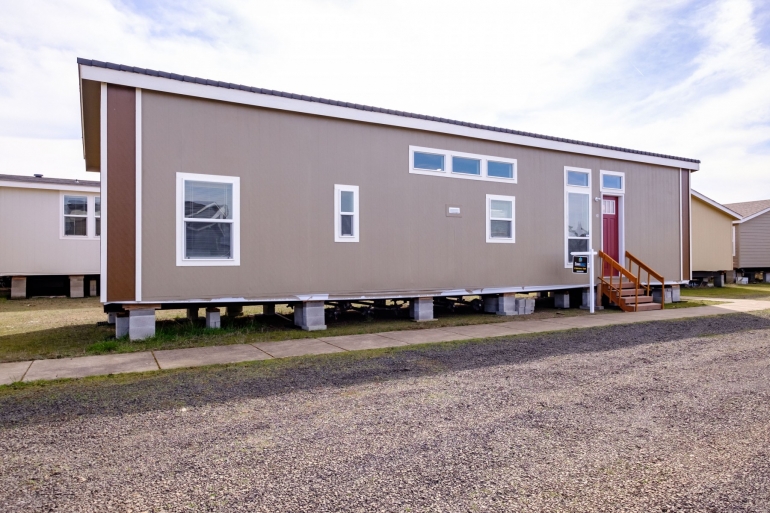 Couples starting a small family or individuals looking for an extra bedroom space to turn into a home office, hobby room or other entertainment space will find the Perris home appealing. When thinking about square footage sizes for the best manufactured homes, Perris modular homes fit right in the middle with 756-square foot areas. With 2 bedrooms and one bath, the open style layout flows nicely from one end of the mobile house to the other. The living room is partially separated from the combined kitchen and dining room by a wall island. This set up offers the maximum amount of space to cook large meals. The second bedroom also comes with the option of adding in a second bathroom. If you are looking for little mobile homes for sale, Perris Home should be on your 2021 option list.

Combine spaciousness and lower costs together, and you get the Bluewater home. This 399-square foot Champion home is a loft-style house. It has an optional storage loft situated above the kitchen and bathroom spaces as the loft can be reached by using the stairs. This setup offers elevated ceilings in the bedrooms and living room areas, making these living spaces feel spacious and airy. As a single section home, the 1 bedroom and 1 bath layout is ideal for individuals and couples. It also features a porch space so you can get outside and enjoy the scenic views. Enjoy browsing the impressive collection of Bluewater 1 bedroom mobile homes which are definitely worth the price which is surely low compared to the other styles of manufactured homes.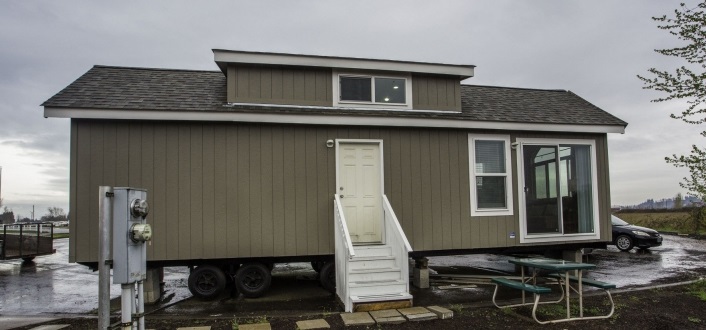 For people looking for a loft-style home like the Bluewater home but without a porch area, the Park Model 01 home from Palm Harbor Homes is another option. It features the same footage at 399-square feet and also has a loft above the kitchen. This modern little house is also a bit cheaper than the Bluewater Home as it may work with people who have more limited budgets but still want to get on the path of homeownership. Featuring 1 master bedroom and 1 bath, this tiny mobile home combines cozy modern style with private living. One of the best in one bedroom mobile homes.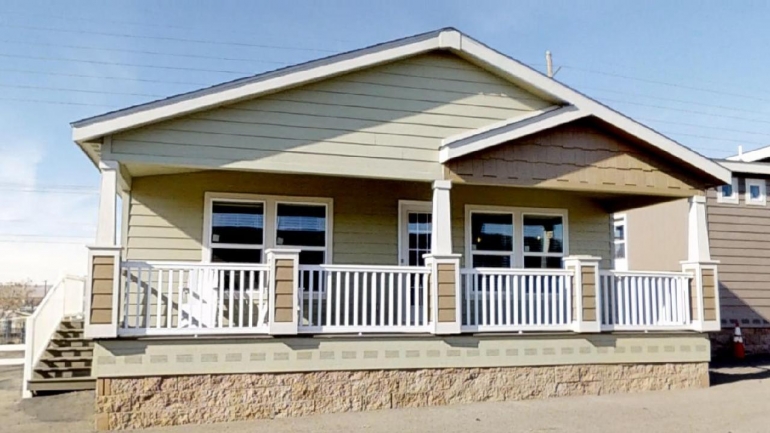 Open, airy and private describe perfectly the RC3037A home manufactured by Karsten. This modular home hits the best small manufactured homes list due to its 1,057-square footage. Yet it feels large when walking inside as the double section house features a large living room and eat-in kitchen that leads out onto the spacious porch space. The 2 bathrooms separate these spaces from the 2 bedrooms, as individuals can turn the extra bedroom into a fitness area, home movie space, or home office. The house also features a separate laundry room making this building into a well-rounded home.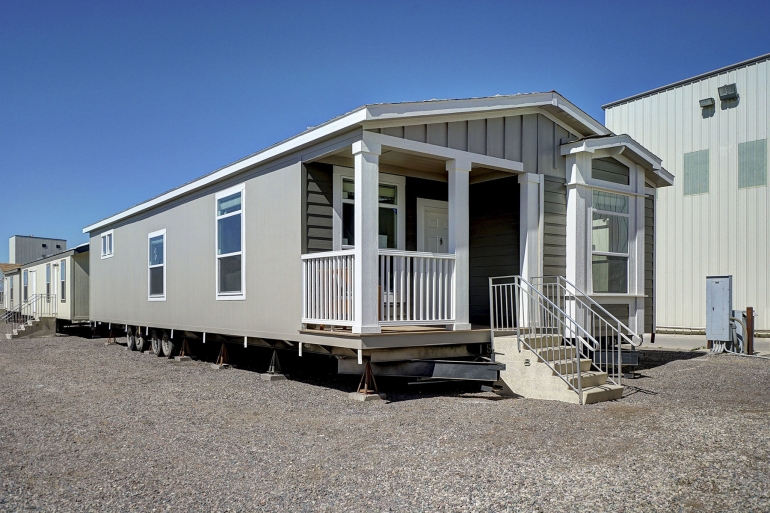 The Boxwood home by Champion is a bit pricier when it comes to the other small manufactured homes. With 1,151-square footage, the home has those added luxury touches to make it feel like a larger house. In addition to the 2 bedrooms and 2 baths, this house also has an open living room, kitchen and dining room concept. What sets this home apart from the others is the den situated off from the living room, making it perfect for the family to have a place for game or movie nights. An optional window seat is also available if you need extra seating for holiday meals.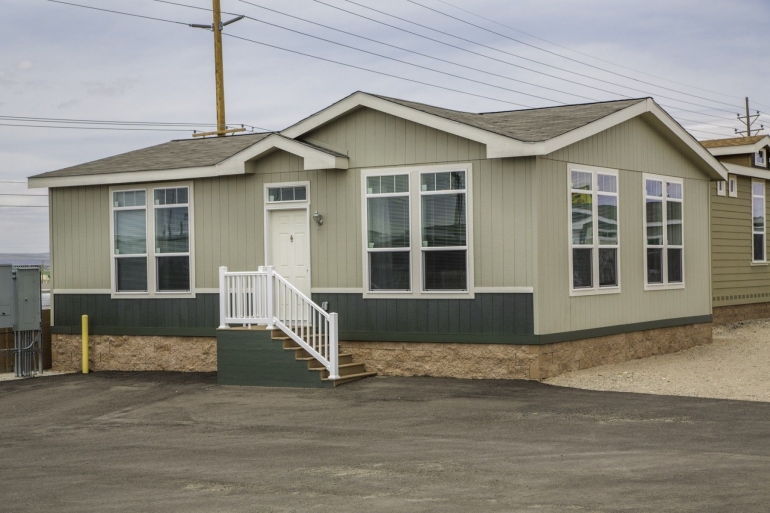 For people who enjoy eating out or who have busy lifestyles, the RC2736A home by Karsten may be right up their alley. This 972-square foot tiny home features 2 bedrooms and 1 bath. It has a smaller combined kitchen and dining room space when comparing it to other modular homes. Yet it compensates for this aspect by providing an enormous living room space. It's the perfect home for people who love to entertain but may not cook often at home.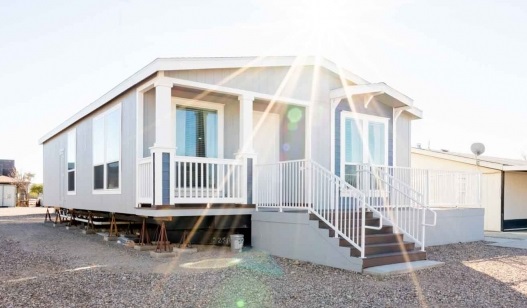 These 1,226-square feet Durango modular homes, a subdivision of Cavco Homes, feels so huge that it's hard to convince other people that these are small mobile homes. The HD2864B home features 2 bedrooms and 2 baths in a double section layout. This luxurious layout features a kitchen with an island and pantry, a separate breakfast area, a large living room and a porch. The master bedroom comes with a private master bathroom and walk-in closet, while the second bedroom has access to the main bathroom across the hall. This small home is perfect for couples who love a spacious layout or for small families who want a nice outdoor porch to enjoy the summer days.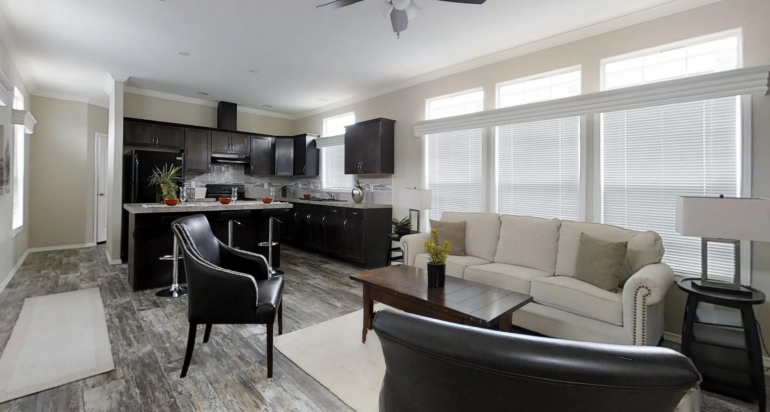 For couples looking for elegance in a smaller home, the K1676D home offers sophistication in every room. This small home comes as a single section at 1,178-square foot with 2 bedrooms and 2 baths. It features an open concept living room and walk-in kitchen with an island. The master bedroom sits on the other side of the kitchen space with the master bathroom at the very end of the house. Meanwhile, a second bedroom sits at the opposite end connected to a spare room. This spare room can be converted into another bedroom for couples with growing families or an extra entertainment and hobby space. The versatility of the rooms makes this a great home.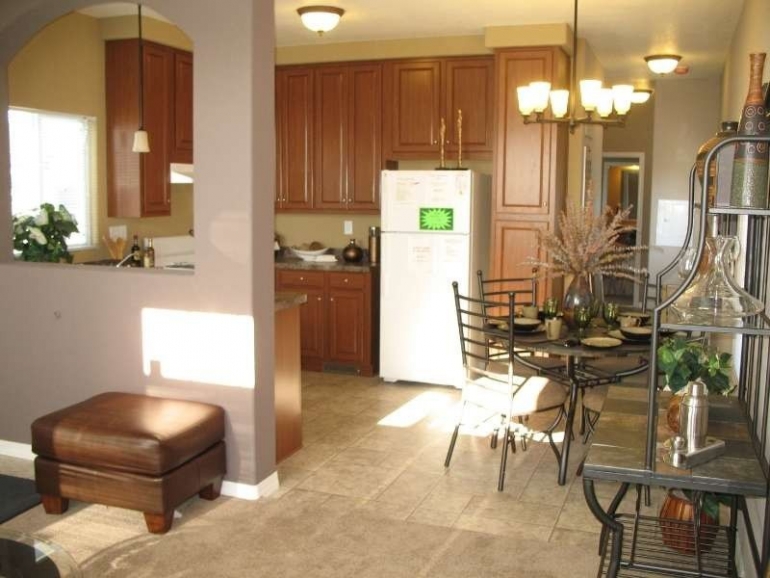 Many small 2-bedroom and 2 bath manufactured homes usually have a footprint of over 900-square footage to 1,110-square footage. Yet the Golden Pacific 561N home from Golden West California cuts down the space to a minimalistic 840 square feet. It smartly appeals to couples and families who are looking for a modern, utilitarian home. The rectangular single section home has the living room at one end and the bedrooms at the opposite end. The kitchen and dining room combo is in the middle of the house. One thing to take note is that the bathrooms are typically smaller for these homes compared to the others, as a larger optional master bathroom is available for couples looking for additional space.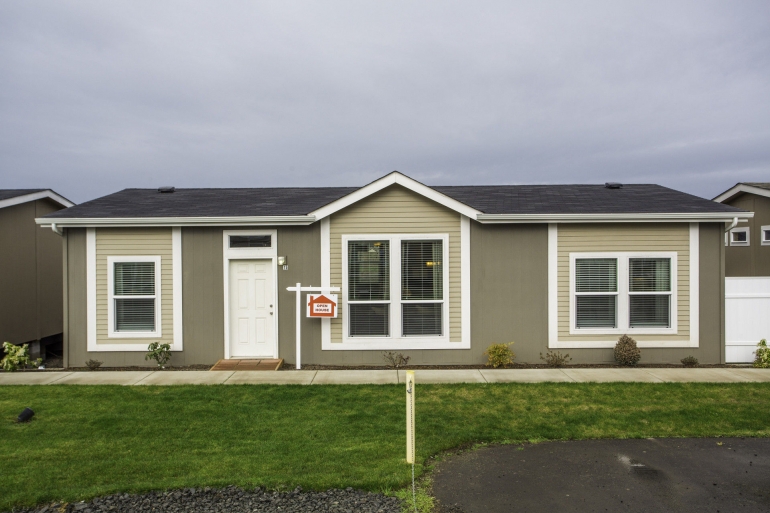 There are even small manufactured homes for medium sized families. The Jefferson home by Palm Harbor Homes may only be 1,188 square feet. Yet it features 3 bedrooms and 2 baths much like a traditionally-built single-family home. This double section home comes with a wide living room, chef's kitchen, and a small dining area to separate these spaces in the open floor plan. The master bedroom is separate from the other bedroom spaces as it features a large master bath with double sinks as well as a separate shower and tub space. The two remaining bedrooms have their own bathroom with a combination shower and tub.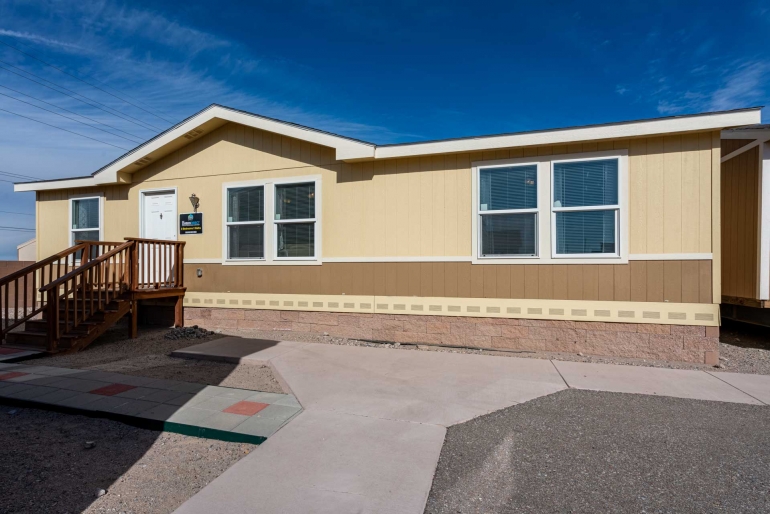 Keeping with the larger end of the best small manufactured home list, the K2744 home by Karsten Homes also features 3 bedrooms and 2 bathrooms in 1,188-square footage. What sets this home apart from the Jefferson Home is the tiled flooring in the kitchen and bathroom spaces. The living room space is a bit smaller so that the bedrooms can have extra room, as this feature may appeal to small and medium-sized families who live to spend their private time in their bedrooms.
To round out our list, we are featuring another larger, small modular home. The K1676H home by Karsten is a little smaller than the other ones previous mentioned at 1,178-square feet. Instead of being a double section, it has a single section with 3 bedrooms and 2 baths. This home has a closed floor plan when compared to the others, as the living room has an arch leading to a dining room with a kitchen that wraps around the utility space. The bedrooms are at opposite ends as they feature large bathroom spaces that gives off a luxury feeling.
What Makes a Great Manufactured Home?
Manufactured homes appeal to people due to the fact that they can be built quickly. They have the same basic layout planned while still allowing the homeowners to pick and choose those special extras that allows them to customize it specifically to their needs. Normal traditional homes built from the foundation up can take months to almost a year to complete. A small manufactured home can take as little as 2 months to design and install.
Another great aspect is that these homes can be moved. If a spouse has to change jobs and move across the state or even across the country, the house can come with the family. A person only needs to have the land available to place the house as they can still have all the features and luxuries that they are accustomed too. Lastly, every manufactured home has to meet the stringent building and material guidelines set forth by U.S. Housing and Urban Development agency.
Best Manufacturers of Small Mobile Homes
Shopping for the best-manufactured home supplier is no different than finding the best contractor for a traditional-built home. Homeowners should check the manufacturers credentials and building standards. Quality manufacturers will be HUD compliant, however there will always be a few who try to cut corners by either skirting compliance or offering the lowest building quality construction methods.
Here at Home Direct, we feature trusted home manufacturers who can provide high-quality construction methods and desirable homes.
When you are looking for the best small manufactured homes out on the market, turn to Homes Direct. We will provide you with a home that fits your lifestyle and your preferences.
FAQ
What is the smallest size mobile home?
A single-wide mobile home is the smallest size you can get. The smallest size can be 14' wide and 40' long.
What's the difference between a trailer and a tiny home?
One of the obvious differences between a trailer and a tiny home is the size. Tiny homes usually only comprise anywhere from 100 and 400 square feet whereas trailer homes are anywhere from 600 to 1300 square feet!
How many years do tiny homes last?
Depending on the materials and construction strategies they can last up to 10 years!
Is it worth it to buy a tiny home?
Tiny homes are great to save up money and they can serve as good housing. Even if the family gets bigger, you can always rent it out.
What is the best month to buy a mobile home?
Depending on your location, the best season to buy mobile is Midsummer, and pretty much any time in December.
What is the smallest size of double wide?
Double-wides can run as low as 704 square feet or as large as 2,300 square feet.
Where In the US Can I live in a tiny house?
Tiny homes living has been getting more common among young people and new home buyers! You can have tiny homes in California, Texas, Florida, and nearly in every state that allows tiny homes.
Do tiny homes depreciate quickly?
Yes, it does! The market for tiny homes is a lot smaller than the market for full-size family homes.
Do tiny homes appreciate in value?
Tiny homes tend to depreciate rather than gain value over time!