Want to refresh your lifestyle or just relocate to Oregon? We got you covered on what do you need to know about living in Oregon, the tips you need, and how to understand if it suits your wishes. Let's dive in.
Oregon is a state located in the Pacific Northwest region of the United States. The region was inhabited by indigenous peoples for thousands of years before European exploration and settlement began in the 18th and 19th centuries. In 1792, Captain Robert Gray became the first European to sail into the Columbia River, which runs through Oregon and Washington. The Lewis and Clark Expedition arrived in the region in 1805, exploring the area and meeting with local tribes.
Oregon became a territory of the United States in 1848 after a border dispute with Great Britain was resolved. Oregon is known for its diverse landscape and many outdoor recreational opportunities, including scenic bikeways, lush forests, and beautiful lakes
Is Oregon A Good Place To Live?
Oregon can be a great place to live for many people. It is known for its natural beauty, mild climate, and outdoor recreational opportunities. The state offers diverse landscapes, from the rugged coast to the lush forests and mountains, and there are plenty of opportunities to explore the outdoors through hiking, camping, fishing, and skiing.
Oregon also has a strong economy with a variety of industries, including technology, healthcare, and education. The state has a relatively low unemployment rate and a high median household income compared to the national average. In addition, Oregon is known for its progressive politics and social policies.
However, like any state, Oregon has its challenges. The cost of living can be high in some areas, particularly in cities such as Portland. Traffic can also be a problem in some areas, and housing can be difficult to find in some parts of the state. Additionally, while Oregon is known for its mild climate, the state can experience heavy rain and cloudy weather during the winter months.
What is Oregon Most Known For?
Oregon is undoubtedly a delight for those who enjoy the outdoors, from the deep Carter Lake to the majestic Mount Hood. Oregon is renowned for having a superb food scene with mouthwatering cheese, wine, and breweries. It is also known for being the birthplace of Nike.
Let's discuss 6 things that Oregon is most known for:
1. Voodoo Doughnuts
Voodoo Doughnuts are the only place to go if you're searching for a distinctive and delicious dessert. This Portland landmark is renowned for its unique and imaginative doughnut flavors. Voodoo offers more than 50 distinct varieties of doughnuts, so there is something for everyone. You're sure to find a taste you like, whether it's the traditional bacon maple bar or the more daring voodoo doll-shaped doughnut filled with raspberry jam.
2. Marionberries
Blackberries of the Marionberry kind, which are indigenous to Oregon, are well-known around the world. It is normally exclusively found in the Pacific Northwest and is a hybrid of the Olallieberry and Chehalem Blackberry.
Marionberries are ideal for pies, jams, and other baked items since they are larger and sweeter than other varieties of blackberries. Marionberry pie is in reality the recognized state pie.
Be sure to taste some of these delectable berries if you're fortunate enough to be in Oregon from July to August when berries are in season.
3. Tillamook Cheese
If you love cheese, then you'll want to make a stop at the Tillamook Cheese Factory. Tillamook is a small town located on the Oregon coast, and it's known for its delicious cheese. Tillamook Cheese is a bit of an Oregon institution. It's a cooperative of family farms that has been making cheese since 1909.
4. Mushroom Hunting
Although you might not think of mushrooms when you think of Oregon, they are actually fairly common in this state. Oregon is home to several different varieties of mushrooms, such as chanterelles, morels, and truffles. For both foodies and nature enthusiasts, mushroom hunting is a terrific sport.
5. Craft Breweries
Beer enthusiasts will enjoy Oregon because it has so many craft breweries. The Liberty Brewery established far back in 1852, is thought to be the state's first artisan brewery, albeit an unofficial one.
6. Windsurfing
The town of Hood River is located in the Columbia River Gorge and it's known as the windsurfing capital of the world. This is because the conditions are perfect for windsurfing, with strong winds and large waves. The Columbia River Gorge is also a popular spot for kitesurfing and stand-up paddleboarding.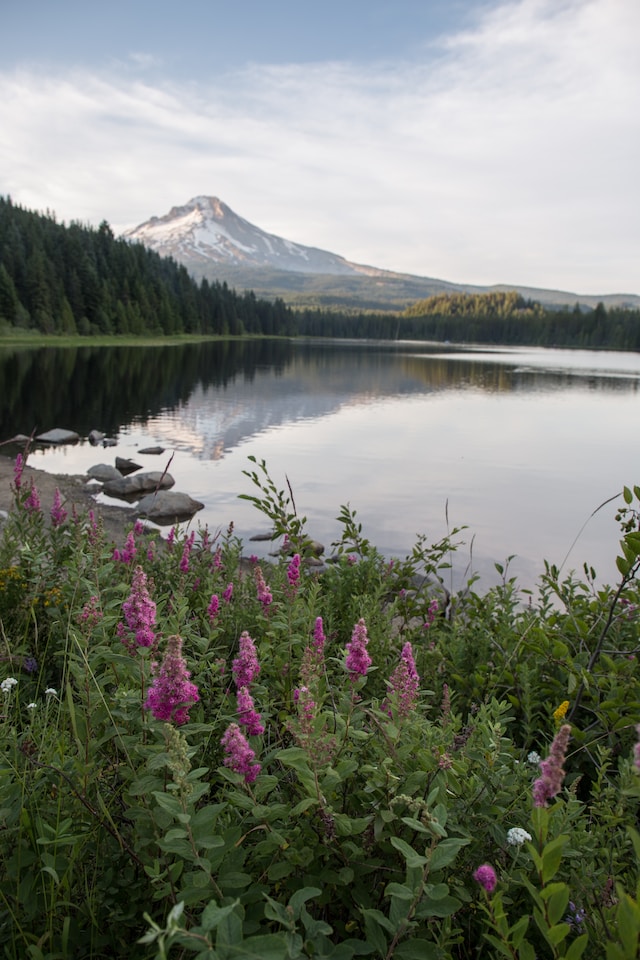 Photo by
conner bowe
on
Unsplash
Pros And Cons Of Living In Oregon
Pros
Natural beauty: Oregon is known for its stunning natural landscapes, including the Pacific coastline, the Cascade Mountains, and the Columbia River Gorge. There are plenty of opportunities for outdoor recreation, such as hiking, skiing, and fishing.
No Sales Tax: Yes, sales tax is not deducted here. Generally, the price seen on the tag is what you pay. However, there is a higher personal income tax rate in the state. Residents who have chosen Oregon as a permanent place to live, prefer to communicate for buying homes in Homes Direct Albany.
Outdoor activities: If you love being outdoors, you will like Oregon. There are numerous adventures to enjoy in Oregon, such as hiking, world-class skiing, and whitewater rafting, and so on.
Strong economy: The state sits with the top 10 rapidly developing state economies. This development is projected to go on with a continual increase in population as well as job opportunities.
Low carbon footprint: Since many eco-friendly buildings in the country are located here, the carbon footprint in Oregon is highly low. Portland is one of the greenest cities in the entire universe.
Cons
High cost of living: The cost of living in some areas of Oregon, particularly in cities like Portland, can be quite high. Housing, food, and transportation costs can be significant.
Traffic congestion: Some areas of Oregon, particularly around Portland, can experience significant traffic congestion during peak hours.
Limited job opportunities outside of cities: While Oregon has a strong economy, job opportunities can be more limited in rural areas outside of major cities.
Rainy weather: While the mild climate can be a plus, the rainy and cloudy weather can be a downside for some people, particularly during the winter months.
Things to know before moving to Oregon
Before moving to Oregon or anywhere else it is crucial to know the key things that can help you adjust quicker or even by knowing them you might change your mind about the move.
! Let's explore 5 things you need to know before moving to Oregon!
1. It's not all Portland
Portland doesn't reflect all of Oregon because of its high cost of living and frequently mocked hipster culture. More power to you if you decide to go to Portland if that's your cup of tea. Yet, Portland isn't the only city in Oregon that's luring new people. Many adore Eugene as well, and many consider the little coastal communities in Oregon to have an excellent quality of life. There is a lot to discover.
2. Oregon leans to the left
Generally speaking, Oregon's politics are towards the left, however, the state does include some conservative areas. In addition to pursuing other progressive initiatives like aiding small business employees with retirement savings, the state of Oregon is leading the drive on renewable energy.
3. You'll probably get lots of use out of a bike
Oregon's mild winters and relatively advanced bike infrastructure make it a great place to be a bike owner and bike rider.
4. Food grows well in Oregon
If you shop at neighborhood farmers' markets and roadside farm stands, you'll profit from Oregon's abundant farmland. You may use some of the best-growing fruit in the state—berries, potatoes, beets, hazelnuts, green peas, apples, and cherries—in your Oregon kitchen. You'll have quality products to work with if you decide to prepare more of your meals at home rather than ordering in or dining out to save money.
5. Oregon is wine country
In recent years, Oregon's standing as a wine-producing state has improved. Oregon has dominated the US wine scene, especially when it comes to pinot noir. Wine lovers will like visiting Oregon's vineyards and wine towns to experience the state's offerings firsthand.
6. There's no state sales tax
Oregon is one of the few U.S. states with no sales tax. Of course, Oregon income taxes are high, but at least you won't have to add sales tax to the cost of all your purchases after moving to Oregon.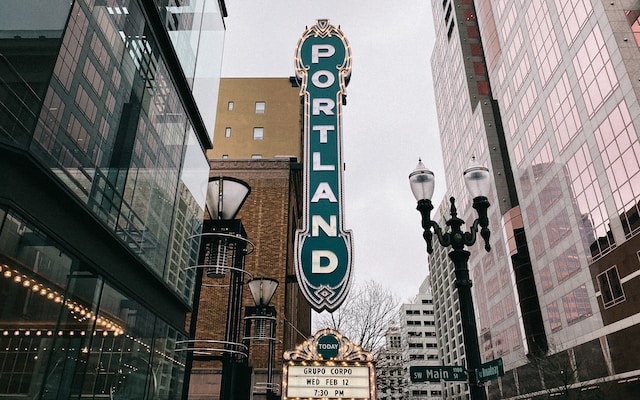 Photo by
peter bucks
on
Unsplash
What are the best cities to live in Oregon?
Portland
Known as the "City of Roses," Portland is Oregon's largest city and offers a vibrant culture, world-class dining, and excellent public transportation. Portland, Oregon is a vibrant city full of culture and fun activities.
| | | | |
| --- | --- | --- | --- |
| COST OF LIVING | Portland | Oregon | USA |
| Overall | 132.4 | 114.3 | 100 |
| Grocery | 103.7 | 100.4 | 100 |
| Health | 90.6 | 94.6 | 100 |
| Housing | 184.1 | 150.2 | 100 |
| Median Home Cost | $537,200 | $468,400 | $338,100 |
| Utilities | 79.9 | 81 | 100 |
| Transportation | 129.9 | 107.1 | 100 |
| Miscellaneous | 140.1 | 108.2 | 100 |
Best Places cost of living indices are based on a US average of 100. An amount below 100 means Portland is cheaper than the US average. A cost of living index above 100 means Portland, Oregon is more expensive.
Eugene
Located in the heart of the Willamette Valley, Eugene is a college town and the second-largest city in Oregon. It is known for its progressive culture, great food, and access to outdoor recreation.
| | | | |
| --- | --- | --- | --- |
| COST OF LIVING | Eugene | Oregon | USA |
| Overall | 107.3 | 114.3 | 100 |
| Grocery | 100.9 | 100.4 | 100 |
| Health | 96 | 94.6 | 100 |
| Housing | 140.1 | 150.2 | 100 |
| Median Home Cost | $458,500 | $468,400 | $338,100 |
| Utilities | 81.3 | 81 | 100 |
| Transportation | 88.5 | 107.1 | 100 |
| Miscellaneous | 123.5 | 108.2 | 100 |
Bend
Nestled in the eastern foothills of the Cascade Mountains, Bend offers a small-town feel with big-city amenities, including excellent restaurants, breweries, and outdoor recreation opportunities.
| | | | |
| --- | --- | --- | --- |
| COST OF LIVING | Bend | Oregon | USA |
| Overall | 131.3 | 114.3 | 100 |
| Grocery | 102.2 | 100.4 | 100 |
| Health | 97.9 | 94.6 | 100 |
| Housing | 217.4 | 150.2 | 100 |
| Median Home Cost | $666,200 | $468,400 | $338,100 |
| Utilities | 83.6 | 81 | 100 |
| Transportation | 82.6 | 107.1 | 100 |
| Miscellaneous | 135.5 | 108.2 | 100 |
Salem
Salem, Oregon is a vibrant city located in the Willamette Valley. With its close proximity to both the ocean and the mountains, Salem offers something for everyone. Outdoor enthusiasts can enjoy sailing, kayaking, fishing, and hiking in nearby parks and forests.
| | | | |
| --- | --- | --- | --- |
| COST OF LIVING | Salem | Oregon | USA |
| Overall | 102.4 | 114.3 | 100 |
| Grocery | 100.3 | 100.4 | 100 |
| Health | 92.8 | 94.6 | 100 |
| Housing | 121.5 | 150.2 | 100 |
| Median Home Cost | $399,000 | $468,400 | $338,100 |
| Utilities | 79.3 | 81 | 100 |
| Transportation | 96.1 | 107.1 | 100 |
| Miscellaneous | 103.6 | 108.2 | 100 |
Wherever you choose to live in Oregon, you can definitely find something that will cherish your soul as Oregon is full of incredible things to be discovered. The air, nature, and surroundings are something to admire in every area.
Is it expensive to live in Oregon?
The cost of living in Oregon can vary depending on where you live in the state. Generally, the cost of living in Oregon is higher than the national average, especially in larger cities like Portland, Eugene, and Bend. Housing costs in particular tend to be high in these areas. However, there are also many more affordable areas in the state, especially in rural areas and smaller towns.
In addition to housing costs, other expenses such as food, transportation, and utilities can also be higher in Oregon compared to other states. However, the state does not have a sales tax, which can help offset some of these expenses.
Overall, it's important to research the specific area you're considering moving to in Oregon and to take into account your individual financial situation and lifestyle when considering the cost of living.
Read also: Living in Washington State, Best Places to Move, Pros and Cons
Moving to Oregon Checklist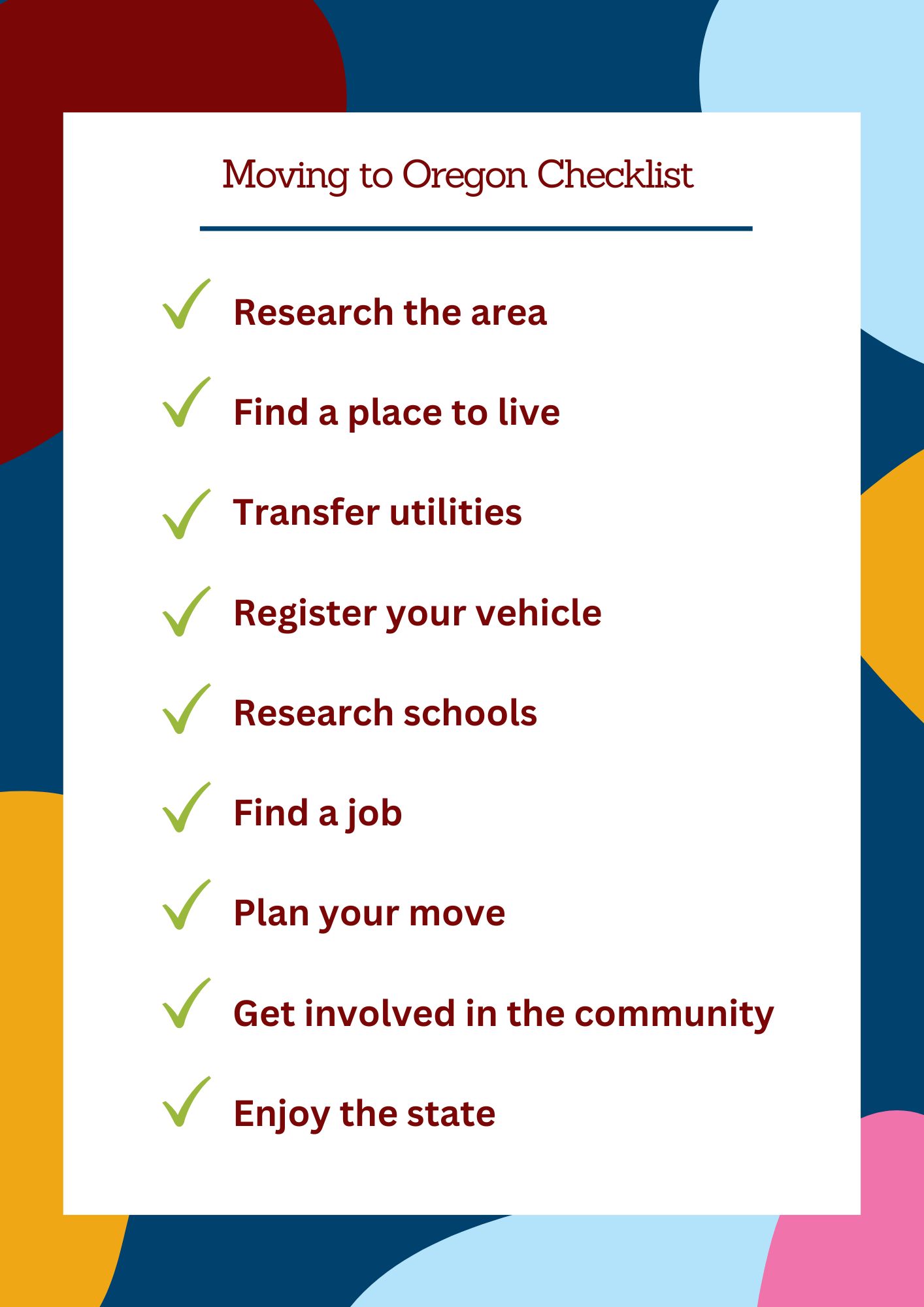 Here are some things to consider adding to your moving to Oregon checklist:
Research the area: Before moving to Oregon, do some research on the area you plan to move to. Consider things like the cost of living, job market, and climate.
Find a place to live: Whether you plan to rent or buy a manufactured home in Oregon, start your search early and consider working with a real estate agent who knows the area well.
Transfer utilities: Contact your current utility providers to cancel or transfer services and set up new accounts with utilities in Oregon.
Register your vehicle: If you're bringing a car with you, you'll need to register it with the Oregon DMV and get an Oregon driver's license.
Research schools: If you have children, research schools in the area and determine which ones might be a good fit.
Find a job: If you haven't already secured a job in Oregon, start looking for employment opportunities in the area.
Plan your move: Determine a moving date and hire a moving company or rent a truck if you plan to move.
Get involved in the community: Join local groups or clubs to meet new people and get involved in the community.
Enjoy the state: Once you've settled in, take some time to explore all that Oregon has to offer, including its beautiful natural scenery and vibrant culture.
Read also: Moving to Sacramento, is Sacramento a Good Place to Live, Benefits, Pros and Cons

FAQ
Is Oregon a good state to live in?
Depending on your requirements and standard of good lifestyle, Oregon can be just the place for you. It does have everything a person needs and has incredible cities and areas that can become a home to anyone!
What do I need to know before moving to Oregon?
Depending on where in Oregon you wish to go, there are certain things to consider before going such as getting to know their lifestyle, laws, local unique places, cost of living, and more!
What are the pros and cons of living in Oregon?
When it comes to bringing out the pros and cons of living in Oregon, the pros overweight as Oregon has many benefits to offer to its residence. There are many things to do and to see in Oregon. Check out the list of pros and cons above to know more!
What is the safest part of Oregon to live?
Oregon is generally a safe state with a low crime rate. Lake Oswego: Located just south of Portland, Lake Oswego consistently ranks as one of the safest cities in Oregon. It has a low crime rate and a strong sense of community.
What is the cheapest part of Oregon to live?
Ontario, the most affordable city in Oregon, lies along the Snake River that borders Idaho.
What part of Oregon does not get snow?
Roseburg, nestled in a spur of the western Cascades in the southern part of the state, rarely accumulates snow.