Table of contents:
5 Steps to getting a manufactured home refinance
Find out what type of home you have
Determine if your home is "real property"
Choose the refinance type for your manufactured home
Choose a manufactured home loan program
Find best-manufactured home loan rates
Compare refinance types and choose the best rates
Manufactured Home Refinancing: Everything You Need to Know
If you already own a manufactured home, you may know that refinance rules are not the same for these types of properties. Whether you can refinance your manufactured home or not, depends on many factors. But once you refinance it, you can definitely save on your monthly payments.
Go on reading this article, and you will find out how to refinance your manufactures home effectively in a few simple steps.
Before moving to the steps one needs to take, let's find out what are the refinance requirements for any manufactured home owner.
Usually refinancing a manufactured home requires the same actions as purchasing a house that was built using traditional methods.
Below you can find the main requirements for manufactured home refinancing:
Your home should be located on land that belongs to you.
It should be taxed as real property.
Your home should be affixed to a permanent foundation and have a HUD certification label, a HUD data plate, and a HUD seal.
It shouldn't have any wheels, axles, or a towing hitch.
Your home should have at least 400-600 square feet of living area.
It must have been constructed after June 15, 1976, and should comply with the standards set by the Federal Manufactured Home Construction and Safety.
After discovering the refinance requirements for manufactured homes, you can go through the steps you need to take to refinance your property effectively: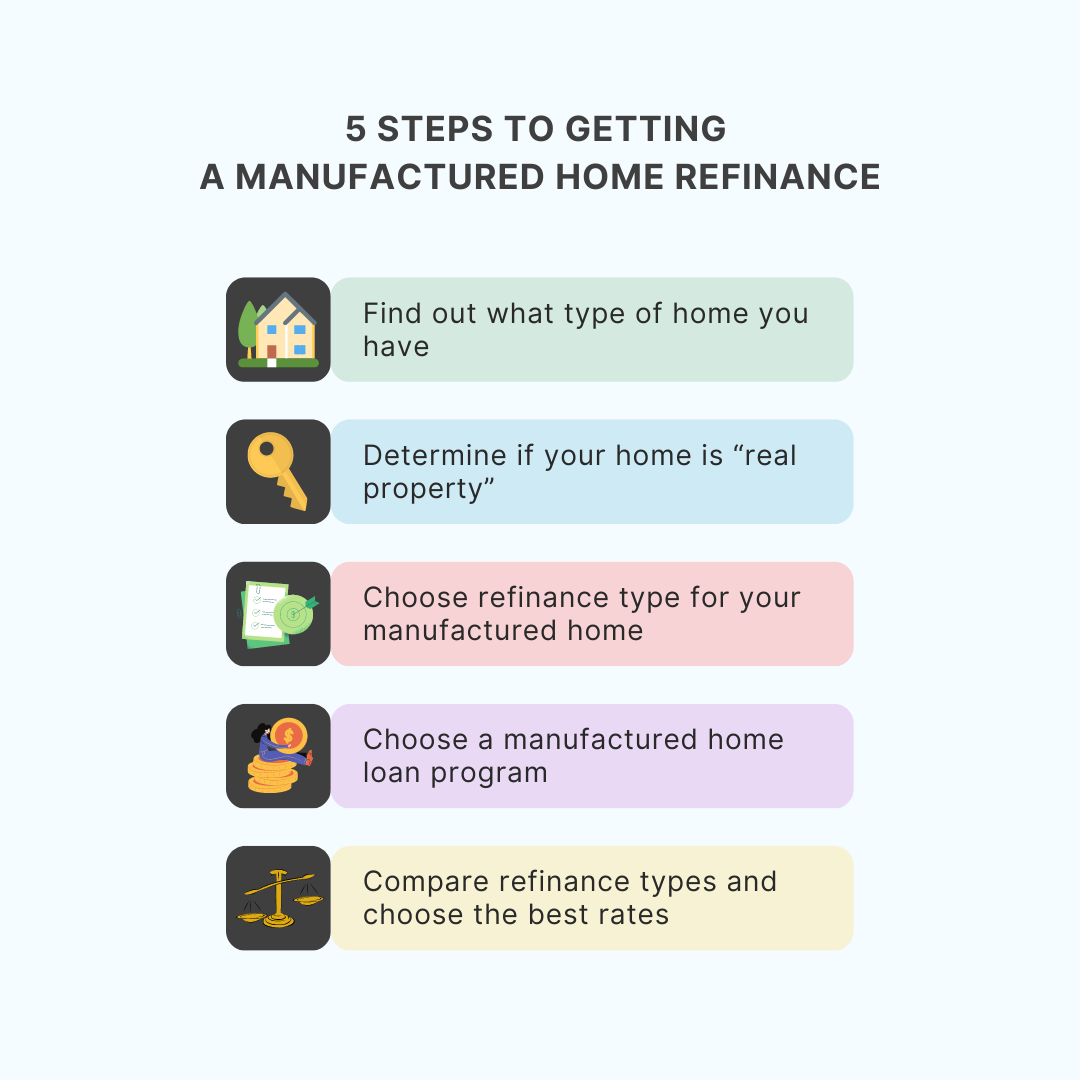 Sometimes the terms mobile, manufactured, and modular are used to mean the same type of home. However, they are not the same and have considerable differences:
The manufactured home is the type of home built in a factory and then moved to the land you own. Here, all the sections are assembled. After the assembly, they are usually not moved again. It's important to note that modular homes are constructed based on the construction codes from Housing and Urban Development (HUD).
Modular homes are also constructed in a factory. The main difference between modular and manufactured homes is that the former is built according to the local state building codes.
Mobile homes are manufactured homes built according to the HUD construction code before June 1976. After June 15, 1976, they were replaced by manufactured homes.
Just like the above-mentioned types of homes, mobile homes were also built in the factories, then moved to the location of residence.
For the refinance, your home should be permanently affixed to the foundation and have a minimum of 400 sqm of living area.
You will have more chances for a manufactured home refinance if you have real property instead of the personal one. But what are their differences?- you may ask.
Real property is the home always located on the land you own. You can get a document called an "affidavit of affixture", which will ensure that your home complies with all the local building guidelines. Once your home is considered real property, you are going to get the lowest manufactured home refinance rates!
Personal property is also called movable property. It includes any movable thing or item that belongs to a particular person. For instance, your clothes, jewelry, furniture, and car are your personal property.
Mobile homes that are on leased land are also considered personal property. In this case, you will pay personal property taxes and get a chattel or personal loan financing.
There are 2 main refinance types for your manufactured home: cash-out refinances and limited cash-out refinances.
Limited cash-out refinances: This type of refinancing changes the existing mortgage with the new one. With the help of the limited cash-out refinance you can pay off your current mortgage, or any construction fees you have (for instance, to attach your manufactured home to your land).
As you can guess from the name itself, the borrower gets "limited" cash back. It is usually not higher than 2% of your new loan balance.
Cash-out refinances: Have you owned your current home for a minimum of 12 months? Then, you can take a loan in a greater amount than you owe now and even keep the difference.
If your home is considered real property, you can choose one of the following loan programs to refinance a manufactured home with the land:
Types of manufactured home loan programs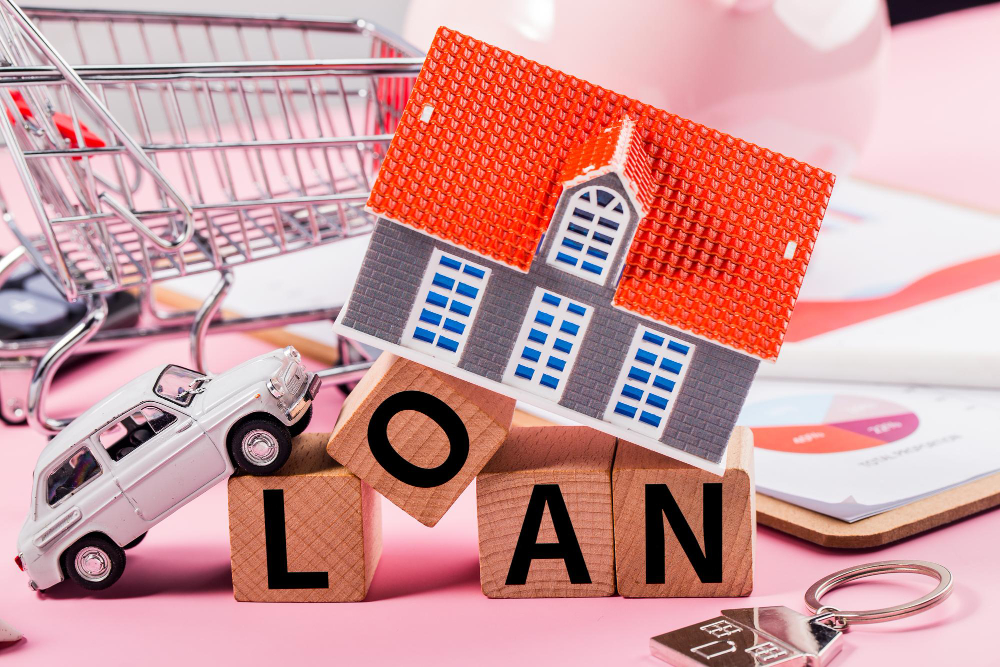 Real photo created by
dashu83
- freepik.com
This is one of the most common ways to refinance your manufactured home. If you choose this option, you should provide monthly payments till the end of your loan period. The latter usually lasts 10, 15, 20, or 30 years, depending on your selected program.
The main advantage of choosing fixed-rate mortgages is that the latter provides security of the fixed rate and consistent payment. You can plan the household finances easier as the principal and interest payments do not increase during the loan term.
Adjustable rate mortgages
Adjustable rate mortgage is another popular program the main benefit of which is that it is available for a wide variety of property types. Unlike the first loan program, the adjustable rate mortgage is not consistent during the whole loan period. It usually starts from a low introductory interest rate for the first 5-7 years.
The rate and the principal and interest payments are fixed during these years. However, the rate may go up or down later, based on the terms of the loan program.
Conventional loans would be the best choice for you if you have at least 620 credit scores. These loans cost less than the programs supported by governments. One of the benefits of conventional loans is that they won't require mortgage insurance if you have 20% or more equity in your home!
All manufactured homes that comply with the HUD guidelines can easily be refinanced through regular FHA loan programs. FHA loans are backed by the Federal Housing Administration and are loved by the ones who prefer low down payment options. They are most popular among first-time home buyers.
Unlike conventional loans, you can have a credit score of 580 or higher to be refinanced via FHA loan programs. The programs usually last 20-25 years for manufactured homes.
You may have the FHA Title 1 loan if you rent the land where your manufactured home is located. However, to qualify for this loan program you should carry out the following actions:
Live in that home as your main residence.
The manufactured home should meet the Model Manufactured Home Installation Standards.
Be installed in a place that has adequate water supply and sewage disposal facilities.
You should demonstrate that you have adequate income to make the payments on the loan and meet your other expenses.
These loan programs are supported by the U.S. Department of Agriculture and are meant for those who have lower incomes. The main aim of this loan is to boost community growth in not well-developed areas, offering borrowers more beneficial terms. For instance, USDA loans offer "no money down" mortgage options, with up to 100% financing. Moreover, they require minimal paperwork and lower manufactured home refinance rates.
VA loans are backed by the Department of Veterans Affairs to offer veterans and active-duty military personnel comparatively lower mortgage rates. The main disadvantage of this loan program is that the maximum term is about 25 years to refinance a manufactured home.
| Type of Loan | Typical Rate | Min Credit Score | Typical Terms |
| --- | --- | --- | --- |
| Fixed-rate | 5.5% | 620 | Up to 30 years |
| Adjustable rate | 5.2% | 640 | Up to 10 years |
| Regular FHA | 5.4% | 580 | Up to 30 years |
| Conventional | Different | 620 | Up to 30 years |
| VA Loans | 4.5% | 640 | Up to 30 years |
| USDA Loans | 2.8% | 640 | Up to 30 years |
Before selecting the type of refinancing for your manufactured home, pay attention to several aspects like your existing mortgage payment, the rate, and terms, your overall goals, and timeline.
You will need to find out whether you can pay your closing costs upfront or over time.
Closing Costs
1. Refinancing manufactured home issues a new loan which is used to pay off the old loan.
2. Refinancing costs around 3-6% of the remaining loan principal.
3. As a rule of thumb, it is worth refinancing when rates fall at least 1%.
4. You can calculate your break-even point by dividing your closing costs by your monthly interest savings.
5. If closing costs $4800 and you save $150 per month in interest it will take 32 months to break even (4800/150=320).
Keep in mind that each loan program has its own rules and requirements, so make sure you clarify all the steps with your lender. For instance, if you want to borrow up to 80% of your home's value, you will need to get a conventional loan with a minimum credit score of 620. FHA loans will allow you to borrow up to 80% of your home's value with a credit score of 600!
We recommend contacting at least 3-5 different lenders to make sure that you choose the "manufactured home" property type. The main advantage of this type is that you will pay higher interest rates for it.
After comparing the options, you can choose the lender and gather the documents as soon as possible for a smoother process.
What Are the Requirements for Manufactured Home Refinancing?
As mentioned in the article, the manufactured home should have a minimum of 400 sqm of living area, be real property, attached to a permanent foundation, without any wheels, axles, or a towing hitch. Moreover, the home must have been built after June 15, 1976.
What Types of Mortgage Loans Can I Use for Manufactured Home Refinancing?
There are mostly around 6 mortgage loans one can use for manufactured home refinancing. Which plan you use, will depend on your requirements and the type of manufactures home you have.
Why Refinance Your Manufactured Home?
Manufactured home refinance gives homeowners a lot of benefits. For instance, refinancing will help them lower their interest rates and monthly payments, or even shorten the payment terms they have for their loans. They may also consolidate debt.
How To Refinance a Manufactured Home Mortgage?
Simply follow the steps mentioned below:
Find out what type of manufactured home you have
Discover if you have a "real property"
Select the aim of refinancing for your manufactured home
Choose the loan program for your manufactured home
Find the lowest manufactured home refinance rates and prepare your paperwork
Can I buy a manufactured home with a 640 credit score?
Yes, you can buy a manufactured home on loan with a 640 credit score. In fact, some lenders require less than a 640 credit score for it. Regular FHA loans, for instance, may require 580 credit scores. Read our article about loan options and credit score requirements to find the right loan program.
At Homes Direct, we can help you refinance your manufactured home and make your financial dreams come true in a short period. Contact us to start the process today and get the lowest manufactured home refinance rates possible.