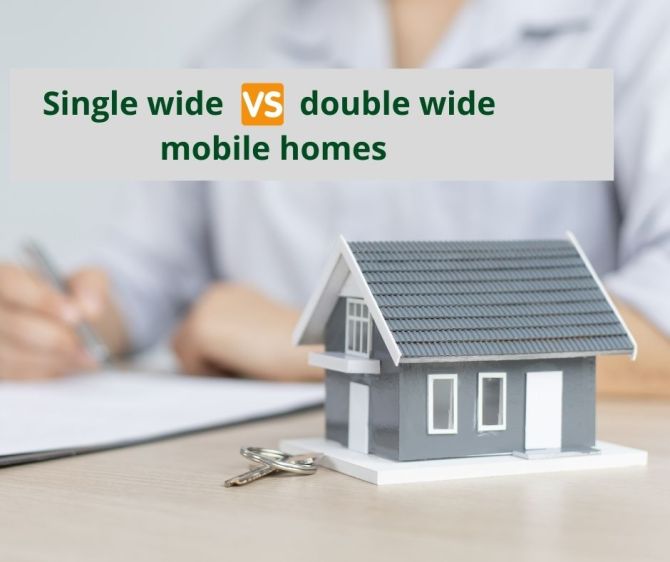 Table of Contents
Pull up any set of home listings, and you might feel overwhelmed by your options. Buying a new house requires a lot of time, effort, and headaches sometimes! The market is full of a wide range of mobile, prefab or other kinds of houses one can find interesting to buy! There are specific factors to guide you of course! Your budget is the primary one perhaps.
If you are a lover of mobile homes you might find difficulty in choosing a single or double wide mobile home for your family or perhaps even triple wide! Let's discuss single wide vs double wide homes and understand how they can be compared! Single wide vs double wide mobile homes, which is better to buy?
These are the things you should pay attention to when comparing the two! See the table below to grasp a quick idea of their differences! Single vs double wide mobile homes.
Single and double-wide homes comparison table
| Features | Single Wide Home | Double Wide Home |
| --- | --- | --- |
| Size | 500-1,200 sq feet | 1,000- 2,200 sq feet |
| Dimension | 14-18 feet wide, and 66-80 feet long | 20 feet in width 90 feet long |
| Setup cost | $1,500 - $5,000 + | $1,500 - $5,000 + |
| Floor plans | These homes tend to be narrow and long but there are different options for floor plans | More flexible in design and floor plan. Not narrow and long. Can be square to a large rectangle |
| Price | $43,500 - $59,000 | $110,400 - $119,400 |
| Maintenance | Not much difference | Not much difference |
Single Wide Home
These homes are typically easier to transport and can fit on a single semi-trailer, making them more affordable to relocate. Since the square footage is relatively small, a single-wide home is ideal for individuals or couples without children. The smaller size often means the purchase price for one of these houses is more affordable than a double-wide model. See more specific information on the sizes and dimensions of a single wide mobile home.
Double Wide Home
Double-wide manufactured homes have an average width two times the size of most single-wide models. As a result, the floor plan is much larger and can easily accommodate families of all sizes. However, the larger footprint means they require more land, potentially increasing the overall purchase price.
Additionally, these homes are shipped in two separate trailers and assembled on-site, so they may take longer to complete. These mobile homes are roomy and inviting, and they also come with a number of customization options. This means your new home can reflect your personal style preferences. Sizes and dimensions of a double-wide mobile home.
A home's resale value is its estimated worth in the future. Depending on the house conditions, age and location there are always changes in the resale value of a specific house!
Single wide
Single wide mobile homes are less expensive compared to double ones as discussed when it's new to buy but also bring less money when it comes time to sell it. Single wide has 30-50% less resale value compared to a double-wide.
Double wide
It is always easier to resell double-wide mobile homes vs single ones. A double-wide looks more like a traditional home, especially when it's on the ground. The space and the configuration of the floor plan work better for many customers. These facts make the resale value higher indeed! In general, a double-wide will sell for 20% to 50% more than a single wide of the same age and condition.
Let's dive deep. Here are some pros and cons of Single vs double-wide mobile homes. Find the best offers at Homes Direct.
Single Wide Mobile Home
Pros
Cons
Less expensive
Smaller area
Lower taxes
Harder to resell
Quick construction and setup
Limited design and alterations
Low maintenance costs
Mobility
Double Wide Mobile Home
Pros
Cons
More area
More expensive
Easier to resell
Higher taxes
Flexibility in a floor plan
Longer construction period
Expensive to set up
Whichever style of house you decide to go with, both single and double-wide mobile homes can be altered. There are many mobile home additions you can implement!
Here are some tips on getting mobile home additions.
Single wide mobile home additions
Increase the number of rooms
If you're welcoming a new family member or find yourself hosting out-of-town house guests on a regular basis, you may want to consider an addition that includes an extra bedroom. Some mobile homes, like single-wide styles, may only have one bedroom, so adding another one to your home can give you greater flexibility without having to move to a double-wide layout.
Adding an extra room may be labor-intensive but often increases your property value substantially.
You can also add a living room addition, add an extra bathroom, and anything you need to customize around the house. You can check pictures of single-wide mobile homes with additions. Mobile home addition ideas.
Double wide mobile home additions
Add an Extra Bathroom
An extra bathroom can be very important and necessary for a growing family. We all know that having one bathroom can create logistical issues. It can be a very wise and practical decision to add another bathroom to your double or triple-wide mobile home. In terms of a bathroom, the addition makes sure to consider the space and some mobile home remodeling tips that can help you optimize it effectively.
Guest room
If you have the budget for some innovative mobile home additions, a guest room is indeed an add-on you should have. Even if you don't have any relatives that might come and stay overnight, a guest room becomes your "silence corner" where you can take naps, relax or perhaps meditate. Also, an additional room can greatly increase the value of your house. There are many room addition kits for mobile homes that can be found online. You can look for ideas and tips.
Porch addition to mobile home
A mobile home addition must move freely from the home so does the porch. Adding a porch to your mobile home is a great idea because it will give you another section where you can relax, drink coffee or just go for fresh air. Also, porches give you extra space in which to store things such as muddy boots, shoes, and coats.
Let's firstly go over one of the most asked questions, can you remodel a mobile home? Is remodeling a mobile home worth it? Absolutely! The answer is yes.
Before purchasing your dream mobile home you are indeed given the choice to choose the features, colors, and all of the design options you have in mind but of course even after the purchase you still can change your mind and remodel nearly everything. How to remodel a mobile home? Let us walk you through it quickly.
Here are some reasons people tend to remodel their mobile houses! Both single and double can be easily remodeled following the area regulations and law!
Some reasons include but are not limited to:
Repurpose a room
Change the interior/exterior
Change the layout
Freshen up the look
Outside remodel (adding a small porch area)
Improve future sales potential
Change it to a "Green House" eco friendly
Pump/drainage issues
Any kind of manufactured house can be remodeled with different styles. The sky's the limit of how creative you can get with your area. Buying a single-wide home and remodeling it as your budget allows is a great way to live debt-free.
Here are the most common remodeling people do to their single-wide homes!
Bathroom Remodeling
The cost to remodel a mobile home bathroom for instance can be huge if you decide to change the layout. A great way to save money on a mobile home bathroom remodel is to keep your layout the same so no plumbing pipes need to be modified.
Sometimes it is necessary to make some mobile home shower remodel to open up some space. Some people implement bathtubs and then regret changing it into a standing shower to add more space to the bathroom. This can be great especially for a single-wide home to add up some space!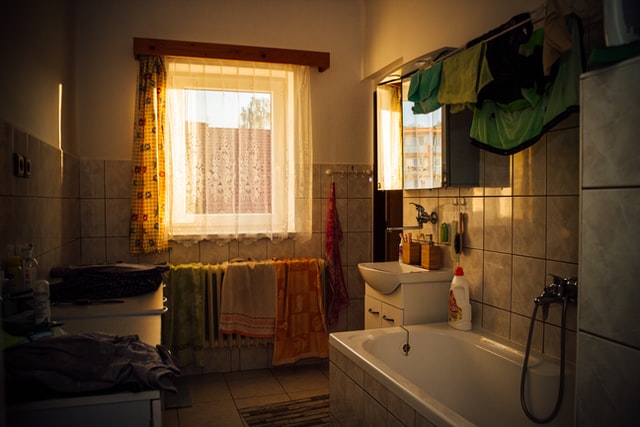 Photo by Martin Jaroš on
Unsplash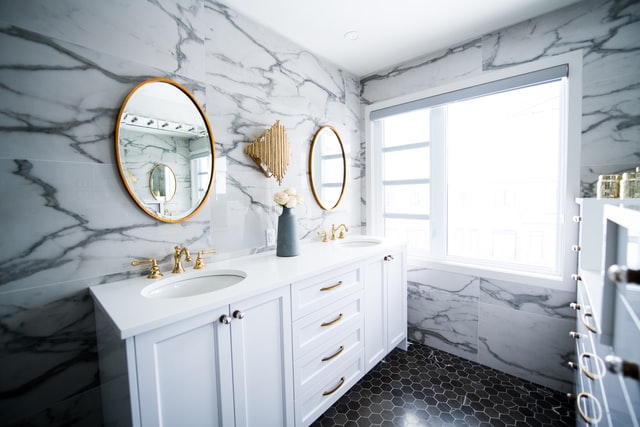 Photo by Christian Mackie on
Unsplash
Kitchen Remodeling
Usually, single-wide homes have smaller kitchens (depending on the floor plan) and people tend to change some layout to make it seem bigger. A simple cupboard dying for instance can change the room. Colors decide a lot of things in terms of making the room seem bigger! White and nude colors are on top for that!
You might also think about consulting a designer while remodeling a single wide mobile home kitchen to have the best outcome. Check out some kitchen remodel before and after photos online, it's incredible what designs and ideas you can find.
When planning your remodeling, remember your kitchen's busiest areas: the sink, stove, and refrigerator. Make sure your kitchen cabinet remodel is functional and appliances are in an efficient location that is relevant to one another.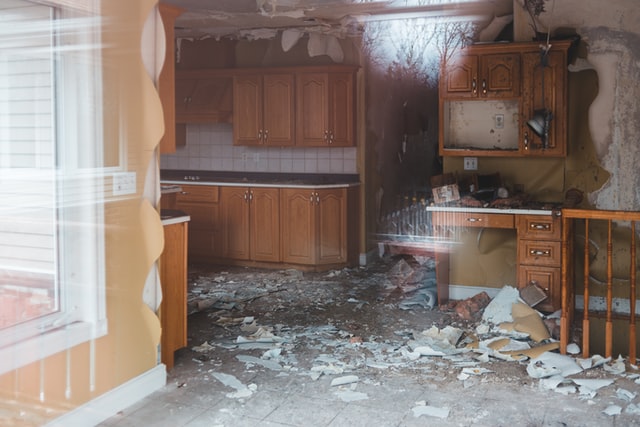 Photo by Erik Mclean on
Unsplash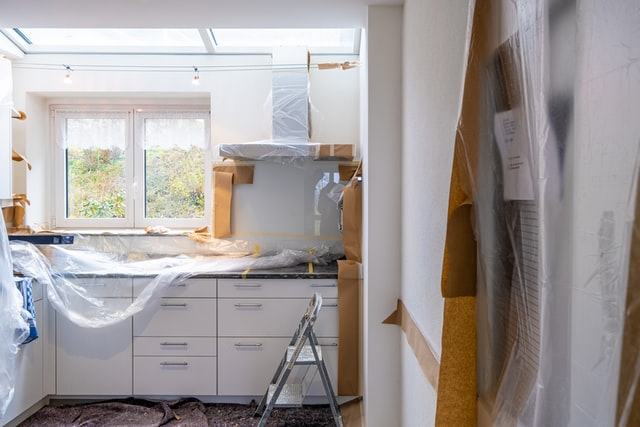 Photo by immo RENOVATION on
Unsplash
Add a small porch
A mobile home addition must move freely from the home so does the porch. Adding a porch to your mobile home is a great idea because it will give you another section where you can relax, drink coffee or just go for some fresh air. Also, porches give you extra space in which to store things such as muddy boots, shoes, and coats.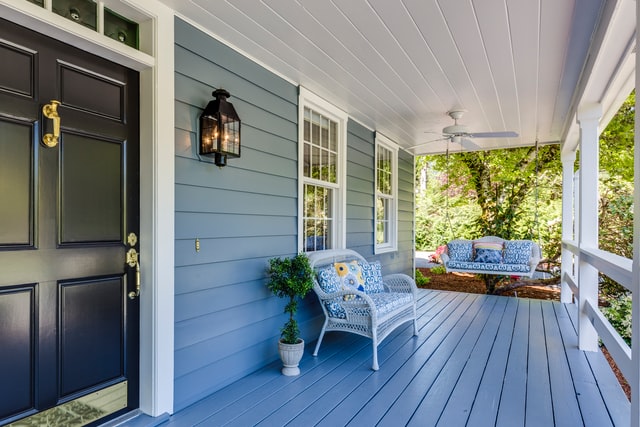 Photo by Francesca Tosolini on
Unsplash
Double wide trailer gives you more opportunities in terms of remodeling. The space and the floor plan are bigger than a single wide home and you can get very creative with an extra area!
You can indeed remodel every room and change the exterior or the interior of the whole house but that requires a cute budget. Usually, people start step by step. Take a look at remodels for a double-wide home living room.
Bedroom and Living room Remodeling
Living room remodeling is clearly an essential part of the whole picture. Interior remodel ideas for the living room can be found very easily. Depending on your style and the size of your house which is crucial in remodeling. Take some similar examples of images of remodeled mobile homes and get your inspiration going. The biggest cost connected with the living room is probably the furniture and some decorations that you might want to change.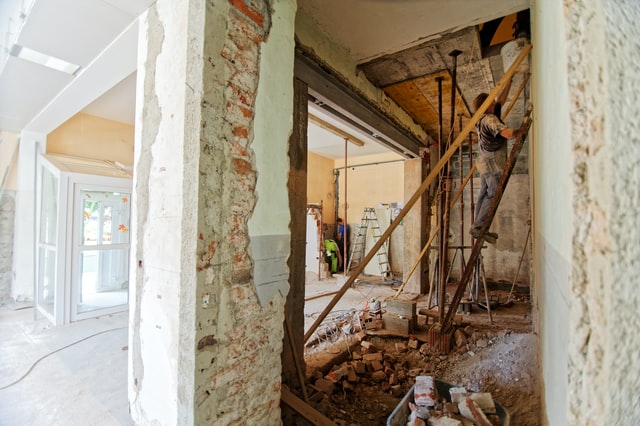 Photo by Milivoj Kuhar on
Unsplash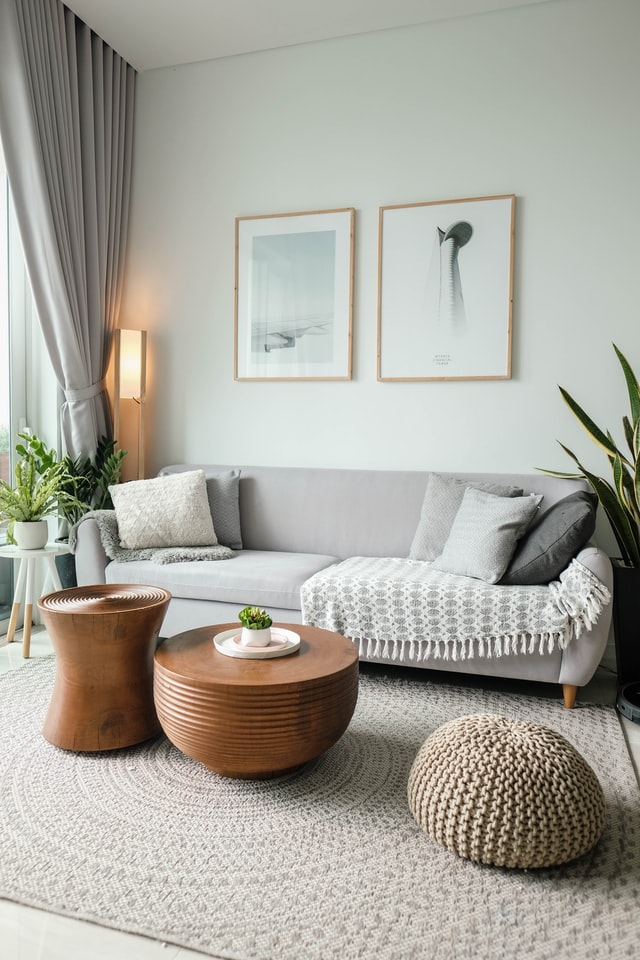 Photo by Minh Pham on
Unsplash
Whether you are searching for the perfect double wide or single wide mobile home, Homes Direct has it all. Our professional team will guide you through it all! See the best manufacturers below!
Best home builders recommended by Homes Direct:
California - Champion California, Golden West California
Arizona - Champion Arizona, Schult Homes, Durango/Cavco Homes
Oregon - Palm Harbor, Golden West Oregon
New Mexico - Karsten Homes