If you're intrigued by the style and economy of manufactured housing but have wondered just how mobile homes are built, the mobile home manufacturing process has become streamlined and efficient since they were first introduced as a solution to the need for low-cost housing.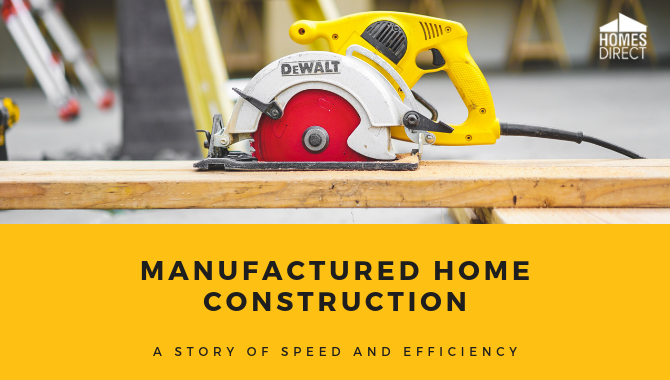 Mobile, Modular, Manufactured. What's different?
The terms are related, but there are distinct differences. The term "mobile home" is used to refer to what used to be known as "trailers," typically small, inexpensive homes that were on wheels and could be moved from one site to another without a lot of trouble. They were built in great numbers in the years following World War II because they could be produced quickly to meet a real need for affordable housing. Their construction was largely unregulated.
Manufactured homes today (often called mobile) are highly regulated, and although they may arrive at their permanent sites with wheels still attached, the wheels are typically removed and the homes are attached permanently to an in-ground foundation. They may consist of a single module, or two or more can be joined together to form a larger house. With skirting and landscaping, they are virtually indistinguishable from site-built homes.
Modular construction is just what it sounds like. Factory-built modules that may be single rooms can be combined in many ways at a physical site. They might be stacked or joined in sequence to serve as offices, retail spaces, hotel and motel rooms, and schools as well as homes. Size limitations exist only in terms of transporting modules to a permanent site.
Park Homes are a newer "invention," with many of the same advantages of both recreational vehicles and mobile homes. They are limited in size to 400 square feet, are built in the same factories and to similar standards as manufactured housing, but are designed to be semi-permanent "cabins" or recreational housing, placed in camping areas or "trailer parks," but tied to existing utilities to provide home-like comfort.

Read also: Mobile vs Manufactured vs Modular vs Park Homes
Manufactured Home Construction Process Overview
#1: All Starts with a Foundation
Every good home needs a strong foundation, and manufactured homes are no exception. Mobile home construction begins with an engineered steel I-beam frame designed to carry the weight of the finished structure. Once the frame is welded together and stabilized, it may be topped with decking and a thin layer of concrete. The foundation is then ready to carry the weight of the wall framing and the roof and ready for interior plumbing, fixtures, cabinets, and appliances.
The foundation must be strong enough to support not only the weight of the finished structure but must also withstand the stresses of transportation to a permanent location.
#2: Floor, Walls, and Roof
Typically, a manufactured home facility utilizes a number of different "stations," all within a compartmentalized factory setting, to construct the various components of a finished home. Skilled laborers measure and cut wood and finishing materials to the exact sizes called for on the plans. Walls, roof sections and other parts of the home are built in modules that can be easily tied together as they are needed. Walls are placed where they belong on the foundation and screwed together. Other workers run electrical wires and plumbing lines, add necessary insulation and drywall, sheathing and sealants, and in almost no time at all - a home can be finished.
#3: Putting It All Together. Home Siding and Utility Hookups
The separate tasks of framing, cabinet construction and placement, plumbing, wiring, insulation, window, and door installation, and joinery are completed by specialized crews. Work on multiple parts of the building can proceed at the same time. Because the homes are built to precision plans, materials are typically cut to measure in advance and stockpiled at the factory until they are ready to be used, resulting in enormous savings in terms of time and cost. There is also a minimal amount of waste. In addition, because all the work is completed in a climate-controlled manufacturing plant, there is never a worry about weather delays.
#4: Code Compliance and Safety Standards Inspections
Since 1974, all mobile homes have been built to standards developed specifically for manufactured housing by the U.S. Department of Housing and Urban Development. Known as the HUD code, it is the only federally-mandated building code that exists. All manufactured homes must comply with stringent codes that address building safety and construction practices. In addition, third-party inspectors validate building procedures before the home is delivered. Each mobile home bears a permanent-affixed certification seal.
Throughout the building process, quality is maintained not only by staff supervisors, but also by third-party inspectors, and any potential problems are immediately addressed. As the home nears completion, various tests are performed to ensure that all plumbing and electrical lines are working properly, that the entire building is code-compliant, and that specifications have been followed completely.
#5: Transportation, Setup, and Final Touches
When construction is complete, the manufactured home is transported to its site, where it may be slid or pushed into place, or lifted by crane onto its prepared site, either a reinforced pier-and-beam foundation, an excavated basement or sturdy stem walls. The home is securely attached to ground anchors, and reinforced with steel straps to ensure long-term stability and prevent shifting from high wind and other forces of nature. Once the plumbing has been connected to on-site water and sewer lines, and the heating, cooling and electrical lines are completed, the home usually receives a final inspection and approval prior to being occupied by its new owners.

Read also: Manufactured Home Setup. A Comprehensive Guide to the Installation Process
Owning a Manufactured Home
Manufactured housing is appealing to buyers for many reasons. Prime reasons for looking at mobile home construction as an option include the variety of floor plans available, the speed at which a home can be completed, affordability, an ability to personalize both the interior and exterior styles, and the list of communities that either welcome mobile homes or consist entirely of manufactured housing.
Today's manufactured housing is safe, attractive, well-built and durable, and offers great value.
Homes Direct is available to answer all your questions about how are mobile homes built and help you on the path to home ownership.