A smooth buying process entails making a decision about items on this checklist before sitting down with a manufactured house professional to custom-order your new home. With a working knowledge about your buying power, dream home ideas, family needs, and others, you will be able to make an informed decision.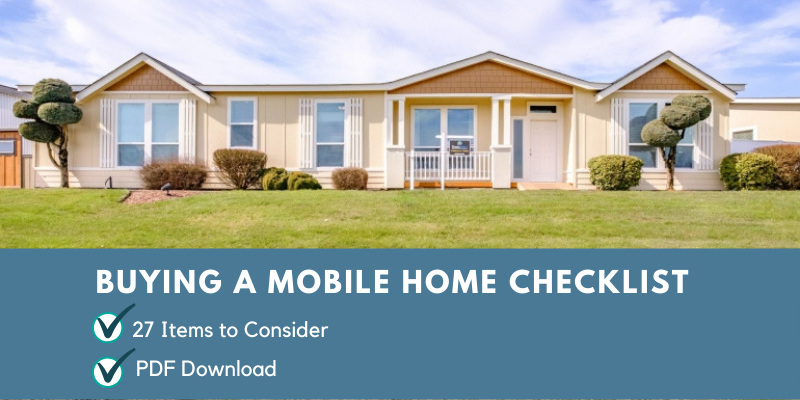 Hard-working people have every right to own a house and by following this buying a mobile home checklist, you too may realize the American Dream.
Putting in those overtime hours and cutting back on little extras to save up a down payment ought to be more than enough to buy a first home. But the country continues to struggle with an affordable housing shortage that leaves too many good families squandering their resources on rental units. Fortunately, the manufactured home industry — or mobile homes as they are sometimes called — is delivering buyers affordable options.
With that in mind, the question potential buyers should be asking is not should I buy a mobile home, it's how to buy a mobile home. This buying a mobile home checklist should prove enlightening because the process between manufactured and site-built structures is quite different.
Know The Difference Between A Mobile, Manufactured, Modular, and Park Home
When considering how to go about buying a mobile home, it's important for everyday people to gain some familiarity with the different terms used to define living spaces that are not necessarily built on-site. Although some of the terms to describe this class of high-quality homes are often interchangeable in informal conversation, understanding the subtle difference may prove helpful when buying a mobile home.
Mobile Homes: This term once referred to trailer homes that were on wheels during the 1970s. These products were more like the high-end RVs that people use to travel the country than the quality-constructed manufactured homes today. However, the term is considered almost interchangeable with "manufactured" home today.
Manufactured Homes: Today's manufactured homes are HUD-approved living spaces that enjoy quality off-site construction. They are mobile-only in the sense that they are transported to the location of the buyer's choosing. Manufactured homes also enjoy the benefit of federally supported mortgages.
Modular Homes: This type of home is also built off-site and transported. The primary difference between this and a standard manufactured home is that it is transported in sections that are joined at the property.
Park Homes: These products are generally thought of as an uptick of the old 1970s trailers. Until recently, they were basically RVs that are located in specific communities. This may include what RV people call a Fifth Wheel and are often considered seasonal vacation units. However, the manufactured home industry has developed a 1-bedroom park model that is an actual home with enhanced mobility.

Read an article about Mobile, Manufactured, Modular and Park Homes Differences
When thinking about what to do when buying a "mobile home" or "manufactured home," one of the first considerations is whether to purchase or lease land. Making this decision should be a high priority on your checklist before buying a manufactured home.
How to Buy a Mobile Home in a Park
When buying a mobile home, it may be wise to make a strategic land decision. While a privately-owned parcel has a certain allure at first blush, leasing land in a mobile or manufactured home park also provides value. These are critical items to check off when considering buying a mobile home in a park.
How much is the homeowner's association fee (HOA)?
Does the park have common areas you can utilize?
Does the mobile home park have gated security?
Do you receive adequate land and privacy to meet your needs?
Can leased land be owned over time?
Can you get a minimum 3-year lease to help qualify for a federally-guaranteed mortgage?
Buying a new mobile home and having it delivered to a leased-land park can lower your monthly mortgage costs and provide you with more money for leisure spending. Not having to purchase land upfront also helps many first-time buyers qualify for home loans.
What To Know When Buying a Mobile Home for Private Land
For many growing families, putting down roots on land you own outright is part of that American Dream. The privacy and ability to do as you like without association guidelines remain priceless. These are important items to keep on your buying a new mobile home checklist when securing your own land.
Mobile home mortgages that include land are generally 30-year loans.
What are the annual taxes for the land?
Calculate the tax increase of adding a manufactured home.
Identify boundary markers as indicated on the property deed.
Have deed researched and certified against potential liens or intrusive right-of-ways.
Check the local community's crime rate.
Check the local school ratings.
Review local zoning and building codes regarding manufactured homes.
Be certain power, water, and sewer are available.
Know the cost of connecting to local services.
Check for internet service.
Know the cost/method of garbage and recycling pickup.
Check how far away work, shopping, and schools are from the property
Manufactured models are federally-recognized homes and are overwhelmingly accepted living spaces. But it's important to conduct due diligence by getting detailed documentation about local regulations before purchasing a lot.
What To Know About Buying a Mobile Home
The average cost of a new single-wide manufactured home was approximately $59,000 in 2020 and the median price of a double-wide was under $115,000. Single-family home construction runs about $150 per square foot and new homes of 2,000 square feet run nearly $307,000. Considering the incredible cost difference, it doesn't make good dollars or sense to buy a used mobile home.

Read also: Average Cost of a Manufactured Home in 2019
By working directly with a manufacturer, you can select the precise floor plan, amenities, and style of mobile home you desire at a fraction of the cost of a site-built structure. Buying new allows everyday people to get the affordable dream home you desire. These are items to closely consider on your buying a mobile home checklist so that you know what to look for when buying a manufactured home.
Know When To Buy: Manufactured home pricing has a tendency to fluctuate. The average cost of mobile home prices may be lower, and discounts may be available from January through March.
Know Mobile Home Sizes: There are three basic sizes of manufactured homes, single-wide, double-wide, and triple-wide. Single-wides generally run about 15 feet wide. Double-wides run 26 feet wide and triple-wides can run upwards of 45 feet wide. These types of mobile homes only refer to the width, not necessarily the floor plan.
Know What Floor Plans Are Available: Manufactured homes enjoy numerous floor plans to accommodate families of all sizes. It's essential to consider things such as gathering spaces, need for a home office, kitchen size and amenities, and master bedrooms or master suites. Make a checklist of your family needs and best practices before meeting with a mobile home representative.
Know Your Financing Options: Potential buyers do not necessarily need to rely on niche lenders. Approved buyers can get a mortgage under loan programs such as FHA, VA, USDA Rural, Chattel, HUD, or other conventional options. There may also be niche loans available for people with low credit scores and income in some cases.

Read also: Financing Your Manufactured Home in 10 Easy Steps
Know Your Customization Options: The cost of your new manufactured home will be driven by square footage, design, and customization options. Today's mobile homes are crafted with high-quality materials and luxury amenities are available. Buyers who do not select the options they desire when ordering a new manufactured home often experience regret. Given the cost-effectiveness of these living spaces, buyers are often happier when they get all their dream home options met.

Check out Customization Options at Homes Direct
Know Potential Additional Costs: When securing financing for your new mobile home, conduct due diligence about peripheral things such as electrical, sewer, water, insurance, and other outlying costs.

Read also: Additional Costs to Consider: Taxes and Utility Hookups
A smooth buying process entails making a decision about items on this checklist before sitting down with a manufactured house professional to custom-order your new home. With a working knowledge about your buying power, dream home ideas, family needs, and others, you will be able to make an informed decision.

Read also: Full 5 Step Process of Buying a Manufactured Homes with Homes Direct
What To Do When Buying a Mobile Home
Manufactured homes are by definition mobile because they are custom-built and delivered to your property. The Homes Direct currently has 13 offices across California, Arizona, Oregon, New Mexico, and Washington State. When buying a mobile home, contact the Homes Direct office nearest you.