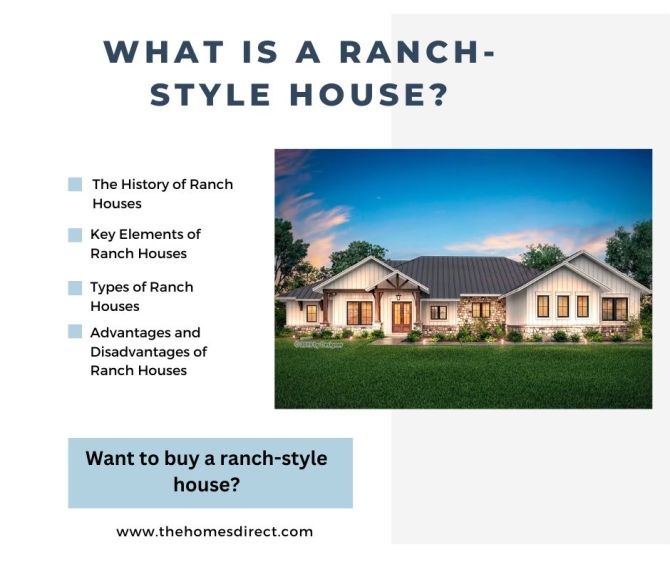 It is a challenging task to decide the type of house you want for your family. To do so, you might want to make a list of the options you have which can be a lot. Some people choose to buy ranch-style houses. If you know the ranch-style homes you will indeed know that these houses are very convenient for both small and big families as they offer many benefits! Let's find out more about ranch-style houses and uncover the requirements for getting one! What is a ranch-style house?
What Is a Ranch-Style House
Ranch-style houses originated in the Southwest but can now be found across the USA, with different types prevalent in different parts of the country. Ranch-style homes have gone through periods of popularity over the last century, but have retained many of their original architectural elements. There are different types of ranch houses available in different areas.
Traditional ranch homes are single-story houses commonly built with an open-concept layout and a devoted patio space. Let's dive in more about the specifics of the history of ranch-style homes.
The History of Ranch-Style Homes
You might be surprised to find how house architecture and house styles have changed throughout time. Ranch-style houses are no exception! Time to find out more about traditional ranch-style homes. First appearing as a residential style in the 1920s the ranch was extremely popular with the booming post-war middle class of the 1940s to the 1970s. Ranch-style houses were inspired mainly by Spanish architecture.
Efforts to combine that style with modern architectural touches created the California ranch-style home. That led to a boom in the building of these homes from the 1940s through the 1970s. Their livability, flexibility in floor plans, and uncomplicated design were perfect for the post-World War II growth of American suburbs.
Nowadays, most families prefer ranch-style homes and enjoy its benefits and unique style! The open, single-floor house is once again in demand, especially in the Midwest and on the East coast, after soaring in popularity in the '80s and '90s.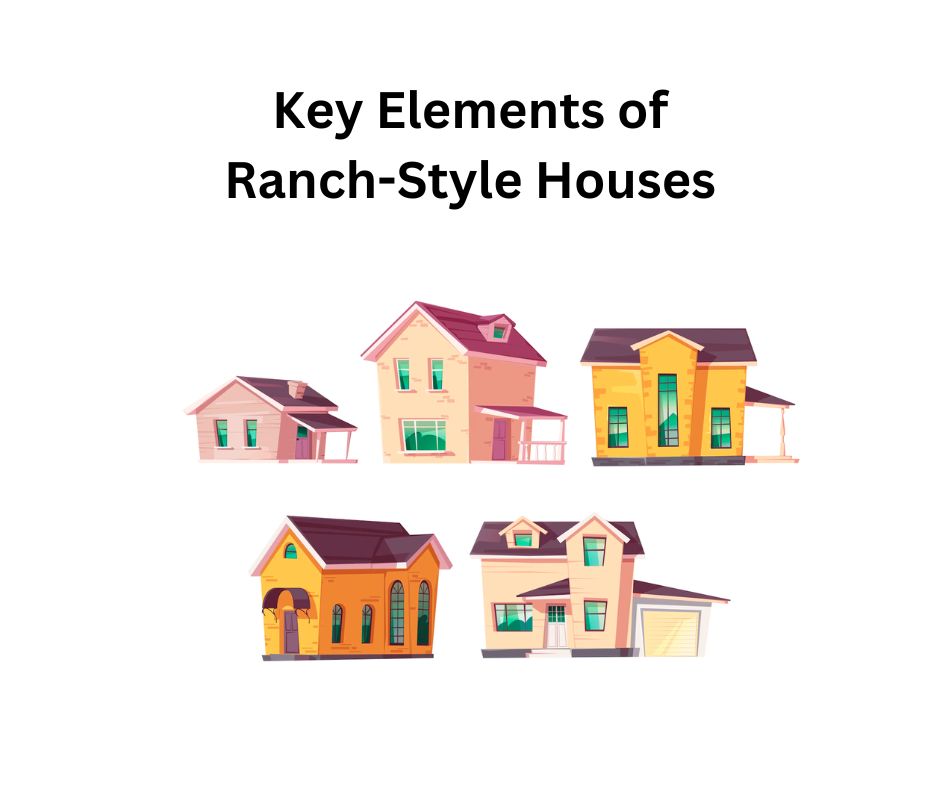 Where are Ranch Style Houses Most Common?
Ranch-style architecture is very popular in the West, North, Northwest, Midwest and Southwest. In the northern USA and the Midwest, one can find many raised ranches, featuring finished basements. Ranch homes on slabs can be found mostly in the warmer climates of California and the Southwest. Ranch-style houses can also be seen in Florida, New Jersey, Maryland, and the District of Columbia.
Key Elements of Ranch-Style Homes
If you see a ranch-style house when passing by a neighborhood, be aware of its key elements that can be very different from other types of houses. Here are some of them you can have in mind. A typical ranch-style house will have
The long, low roofline

Single Story

Asymmetrical rectangular, L-shaped, or U-shaped design

Simple, open floor plans

Living areas separate from bedroom areas

Sliding glass doors opening onto patios

Large windows

Simple interiors
The Different Types of Ranch Houses
During the time ranch-style houses developed various categories and types with additional architectural features. Currently, you can find from small ranch-style houses, old ranch-style homes to bigger and modern ones! Let's go over the most common types of them!
California Ranch
The California ranch is characterized by an L- or U-shaped structure built low to the ground. A patio and front lawn are key features of the California ranch.
Suburban Ranch
Though the suburban ranch is similar to the California ranch it is more compact and asymmetrical in structure. Its other main features include an attached garage and backyard.
Split-Level Ranch
The split-level ranch (split level house) has a similar exterior to the suburban ranch but with three stories of staggering living space.
Raised Ranch
The front door of the raised ranch opens directly to a staircase leading both upstairs and downstairs, with the kitchen and bedrooms usually on the upper level.
Storybook Ranch
Also known as the fairytale ranch, the storybook ranch stands out from other ranch styles because of its ornamental details. This design features diamond-shaped window panes, a decorative chimney made of brick or stone, and a steep, gabled roof.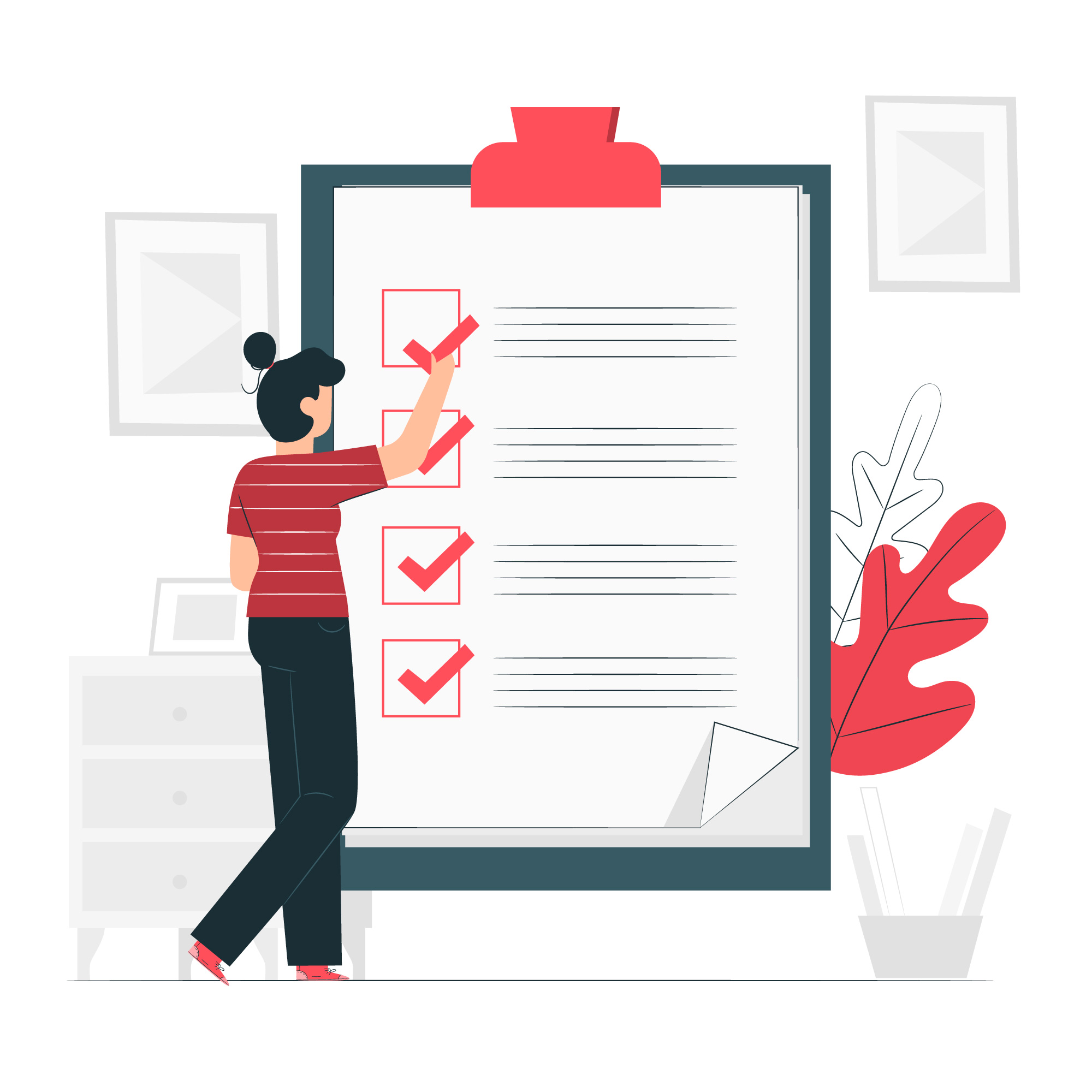 Image by storyset on Freepik
Advantages and Disadvantages of Ranch Houses
Important information to find about any house before buying it are the main advantages and disadvantages that come with the house. Here are some for ranch-style houses.
Pros
Easy to maintain: With a single-story ranch home, maintenance and repairs aren't as difficult or arduous as with multi-level homes. For instance, cleaning gutters or making exterior repairs doesn't require getting up to a second or even third story.
Great for those with limited mobility: One of the main advantages of living in a ranch home is that they're easier to move around in. That's ideal for disabled or elderly homeowners or anyone with mobility issues.
Can be safer: Single-story living makes it easier to evacuate in an emergency, like if there's a fire. It also removes the danger of a steep flight of stairs that could be fallen down — an important consideration for families with small children.
Affordability: For first-time homebuyers or those looking to downsize, price is important. Since ranch houses are smaller and often not chock full of custom features, they're usually affordable. Plus, with the smaller square footage comes lower heating and cooling bills, adding to the affordability of ranch homes.
Great Family Floor Plans: A ranch house appeals to many families for its convenient floor plans. In a typical ranch, all living spaces are easily accessible.
Cons
Less privacy: With bedrooms and living areas all on a single level, you might feel like you have less privacy than in a home with bedrooms upstairs. The same goes for the open floor plan; you may prefer your living area to be completely separate from the dining area or kitchen, for example.
Smaller yard: Ranch homes tend to be more spread out on their lots, which can mean less yard space. While less lawn to take care of may be a plus for some, it can be a turn-off if you want more green space for pets, children, or gardening.
Expensive to enlarge: If you want to increase the square footage of a ranch house, you'll likely need to build a second story. That can add considerable cost and time to a major home addition.
Tips for Ranch Style House Landscaping
If you're having trouble nailing down landscaping for your ranch, there are lots of ideas you can implement.
Avoid Tall Trees or Shrubs
Since ranch homes are low to the ground, using tall shrubs or trees doesn't look right. Plus, towering trees and shrubbery will obstruct your windows.
Try using boxwood shrubs clipped into round or oval shapes. If you want trees near your house for privacy, use small varieties like a Japanese red maple, a redbud tree, or a sand cherry tree.
Mix plant heights
Ranch homes have straight, harsh lines. While this look is perfect if you love mid-century modern, it's best to soften it with your landscaping.
Use a mixture of plants to do this. For example, if you have a large flower bed or want to landscape against a sidewalk, try taller plants in the back and low-to-the-ground plants in the front. It would be very cool to have a vibrant-colored plant mixture!
Avoid Square Bushes
If you'll be adding bushes to the front of your ranch house, get a circular or oval juniper or boxwood. Large square bushes intensify the harsh lines of ranches and don't look as good as those molded into softer shapes.
How do ranches compare to other types of homes?
An experienced real estate agent can help you decide whether a ranch is a good fit for you. But no matter what style of home you opt for, get a professional home foundation inspection to ensure it's in good condition.
| Home type | Who it's right for |
| --- | --- |
| Condominium | Condos appeal to those looking for lower-maintenance living, a home with a sense of security, and opportunities to be social with neighbors, among other factors. |
| Townhouse | Townhouses are a particularly good option for first-time homebuyers or other budget-minded home buyers who want more space than typically afforded in a condo. |
| Modular home | Modular homes are enticing to empty-nesters looking to downsize, couples looking for backyard units like tiny homes or families looking to upgrade their dated properties in nice but expensive neighborhoods. |
| Single-family home | Single-family homes are best for families who prefer a huge yard and plenty of room to spread out. Others still prefer a low-maintenance condo or townhome that includes benefits like landscaping, snow removal, and exterior maintenance. |
| Multi-family home | Multi-family homes are best for those who are interested in getting into real estate investing and are comfortable with the added responsibility and time commitment that comes with being a landlord. |
| Bungalow home | At between 1,000 and 2,000 square feet, bungalows are a great option for young families looking for a starter home or retirees hoping to downsize in a home without stairs, or single homeowners who want the single-family home lifestyle without managing a huge property. |
| Patio home | Typically capped at one-and-a-half stories and part of a larger association, patio homes are best for homeowners who don't want to deal with stairs or maintenance. |
| Ranch home | Ranch homes are ideal for anyone who prefers single-story living. Singles, couples, and families with children can find something to love about a ranch home. |
While the popularity of ranch-style houses peaked in the 1970s, they're coming back as America's favorite architectural style. They typically feature one-story, low rooflines, and a large set of windows in the front of the home.
If you're considering purchasing a ranch house style, you'll love the open-concept living and basic design. Because of the simple style, it's easy to fix up a ranch and make it your own.
Homes Direct does business differently than most manufactured and modular home dealers. We price our homes right on our website with the lowest price we can provide. We help you through the process of obtaining permits, finding affordable lenders, picking your options/changes, and helping with the site preparations as well.
Click here to see what else we can do for you.
FAQ
How tall is a ranch-style house?
They are usually between 1,400 and 1,700 square feet in size and are normally built on a slab.
What does a ranch-style house look like?
Modern ranch-style homes typically are rectangular, U, or L-shaped. They tend to have a devoted patio or deck space, and large windows and often feature a finished basement and attached garage.
How to modernize a ranch-style house?
There are many customizations you can do to modernize a traditional ranch house. Remodel the windows, the porch area, and perhaps add differing heights in landscaping. There are various things that can be done depending on your needs.