Manufactured homes come in all shapes, sizes, and floor plans. These houses are desired in areas such as California, Oregon, Arizona, New Mexico, and Washington state due to being built quickly. They also cost less than traditionally-built homes.
Luxury mobile homes from the best home builders in California, Arizona, Oregon, New Mexico & Washington state
According to the U.S. Census Bureau, 22 million people lived in manufactured homes in 2019. One house style that is appealing to homeowners is a luxury manufactured home. Luxury manufactured homes can come as single wide, double wide, and triple wide with the same customizations as site built homes.
What is a Luxury Manufactured Home?
Luxury prefab homes are manufactured at a plant instead of the house being built from the foundation up at the property site. The phrase is sometimes used as a catchall when discussing modular, manufactured, and mobile homes. There are several things to know about each of these buildings.
Mobile home. Manufactured homes were called mobile homes before 1976. HUD policy changes made them obsolete as they are now considered manufactured homes. Yet many people still use the term today interchangeably with manufactured homes.
Modular home. Modular homes are built in sections called modules. They are transported to the property site and placed on a permanent foundation. The modules can be placed side-by-side, end-to-end, or stacked on top of each other. Modular homes are supposed to be built to local, state, or regional building codes.
Manufactured homes. Manufactured homes are created at the factory in sections called modules. Then all the modules are shipped to the residential property. Once the home is constructed, it does not move again.
Inside luxury mobile homes you will find modern upgrades and features that are typically found in luxury traditional homes. The luxuries may include marble countertops and backsplashes in the kitchen. The kitchen may also feature stainless steel appliances, kitchen islands, and extra storage.
The floor plans will also be spacious and open for living areas. High ceilings and many large windows will be dominant features. As for bedrooms, they will have spacious closets and plush carpeting. The bedrooms may also be located farther from living spaces to provide more privacy.
One thing to keep in mind is that not all luxury modular homes will come in large sizes. Small luxury modular homes may be available. The available customizations will depend on which home manufacturers are selected.
Best Luxury Mobile Homes
Homes Direct has selected the 16 best luxury modern prefab homes for the West Coast. These houses are perfect for properties in California, Oregon, Arizona, New Mexico, and Washington state. Check out our list of single side, double wide, and triple wide modular home designs.
Luxury Single Wide Mobile Homes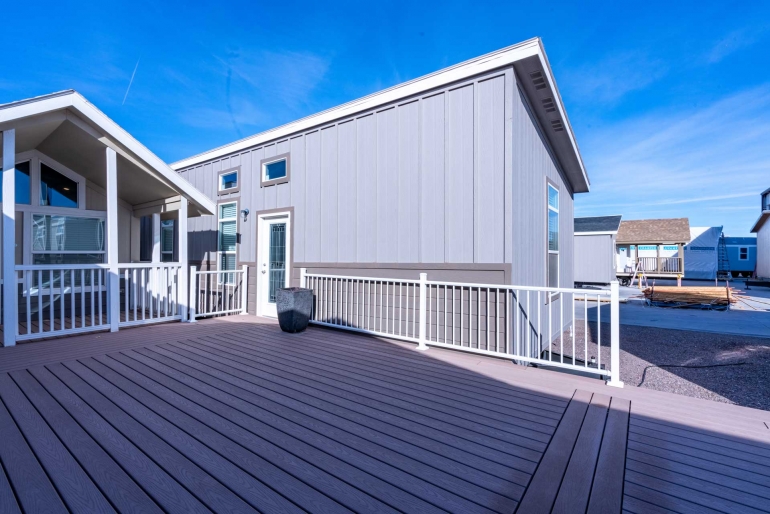 This 1,153-square foot modular home offered by Champion Arizona features 2 bedrooms and 2 baths wrapped in modern comfort. It is priced at $82,468.
It has an enormous 17'-2" x 14' -6' living room with a bathroom that is shared with the spare bedroom. The large kitchen has a cabinet wraparound along one wall and a small dining space that could also be used as a breakfast nook. The utility room is in the kitchen, making it simple to have a laundry room in the space. The master bathroom is on the other side of the kitchen as it has its own master bathroom.
Features of these luxury modern modular homes include wood flooring throughout each room. Close to 20 windows offers plenty of natural lighting as high ceilings makes the home feel large. Tiled backsplashes are along the kitchen counter space and tub areas to add a bit of sophistication.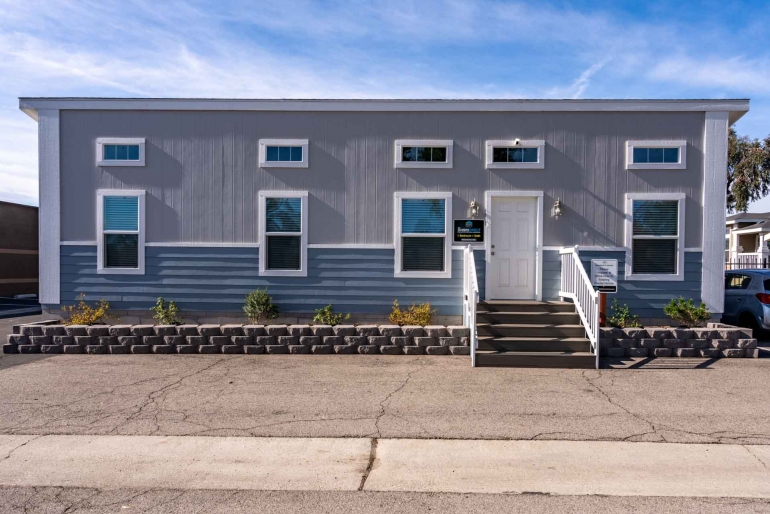 When looking for small, manufactured homes in California, the GP441M Home may be exactly what a homebuyer desires. This luxury prefab home checks in at only 594-square feet. It features 1 bed and 1 bath, making it perfect for single individuals, couples, or retirees. It is priced at $62,698.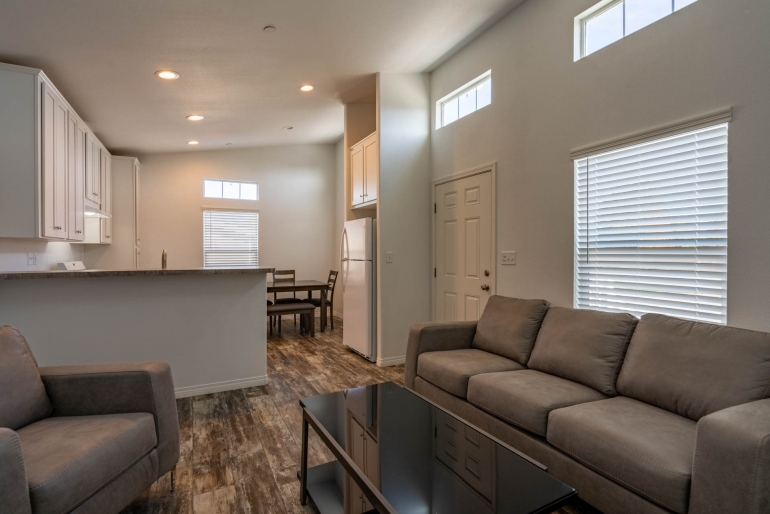 Wood flooring is featured throughout the home as the kitchen is packed with cabinet space. The living room and kitchen are separated by a small, attached kitchen island and a refrigerator inset into the wall. The bathroom doubles as the laundry room as it separates the kitchen from the single bedroom. This prefab luxury home has clean lines and modern designs to appeal to California residents.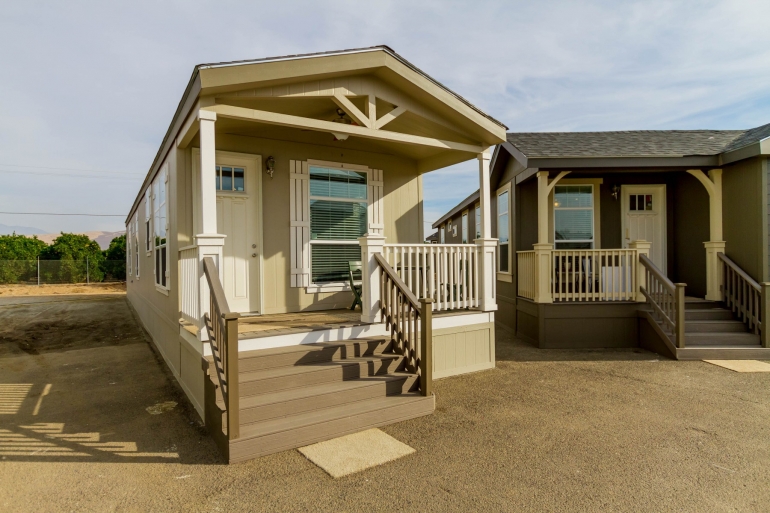 Priced at $73,900, the CM662L Home easily deserves to be ranked on the list of 16 best luxury mobile homes. This home has everything from open floor plans, wood floors, and beautiful wood cabinets. Recessed lights add extra lighting even as the large and numerous windows bring in the sunshine.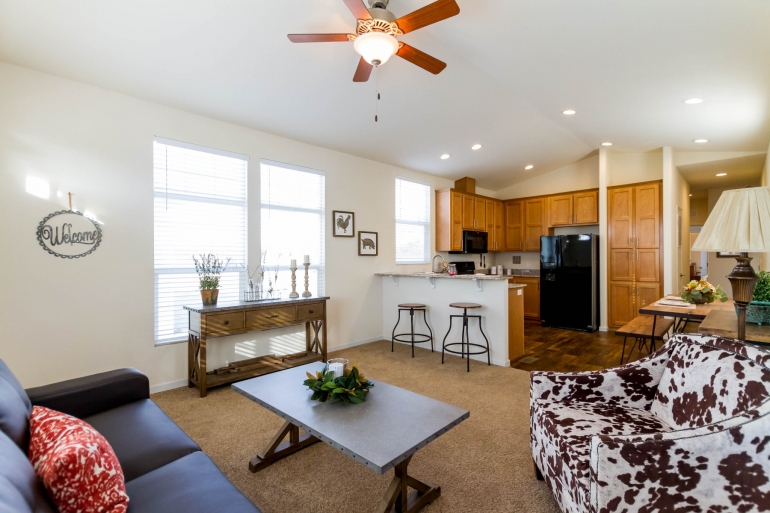 The house has 2 bedrooms and 2 baths with a master bathroom, full living room and full kitchen. A corner double sink in the kitchen highlights the amount of counter space for cooking. In the master bathroom, it features a corner bathtub, double sinks, and a large shower. The bedrooms are also fairly sized in this 887-square foot home. Both rooms have carpeted floors, high ceilings and ceiling fans.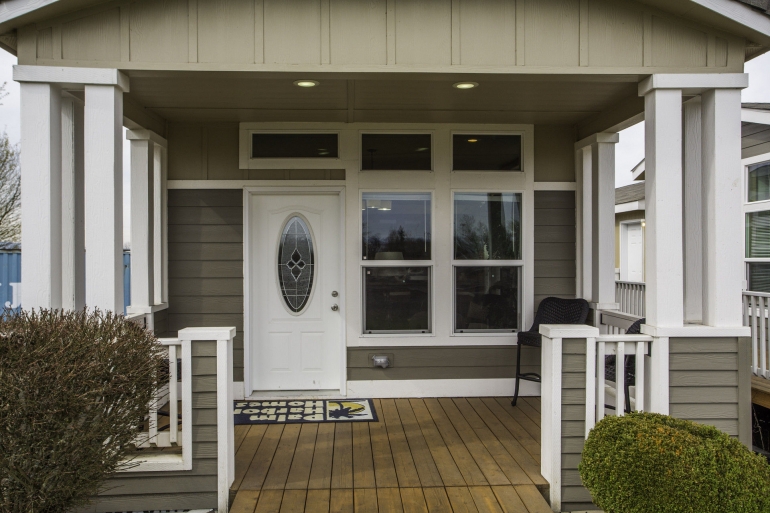 The Paradise Home by Palm Harbor features elegance in every 887-square foot of this modular home. Open the door and be greeted by tile floors in the living room, kitchen, and dining room.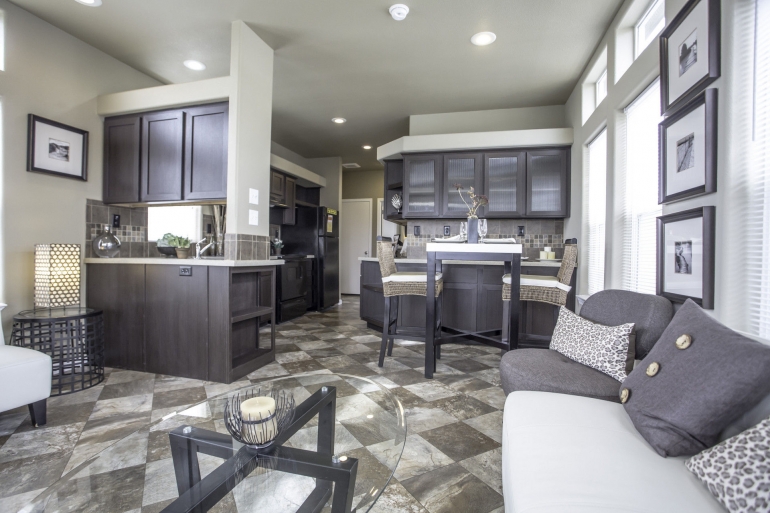 Dark brown cabinets and light-hued countertops create an air of elegance alongside black appliances. The bathroom is between the kitchen and the bedroom, as the large bedroom has a walk-in closet. The 1 bedroom and 1 bath house is priced at $50,345 and comes with an optional porch.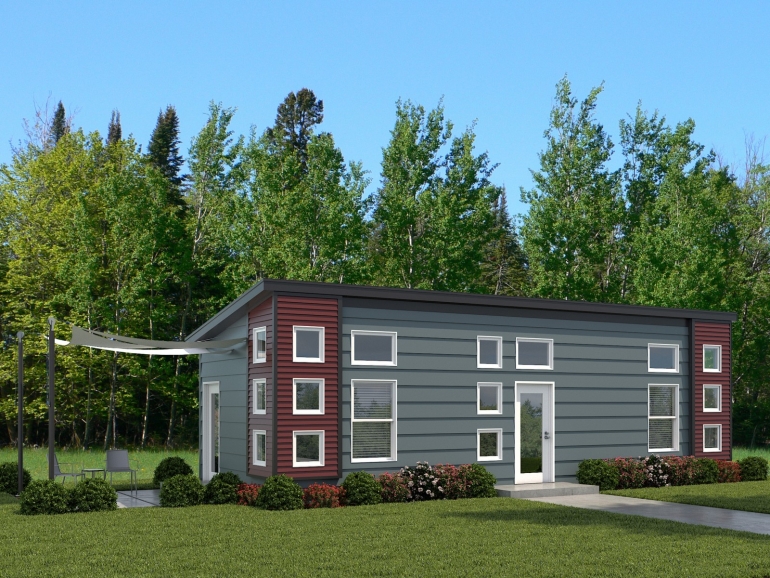 The Casa De Ceilo home has a uniquely designed modern exterior leading into a quaint and cozy interior. This tiny modular home is only 500-square feet with 1 bedroom and 1 bath at a price of $44,936.
There are several customizations to these luxury modular home plans. It features a large living room with a standard walk-in kitchen and double sink. Yet a person can opt for a longer countertop along the one wall to change the setup.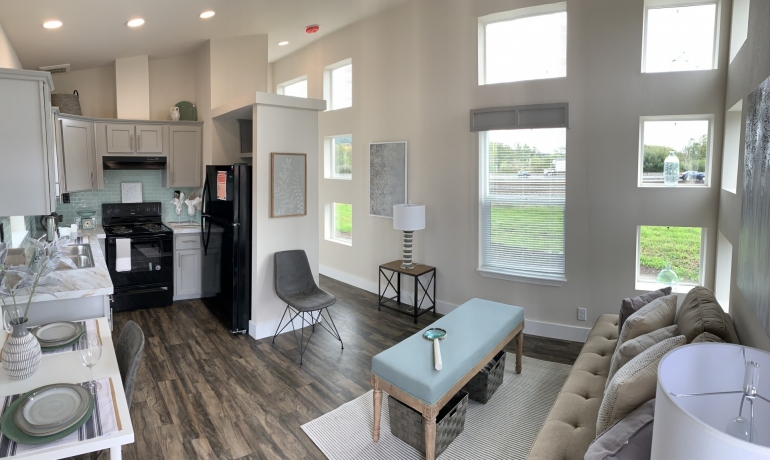 The full sized master bathroom sits on its own as a wood floor extends throughout the home. The master bedroom has elegant picture windows to increase the natural light. The tall ceilings throughout the home make it feel bigger in each room.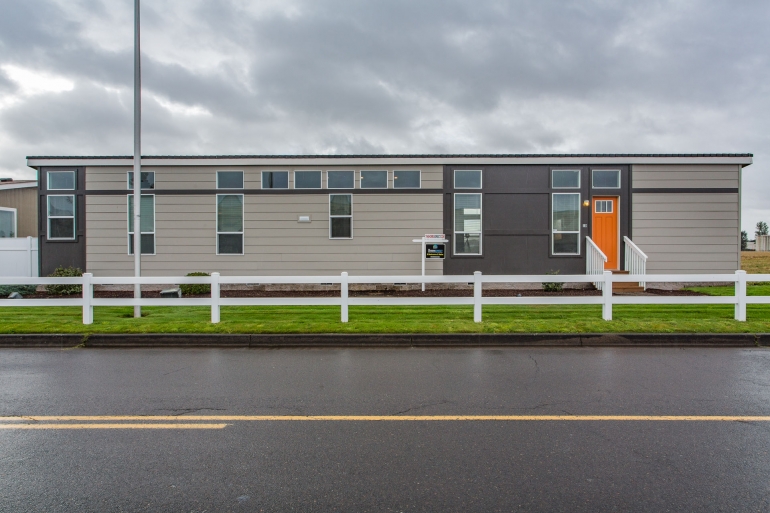 This Loft Home is a bit smaller than the previous luxury manufactured loft home we have mentioned. Made by Palm Harbor, it is 1,140-square feet and features 2 bedrooms and 2 baths. Priced at $71,654, the luxury mobile home has a large living room with an attached bathroom and leads into the spare bedroom.
The house has more of a partial open floor plan. The living room gives way to the dining room/breakfast nook and kitchen with tall cabinets lining the entire side of the space. Wood floors are in every room as the master bedroom has its own master bathroom with tub and shower features.
Luxury Double Wide Mobile Homes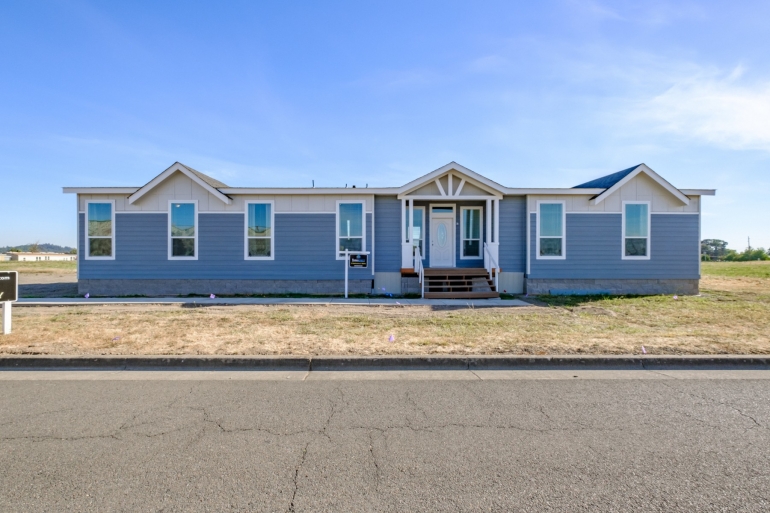 These double wide manufactured homes offer 3 bedrooms and 2 baths at $122,276. It offers 2,213-square feet of space with a foyer, great room, den, and combined kitchen and dining room. Two of the bedrooms and the bathroom sit on one side of the home while the master bedroom and second bathroom are on the other side.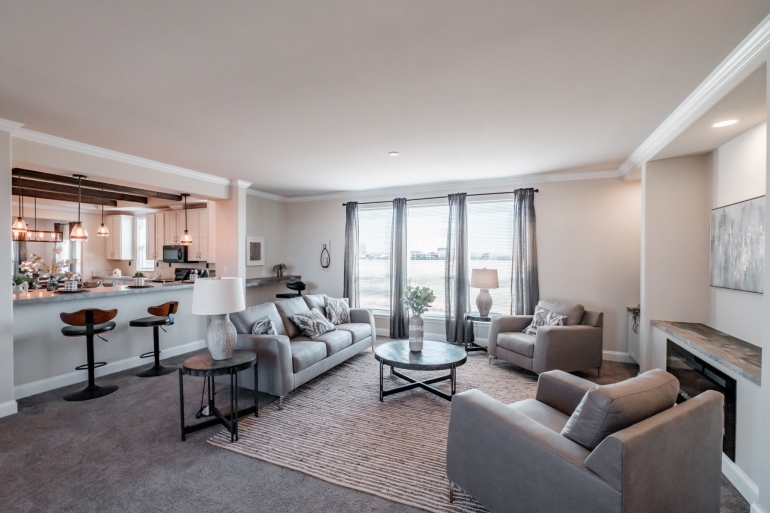 Dark wood floors are in the living room, kitchen, and den while carpeting is in the bedrooms. The master bathroom features a large soaker tub, double sinks, and tiled shower walls. Meanwhile, the kitchen has a center island tiled backsplash, and plenty of cabinet space.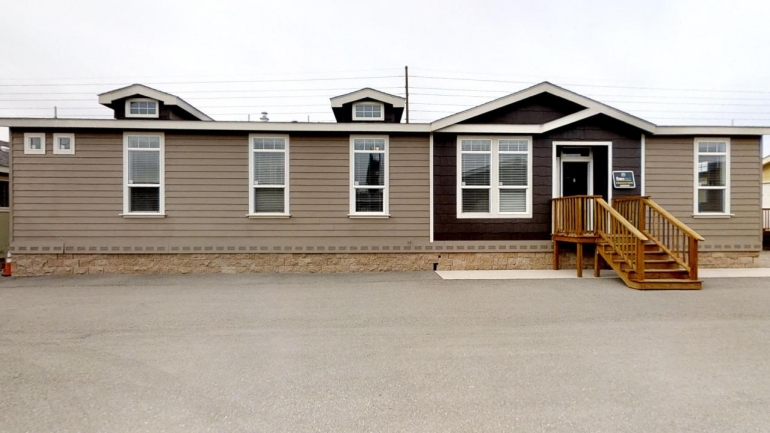 The ENC3070A Enchantment 70 Homes are larger and sophisticated mobile homes for New Mexico families featuring 3 bedrooms and 2 baths. This home style priced at $1154,452 is 2,100 square feet. It has three large livings spaces of the living room, family room and a dining room with high ceilings and carpeted floors.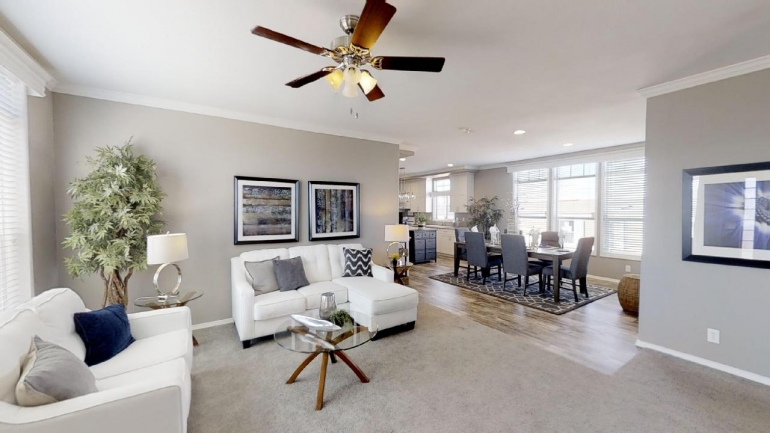 Wood floors line the open kitchen that connects to the dining room space. It has hanging cabinets, a center island, and double sinks. Two of the smaller bedrooms share the bathroom situated between them. The master bathroom sits on the opposite end of the home and has a full master bath. A unique feature to the Enchantment 70 home are the decorative dormers along the roof.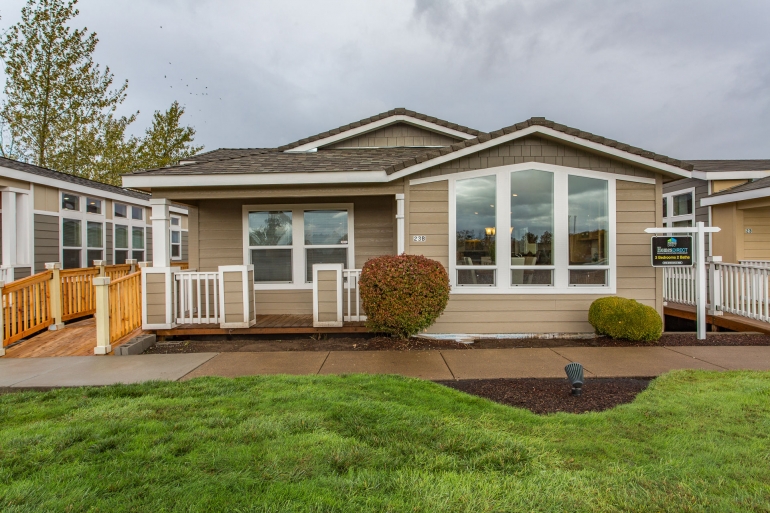 For people who prefer all the bedrooms to be grouped together, the Sunset Bay Plus Home offers this layout. These manufactured Oregon homes have 3 bedrooms and 2 bathrooms, are priced at $93,785, and are 1,550 square feet. The house has an open concept with a large 21-foot long living space leading into a smaller dining room and kitchen.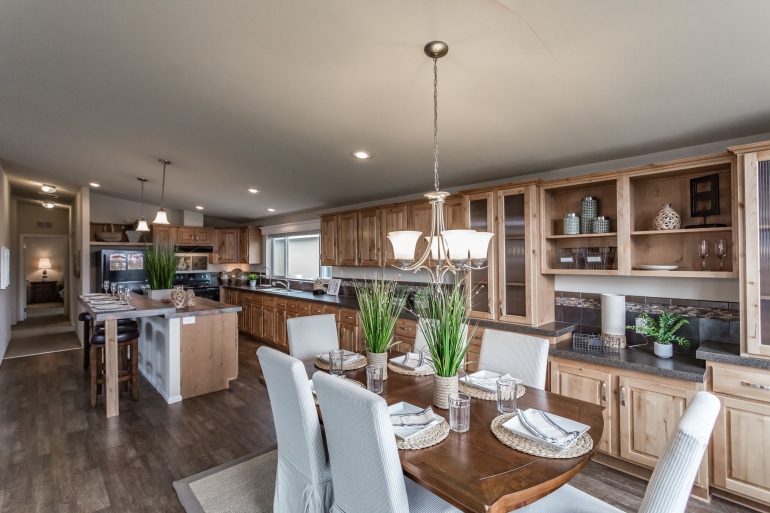 The kitchen features wraparound cabinets and appliances as well as a center island. Plush carpeting is featured in most of the living areas, while elegant wood flooring is in the kitchen and bathroom spaces. The two spare bedrooms are beside each other with the bathroom across the hall.
The master bedroom is 13-feet long and has a smaller master bathroom. The master bathroom features double sinks, an elegant shower space and a sit-in tub.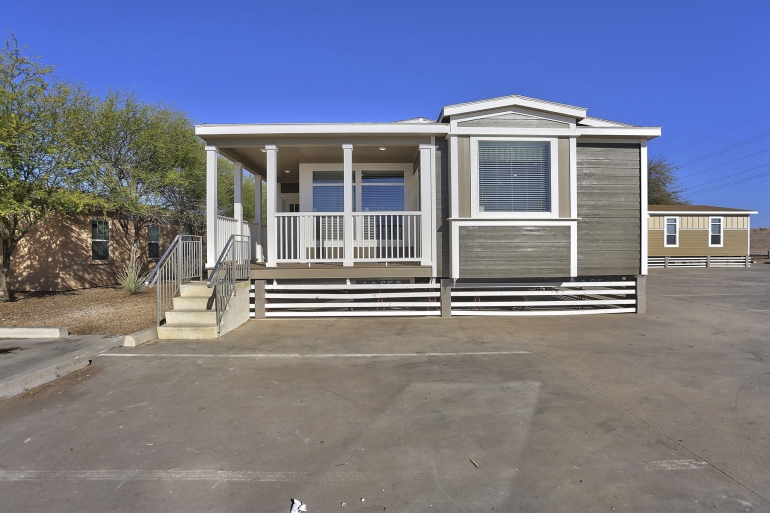 While the front of the home looks small and quaint, the Skyland Home is actually a large luxury home. These modular homes for Arizona families feature 3 bedrooms and 2 bathrooms in a 1,896 square foot building. Priced at $140,598, the home leads into an enormous carpeted 20-foot long living room and 9-foot long dining room.
The luxury kitchen has wraparound cabinets, appliances, and double sinks. There is also a door in the kitchen that leads to an outdoor porch area. The three bedrooms are grouped together at the other end of the house.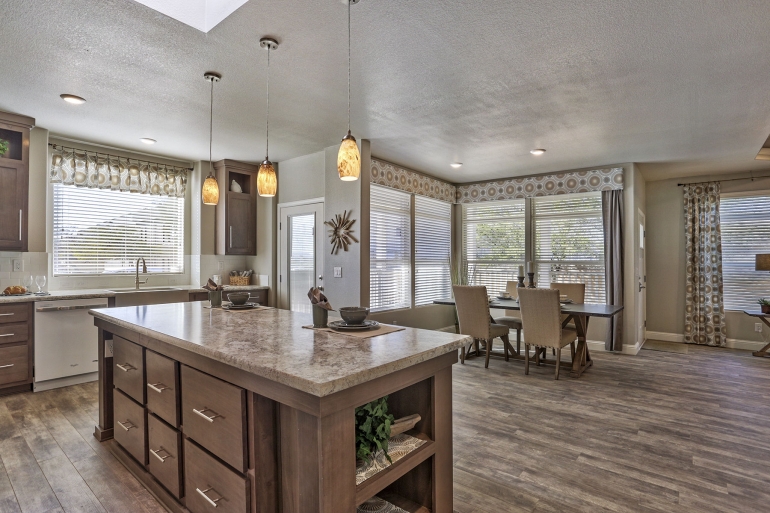 The large 13-foot long master bedroom has its own master bathroom. The bathroom can come standard with a combined tub/shower and a single sink. Homeowners can also choose the more luxurious optional bathroom with double sinks, freestanding tub, and shower stall.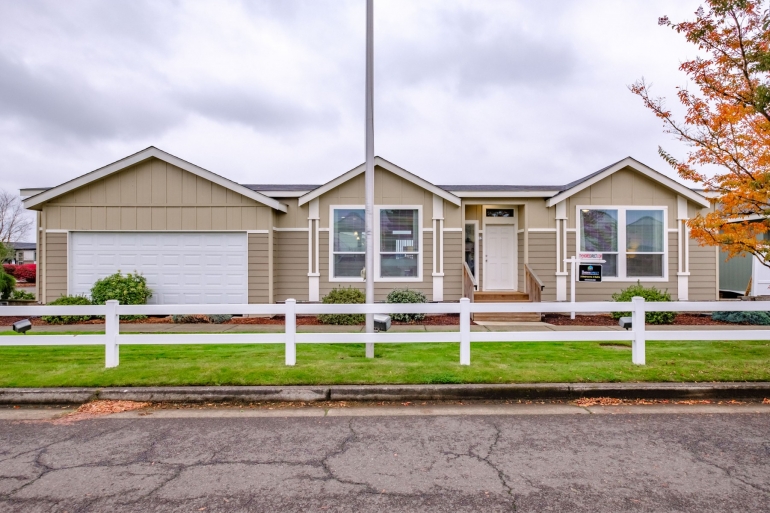 The St. Andrews Home styles are manufactured homes available in Washington state and Oregon. It combines both luxury and an upbeat appearance in 1,856 square feet while offering 3 bedrooms and 2 baths. This mobile home interior priced at $109,821 offers a simplified open living room and dining room concept.
The kitchen has an island that is attached to a half wall. This interior makes the room feel airy yet still separate from the other spaces. The kitchen also features a delightful breakfast nook.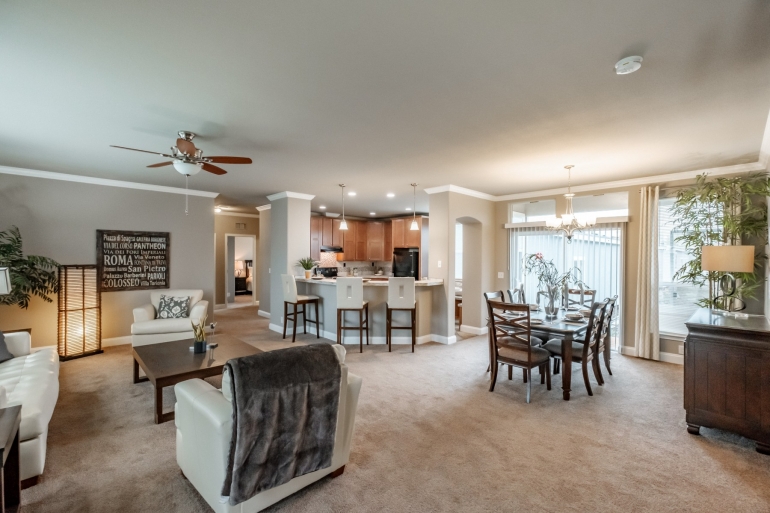 On the other side of the kitchen are two large 12-foot long bedrooms. The master bedroom is on the other side of the living room space. The large 17-foot long space has its own master bathroom with double sinks, a middle tub, and a separate shower. The bathroom leads into a walk-in closet space for extra storage.
Luxury Triple Wide Mobile Homes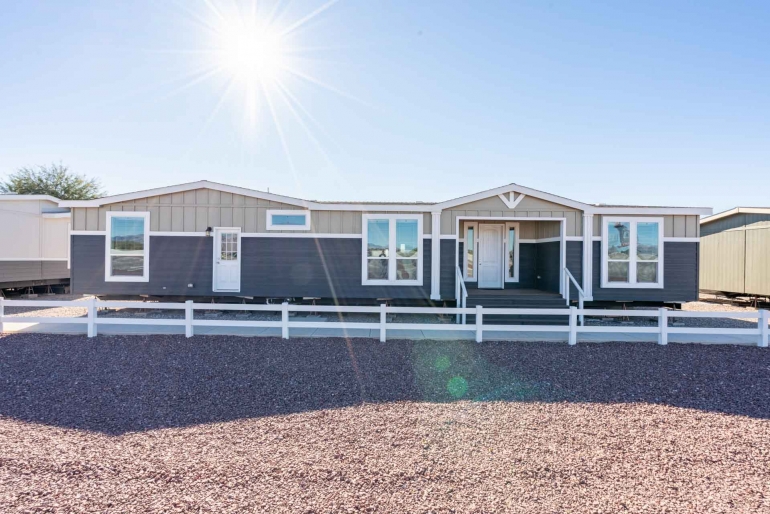 This enormous HD4068B home for large families features 4 bedrooms and 3 baths. It is priced at $172,961 and comes with 2,720 square feet of space.
Like many luxury mobile home floor plans in the South, this house has a great room in place of a living room. It leads into the open dining room and kitchen. Carpeting floors are in the living spaces while wood floors are installed in the kitchen. The center island with seating and plenty of cabinet space makes this kitchen a chef's dream.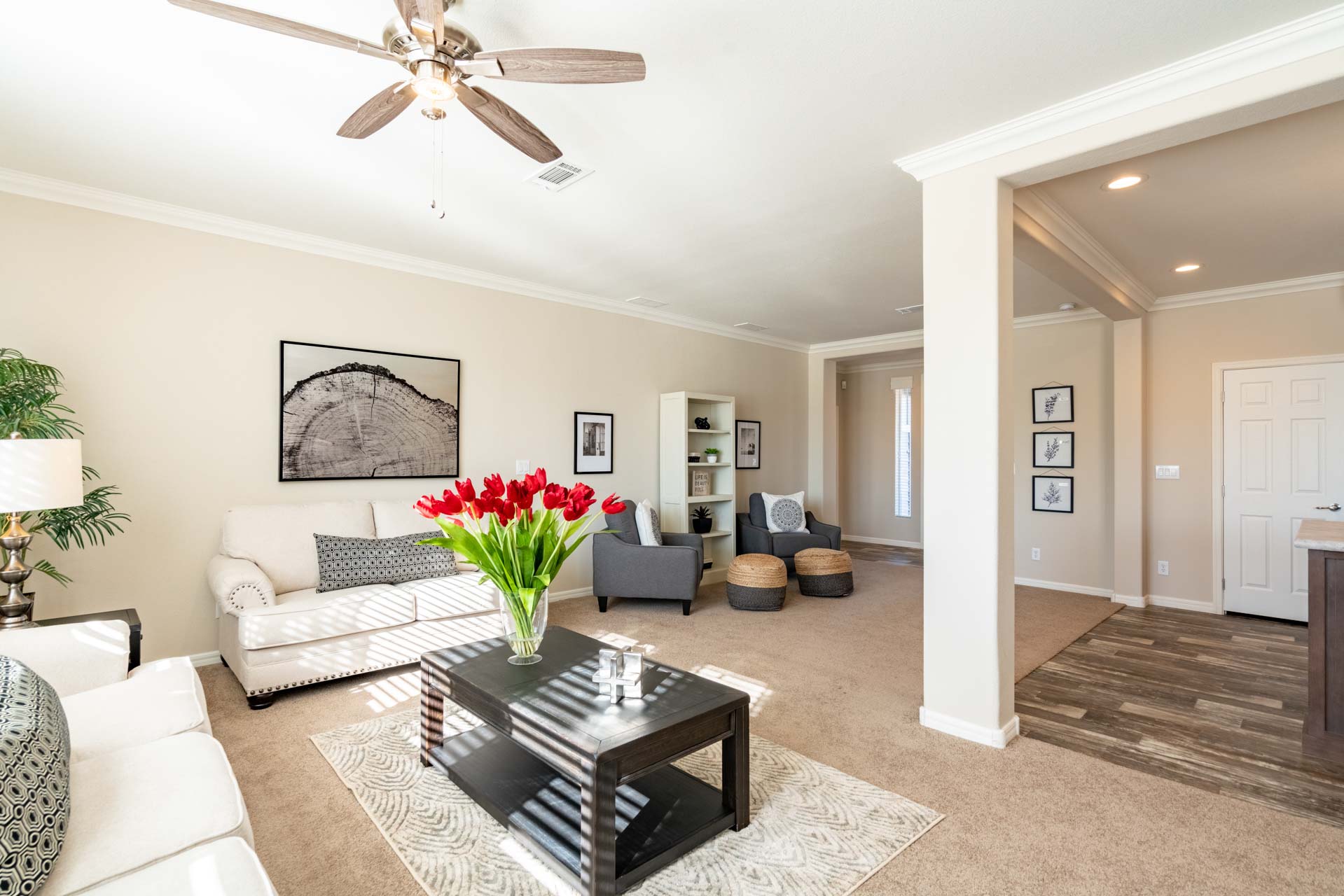 The master bedroom, master bathroom and large walk-in closet are on one side of the house. One bedroom is tucked away opposite the great room on the other side of the kitchen. The final two bedrooms are on the other side of the house with a game room between them.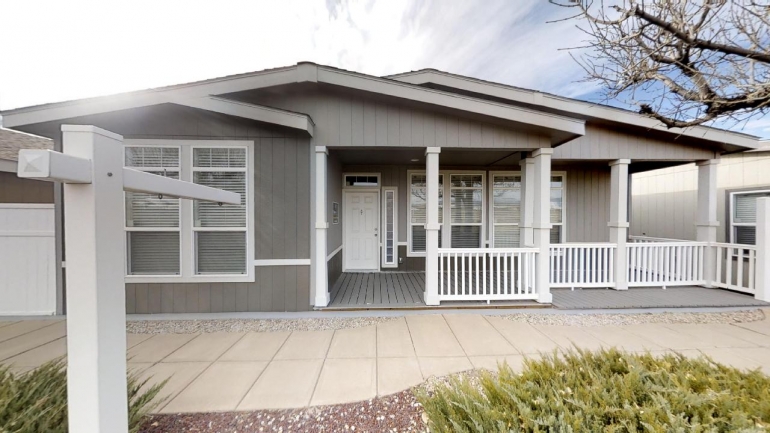 While the outside of the RC4072A Home looks elegant, the inside complements this feeling with its 2,534-square feet of spaciousness. These triple wide manufactured homes have 4+ bedrooms and 3 baths at $212,732.
The house features 2 living rooms, a dining room, and a kitchen with a breakfast room in the floor plan. The extra living room with the porch could easily be transformed into another large bedroom space. High ceilings, lighted ceiling fans, and large windows further highlight the airy and comfortable feeling of the house.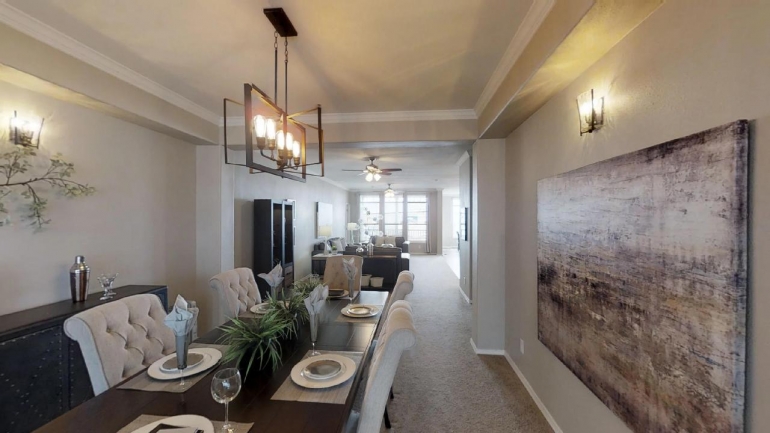 The master bedroom has a long master bathroom at the front of the house. Meanwhile, two bedrooms share a Jack-and-Jill bathroom. The final bedroom sits on the other side of the house with its own small bathroom.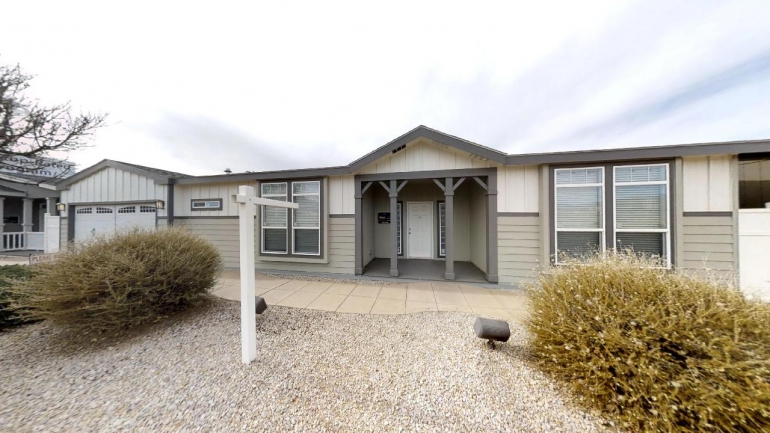 The RC4068B Home provides all the right space for large families at $203,816. The manufactured house has 2,754-square feet of space with 4+ bedrooms and 3 baths. It has an enormous open floor plan with a living room dining room and kitchen.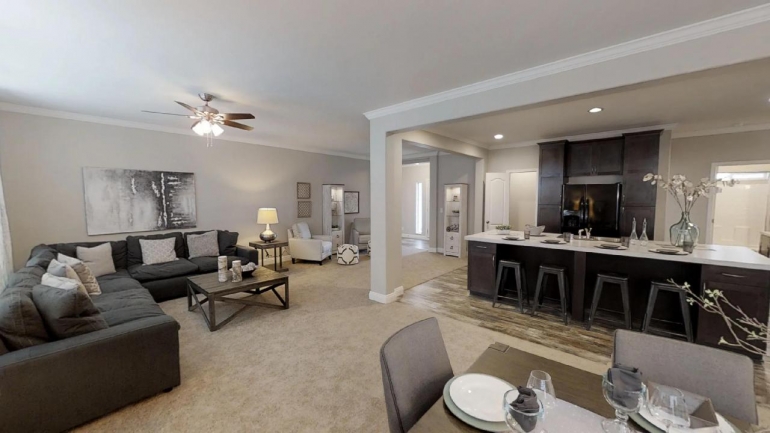 The 15-foot long master bedroom has a walk-in closet and master bathroom. The two other bedrooms are separate from each other and have their own bathrooms. The luxury mobile home has two sitting rooms that can easily be transformed into extra bedrooms.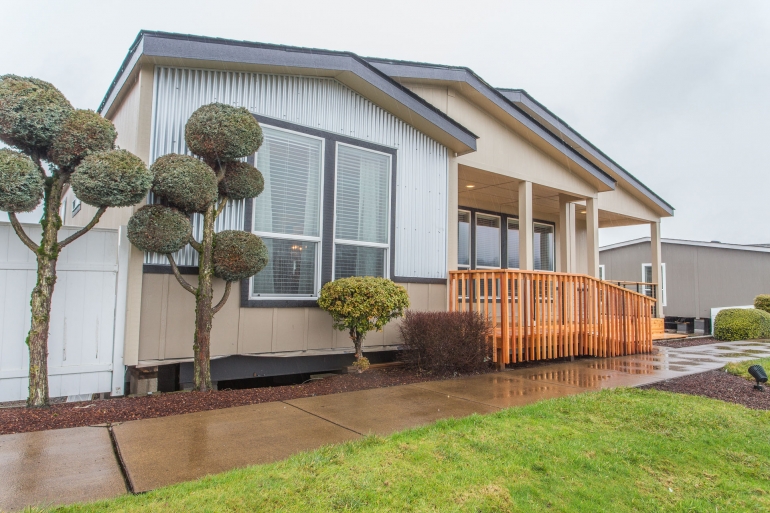 The Casita Home is larger than most luxury homes featured in this list at 2,810-square feet. Priced at $181,071, the house has 4+ bedrooms and 3 baths with plenty of amenities. The open floor plan features a spacious great room, a comfortable sunroom, kitchen with island, dining room and living room.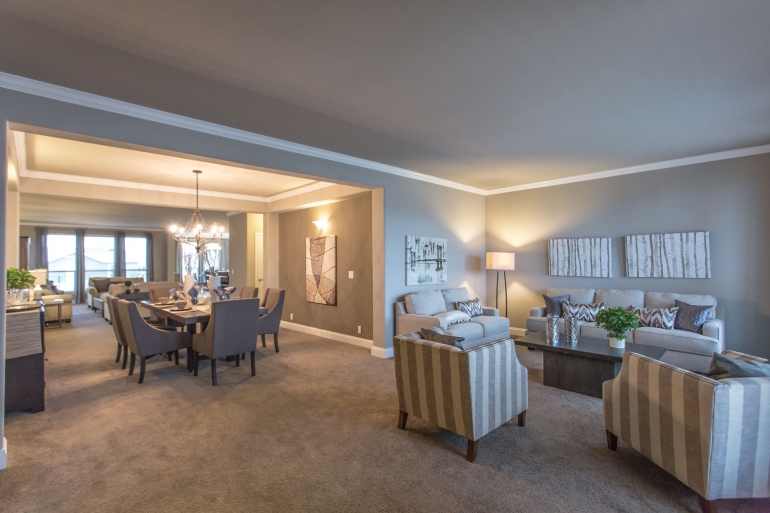 This mobile home allows for multigenerational families as it offers a master bedroom with a bath, two bedrooms, and an in-law suite. The parents also have access to their own parent retreat space off the master bedroom for them to relax.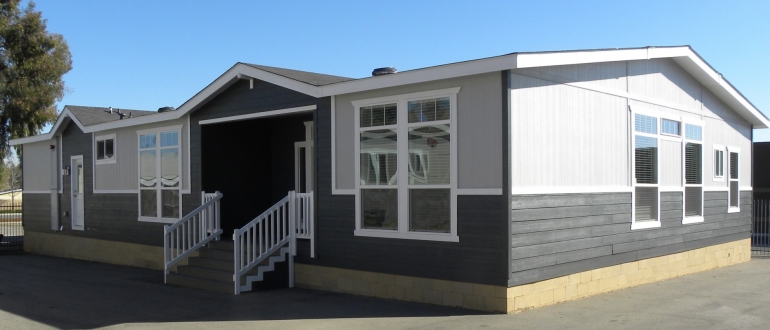 The Instant House 4266 looks like a simple house on the outside. Yet it has elegant features inside its 2,589-square feet space. The $214,900 house has 4+ bedrooms and 3 baths along with extras such as a game room and foyer.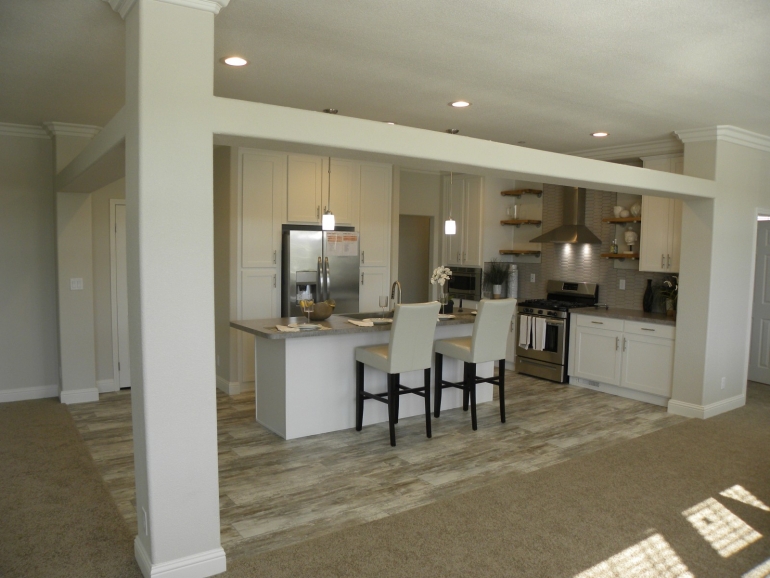 The modular home floor plans feature an open concept with the living room, dining room and kitchen interconnected. All three bedrooms have their own bath as the master bedroom has a large walk-in closet.
Best Manufactured Home Builders Recommended by Homes Direct
There are many modular home manufacturers across the country. Several will tailor their home designs based on climate, current real estate trends and community trends. The following are the best manufactured home builders based on facility locations.
What to Know About Luxury Mobile Homes
A traditionally-built home can cost about $114 per square foot while a manufactured home could cost $55 per square foot. So manufactured homes are more affordable in price when compared to homes that are built on-site. These homes can be designed with all the modern luxuries that you desire in the required layout, including tile floors, wood floors, ceiling fans, plush carpeting, and plenty of storage space. They can also feature the latest smart home technologies to make your family feel comfortable.
If you are interested in buying a manufactured home, keep in mind that prices fluctuate based on the market and the season. You may be able to find lower prices and discounts during the winter months. Also, you have more financing options than just through traditional lenders. Loan programs through the FHA, HUD, VA and USDA may help you get a mortgage.
Homes Direct Difference
When buying a luxury manufactured home, you want it to be a simple and smooth process. At Homes Direct, our staff helps to break down the buying process. We provide you with comprehensive information so that you understand what it means to get a manufactured home. As the largest retailer in the western U.S., we can locate high valve mobile home packages that are right for your budget.
Check more luxury mobile homes for sale near you.
For more details about our mobile homes, contact Homes Direct today.
FAQ
What are the highest quality manufactured homes?
Shopping for the best-manufactured home supplier is no different than finding the best contractor for a traditionally built home. Homeowners should check the manufacturer's credentials and building standards.
Quality manufacturers will be HUD compliant, however, there will always be a few who try to cut corners by either skirting compliance or offering the lowest building quality construction methods.
California - Champion California, Golden West California
Arizona - Champion Arizona, Schult Homes, Durango/Cavco Homes
Oregon - Palm Harbor, Golden West Oregon
New Mexico - Karsten Homes
What is the most expensive mobile home?
The most expensive mobile home offered by Homes Direct is a 3 sectioned luxury modular home manufactured by Golden West. See details of the most expensive mobile home.
Depending on your preferences a mobile home can cost up to $3 million.
Who is the largest manufacturer of mobile homes?
California - Champion California, Golden West California
Arizona - Champion Arizona, Schult Homes, Durango/Cavco Homes
Oregon - Palm Harbor, Golden West Oregon
New Mexico - Karsten Homes